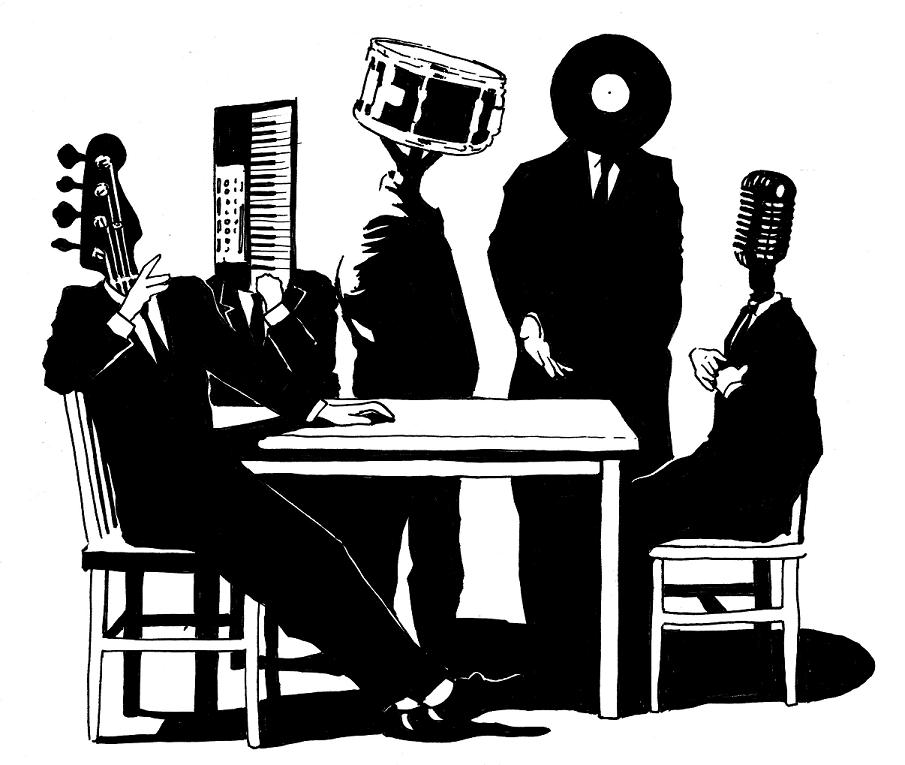 How to Kill Your Idols: Como Asesinar a Felipes Takes Aim at Itself
20 July, 2013
I had a discussion recently with a friend here in Santiago about whether or not an artist can or even should be separated from her or his work. You can't take their personal lives into account, she told me flatly. The work stands on its own.
It's not a new argument, and while I'm not going to discuss its merits here, what seems obvious is that ever since the mid-60s (blame the British Invasion if you want), music, for its part, has been inextricably linked with the personalities that produce it. The music world, or maybe the MTV-exposed world, has been taking personal lives into account. For better or worse, what you're left with is music as an extension of a lifestyle.
Or at least that's how it's sold. It was just this phenomenon that allowed something like "Gangsta' Rap" to flourish commercially in the mid-90s, when kids never diagnosed with personality disorders got sick of hearing how shitty life was living in the suburbs. Suddenly, instead of having their own ennui reinforced by artists that came from their part of town, they could "participate", from a safe distance, in what was reportedly happening on the other end. The closest it was going to get to a majority of the buying public was on the 'West Side' or a couple of pistols going off in your headphones. Call it pop-vestitism, all the accoutrements to dress the part without the necessary internal architecture.
The five-member jazz/hip-hop fusion group known as Como Asesinar a Felipes, out of Santiago, takes this fantasy in a different direction. Meta-gangsta, CAF prefers to take the killing directly to the music itself.
CAF's image is purely musical. The band's motto, "matar a la música linda" (kill pretty music) has a certain militant tinge to it, yes, but it's difficult, at least for me, to take seriously violent imagery from five guys that met at music school. Whereas groups like Bone Thugs 'n' Harmony sang about murder in the 90s and meant it as memoir, CAF is more along the lines of, say, Taleb Kwali, that breed of rap artists who maintained they were "lyrical assassins", not actual ones. Art, it seems, can be used as a weapon, and sometimes it gets turned on other artists. That hard edge that hip-hop and rap have always had remains, but metaphorically, which, once I was old enough to really grasp it, was for the most part always the case, anyway.
But what may be most interesting about CAF, and what separates them from some of their fusion counterparts in other parts of the world is their seeming recognition that at times they must turn their philosophy on themselves: whatever beauty they see in their own music has to be sacrificed as well. It's tempting, at this point, to contradict what I said before, to make this an extension of their lives as well. In a country that's seen complete revolutionary changes in state power and whose citizens periodically take to the streets or take over a school, CAF's metaphors may just be in line with any in their country's political history.
Take their last two albums. Colores y Cadaveres, released in 2011, is a bit of a prelude. Koala Contreras, the group's only rapper, is at his most contemplative. "Hora Punta" (Rush Hour) is laden with the background noises of car horns, the constant beeping of the metro turnstiles any one of us who has spent some time in the city are fully aware of, the dulcet voice of the metro woman who tells us the trains' doors are "starting to close". Over a slow moving, jazzy keyboard riff, Koala raps of "two getting on, six getting off, then ten more" as if this is the rhythm of life; coming, going, uneven, but constant. "We're getting into the same line" he says on the track "Caen", and one wonders whether or not he understands the line as moving toward change or toward death, or if there's even a difference between the two. And though he makes it clear the band "opts for believing, for growing" on "Opción", he is not above chanting "mala suerte" during the same track. It is as if, at the end of all this philosophizing about modern life (and its political counterpart), the only conclusion he can come to is that, by some cosmic luck of the draw, we're all fucked.
[soundcloud url="http://api.soundcloud.com/tracks/37911295″ params="" width=" 100%" height="166″ iframe="true" /]
Colores y Cadavers works as an album partly because of the contrast which the title implies. Death, or the coming-of-death, is there, but Koala's lyrics are underpinned by a musical universe reminiscent of Herbie Hancock's Headhunters; it's lush, loungie, driven by the keyboard work of Subcomandante Marcos, and occasionally hip-hopped up by the scratching of DJ Sp@cio. Where the coluorless cadavers, animated as they are, of modern life are lain before the listener, the sound, both immediate and ethereally distant, is what keeps us just a bit more attuned to it all.
While you might say that Colores y Cadaveres was CAF's spiritual album, an urban mysticism that sees death in the very thing that keeps a city alive, Comenzará de Nuevo (Start Over) is its realist, revolutionary, hippie-hating cousin. Something is hiding us, Koala says on the album's title track, but he is not happy staying hidden. I don't want to remain in this body, fixed and frozen, he bellows. Comenzará de Nuevo, like Colores y Cadaveres, is an album about the times: the band's aim is to "contradict the rest", the rest, we can be assured, having gotten comfortable with their fixed and frozen bodies. When it gets overtly political, such as on the track "El recurso popular más válido" (The most valid human resource), Koala tells us what the stakes are: "education is in a coma", he says. But that doesn't mean its dead yet.
The music itself retains only a small portion of the previous album's jazziness. The loungy keyboard has been replaced by more languid intensity, an underground Dostoyevsky-meets-Kid A sonic landscape. In the place of metro sounds there are explosions, heavy breathing, a sense of something imminent. You get the feeling that you've walked into a protest of sorts, another thing you get used to living in downtown. My friend was right. The work does stand on it own. And once you're in it, it's damn hard to leave.
[soundcloud url="http://api.soundcloud.com/tracks/73986946″ params="" width=" 100%" height="166″ iframe="true" /]

Follow Sounds and Colours: Facebook / Twitter / Instagram / Mixcloud / Soundcloud / Bandcamp

Subscribe to the Sounds and Colours Newsletter for regular updates, news and competitions bringing the best of Latin American culture direct to your Inbox.
Share: