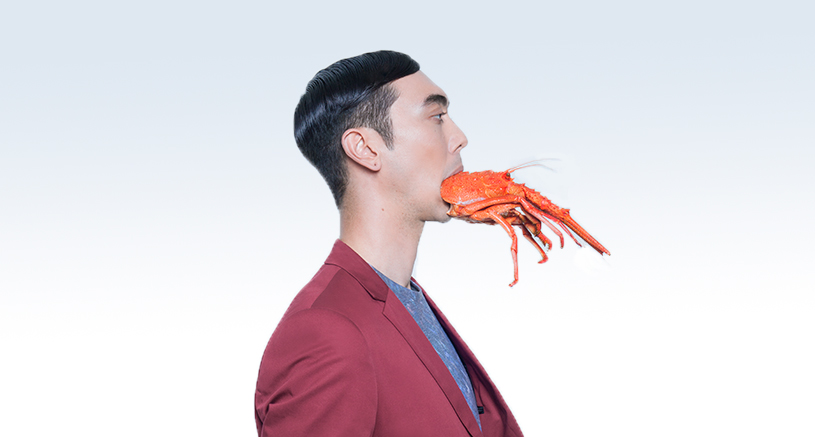 Interview with Tatsu Jones, Founder of Chilean Label Endemika
13 September, 2014
Endemika is a Santiago-based record label which has grown into one of Chile's main platforms for emerging electro and hip hop artists. The label was founded in 2013 by Tatsu Jones, a musician/producer of US/Japanese descent who had been living in Chile for a number of years. Tatsu sat down with Sounds and Colours to tell us about the label and his own band, Picnic Kibun.
Hi Tatsu. Thanks for taking the time to talk to us. Could you tell us a bit about how Endemika was born?
It started out as a project through my band Picnic Kibun.  PK was a quite an odd ball in the Chilean indie scene mostly because I – a Japanese gringo – was the lead vocalist. We wanted to create a platform for other Latin American acts that didn't fit neatly into what you would consider to be stereotypically 'Latin'.
Juan Necochea – the other half of Picnic Kibun – and I made a long list of possible names for the label and spent an evening drinking piscolas crossing them all out. I have a background in biology and as an afterthought threw out the word 'endemic' – a species that is found in only one area or region of the world. I explained what it meant to Juan, and he liked it. We switched it to 'Endemika' so it would work in English and Spanish. Bang.
Is there a label philosophy or any kind of specific criteria for your artists (musical style/nationality etc)?
The philosophy is to apply the ecological definition of the word 'endemic' to artists. We want to work with artists that exist only in one place. As a young label, it's very tempting to sign and release as much music as you can, but your reputation is everything. When I get demos, the first and last thing I ask myself is 'Are they endemic'?
How does an American-Japanese person end up fronting a label in Chile?
Weird story.
I came to Chile after graduating from college to spend a year learning Spanish. Spanish didn't come as easily as naively expected, and I found myself working on my language skills doing a masters degree in wildlife conservation ecology. For money I worked as an English and physics teacher, and somehow started a band with three friends called Picnic Kibun.
All of this and Endemika happened in the span of eight years, and the funny bit is that I never planned on working in music or even in the arts. I'm not much of a career planner.
So, are you still in Chile now?
No – I'm a full-time London boy now. Very cool city.
Could you tell us about the artists on Endemika?
At the moment we are working closely with Tunacola, DJ Caso, Lainus and ZEBRA 1993. Most of them are bands and all are a part of the tight knit indie scene that is Santiago. Their styles range from tropical hip-pop to trap to chill wave.
Miss Garrison were also on the label, right? Are they still working with you?
Miss Garrison have been with us since the beginning really. The vocalist and drummer (Fran Straube) played in Picnic Kibun, so we are all pretty tight. We won't be releasing their new material, but we still collaborate.
How did you find these different bands and musicians?
With Picnic Kibun we were playing the local scene for seven years; everybody is a friend that we either played or partied with along the way.
[soundcloud url="https://api.soundcloud.com/tracks/161994246″ params="color=ff5500&auto_play=false&hide_related=false&show_comments=true&show_user=true&show_reposts=false" width="100%" height="166″ iframe="true" /]
A lot of people talk about Chile being at the vanguard of the regional cultural scene. What's your view on that?
I think Chile is good at producing pop tunes that work internationally – in Latin America and Spain most notably. They stay up to date with international trends better than some of their counterparts, and are more inclined to step away from the more traditional 'Latin' sounds and mix it with more contemporary sounds. Thank you, internet.
The other factor is that production standards are high. There a handful of top-of-the-line producers and engineers paving the way, like Cristián Heine – the man behind Javiera Mena and Gepe – and Chalo González – the guy who literally masters every worthwhile Chilean record – who have definitely raised the bar both in terms of songwriting and audio quality.
Both of these factors I've mentioned are very much connected to the Chilean economy. Although being one of the most socially unequal countries in the world, there has been a noticeable general improvement in terms of overall wealth. This wealth is very concentrated towards the top of the social ladder; nevertheless there is more money to spend on luxuries like art and music, and music is becoming easier to produce so more people are making it.
More music, higher quality production and easily accessible international influence have all played a part in making Chile a global pop contender. That's my humble opinion.
Could you tell us about Picnic Kibun?
The name 'Picnic Kibun' is Japanglish for 'Picnic Feeling' or 'Picnic Vibe'. The name comes from a line in the title song for a video game called 'Katamaridamshi', which translate to 'Spirit of the Accumulation of Stuff'. It's a weird, but addicting PlayStation game that involves a little guy pushing a snowballing accumulation of stuff. The line in the song says, 'Picnic Kibun feels so good!' We thought it was pretty funny and went with it.
In retrospect it was a horrible name for a band, but the wackiness of the name gave us a framework for the type of music we made. We started off incorporating elements from hip-hop – like sampling and rapping – and combined it with everything from electro-pop, electro to drum and bass. They lyrics were in English, Spanish and Japanese so you could just imagine how uncommon that was in Santiago.
Juan and I started the band with two other friends in 2006, but the other two – Blit and Eduardo Vila-Echague – left back in 2008. I just moved to London this year so we've put the project on the shelf for the time being to focus on new projects. We put out two albums, and most of it is quite good J.
Where can people get hold of Endemika albums?
Best place to find our music is on our SoundCloud.
What does the future hold for the label?
We are really pumped about the new Tunacola album coming out this year. I just heard the full thing last week, and it's really cool to see how their sound has evolved from 8-bit hip-pop to something more sophisticated over the past couple of years. The band's leader, Richi, has a really dedicated team around him so it's great to finally get out there.
We have a few new artists that we are exited to be working with this year also. Lots of Latin girl power; it's gonna be great.
What do you think of Chilean music in general? What about music from the wider region?
If you listen to things like Vampire Weekend or Diplo, it's very clear that the global North have borrowed heavily from the South. Paul Simon's Graceland is kind of a case study for Westerners using South African sounds like Mbaqanga to make global hits. I don't like flag-waving in general, but I wish some areas of Chilean music would seek to redefine their local sounds instead of copy pasting from abroad.
There is nothing less interesting to me – and I think for the average international listeners– than a Latin American band that looks and sounds like a Brit pop act.  I understand people want to be the next Phoenix or ABBA, but Spanish is the second most-spoken language in the world. The market is huge, and with the exception of dance music, there has not been an English-singing Chilean pop act to really make it internationally that I'm aware of. I think you should think twice about giving up authenticity, and doing so makes little sense from a business perspective. Again, just my humble opinion.
Are there any specific bands/producers/DJs etc that people should look out for?
From Chile, I really like Kali Mutsa. I think she's probably the most original thing that has come out of the country in the past few years. Vicente Sanfuentes is doing greatwith his new label, Sanfuentes Records; he's on the road to redefining Latin American club music.
Is there anything else you'd like to tell us?
I'm really enjoying the food in London, but the weather is rank. That is all. Thanks for listening.

Follow Sounds and Colours: Facebook / Twitter / Instagram / Mixcloud / Soundcloud / Bandcamp

Subscribe to the Sounds and Colours Newsletter for regular updates, news and competitions bringing the best of Latin American culture direct to your Inbox.
Share: