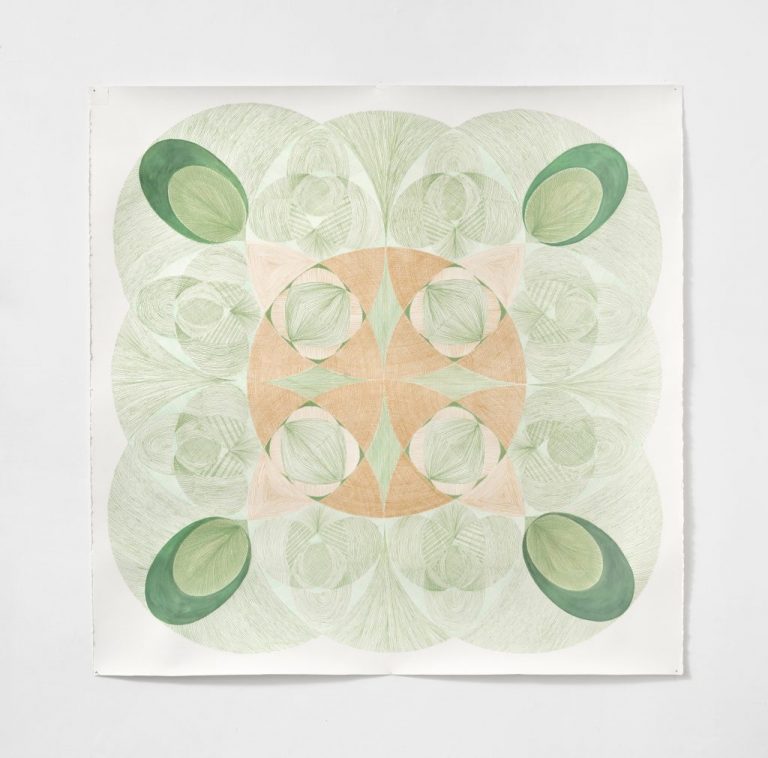 Rodrigo Pereda
Johanna Unzueta – Tools for Life
11 February, 2020
Johanna Unzueta's fascination with combining textures and manufacturing is evident as soon as you walk into the first gallery at Modern Art Oxford. Her giant freestanding felt bicycle chain, "Related to Myself" towers over you at an impressive nine metres long, with each cog based on the dimensions of Unzueta's own body. It's these unusual nods to both the industrial and the organic that are prevalent through Unzueta's first UK solo exhibition, exploring industrialization, age-old textile production techniques and how these continue to impact our society and the human condition to this day.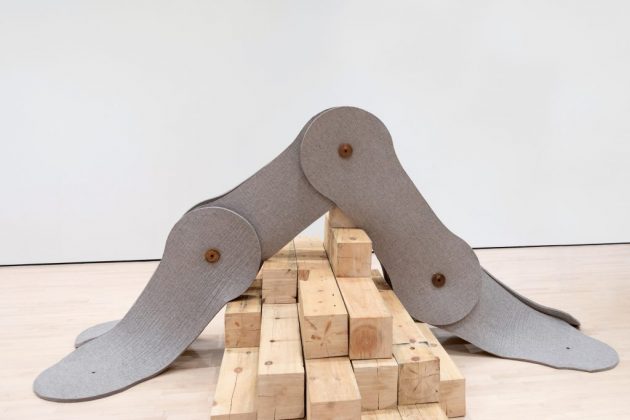 Gallery one is filled with larger sculptures, made out of organic and raw materials – felt manufactured by a family company from Unzueta's native Chile, pipework wrapped in organically produced indigo and burnt cinder blocks. A personal favourite moving into Gallery two is the collection of upcycled garments with wooden buttons, made out of materials sourced from both Guatemala and Mexico [such as the image below] – blink and you'll miss the gallery staff decked out in these beautiful pieces. It's a clever nod to the impacts of fast fashion and our throwaway, disposable culture. These 'wearable sculptures' blur the line between object and art, and it's a thrill to see how each member of the gallery makes it their own.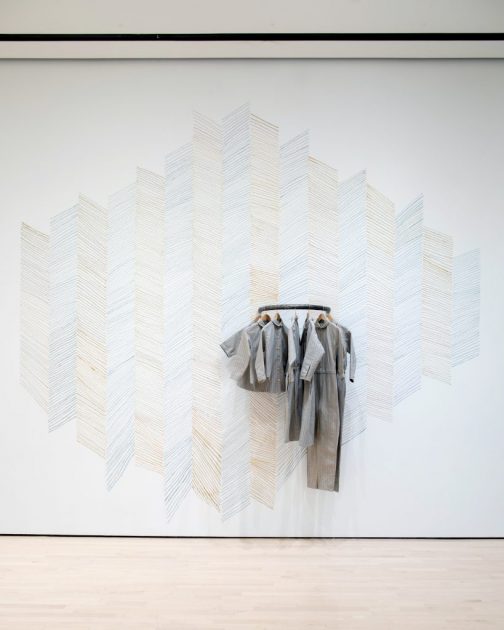 Unzueta's relationship to materials and texture, the idea of make-do-and-mend remains throughout this exhibition, driven by her early career as an artist out of post-dictatorship Chile. A lack of state arts funding saw her early collections shown sporadically, starting her career off in an almost nomadic state, and it's this organic approach and her interaction with both nature and industry that make her pieces truly unique.
"My mum always said I learned to weave and knit before I learned to read and write. Hands are tools for me and I can't disconnect that." Unzueta comments, and its her skill in textile, sculpture and abstract drawing across the exhibition in which you can see how her hands are manipulated to create unique relationships with each and every material that she uses.
Her abstract drawings in the final gallery [such as the exhibition below] are displayed in the middle of the room, rather than hanging on the gallery wall, encouraging you to engage with all angles of the paper, tinted with natural dyes and colours. Inspired by the symmetrical geometries found in nature, yet hung in three-dimensional settings, they feel both organic and polished at the same time – if there are any minimalist imperfections these are impossible to spot with the naked eye.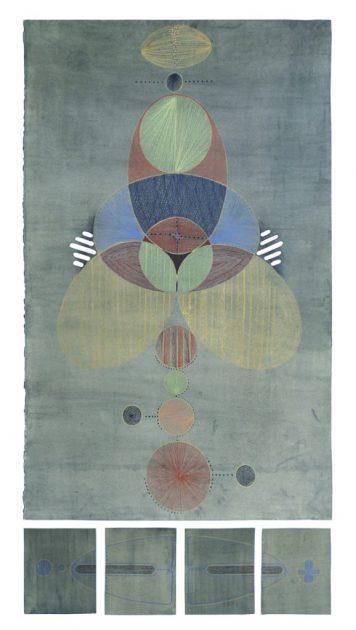 From the Mapuche people in Southern Chile, to Guatemala and New York, where Unzueta currently lives, her travels and interactions with natural materials and techniques embrace both ancient and modern. Manipulating the organic into works that feel both raw and somehow polished at the same time, makes Tools for Life well worth the visit if you find yourself in Oxford and want to escape into a world that puts a humanitarian edge back into industrially-produced objects that we use in our everyday lives.

Follow Sounds and Colours: Facebook / Twitter / Instagram / Mixcloud / Soundcloud / Bandcamp

Subscribe to the Sounds and Colours Newsletter for regular updates, news and competitions bringing the best of Latin American culture direct to your Inbox.
Share: