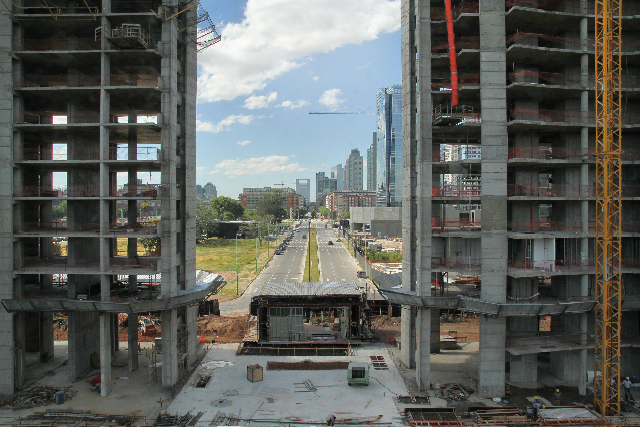 Life as we now know it: Santiago's International Documentary Festival (FIDOCS) 2013
09 July, 2013
The 2013 Santiago Festival of International Documentary (FIDOCS) once again saw a whole range of films coming to the Chilean capital. With close to one hundred films on show, the six-day event covered a vast range of themes and topics, crossing the spectrum of human emotion and experience, and featuring sections devoted to a number of distinguished filmmakers. The festival was founded in 1997 by Patricio Guzmán, director of some of the most groundbreaking political cinema of modern times, with films such as The Battle of Chile, Salvador Allende, and Nostalgia for The Light.
Advances in technology have given film production a more egalitarian landscape in recent times and made it possible for more people to create their own films. The increased accessibility to recording, editing and sound equipment has allowed many emergent filmmakers, low in budget but rich in talent and concept, to produce work that demonstrates the infinite possibilities of documentary filmmaking to capture distinct aspects of the world we live in, and record life as a story. This new socialist aspect of filmmaking was evident at FIDOCS, as first-time directors exploring their local environment shared the bill with renowned names from the international circuit.
As ever, the festival awards focused on Chilean and Latin American films, although the full selection has a global spread, with films from Europe, Asia, Africa and North America shown out of competition. The competition criteria state that films must come from the specified region or cover themes devoted to regional issues, allowing for a captivating variety of styles and subjects, reflecting distinct cultural, political and social fields. Documentary's strength lies in its inherent ability to open our eyes to the constant evolution of our existence and the implications that arise from the infinite inter-relations that characterise the modern world. FIDOCS once again provided an opportunity to explore a few of these.
The Chilean competition was won by Ignacio Aguero's film El Otro Día (The Other Day), a work that was conceived as a personal story told through the balance of space and possessions, but which took on a wider context as the director incorporated a range of integrants into the film. Over the course of a year, Aguero turned the tables on visitors to his home, asking them to open their doors to his camera. The result was a film that shifted in tone from the personal to the collective, and what was initially a private story became a study of human behaviour.
There was an intimate aspect to a number of other films in the Chilean category. La Última Estación (The Last Station) is a deeply personal and moving film about the final stages of life, set within an old people's home where the residents simply await the inevitability of their own mortality. Cristián Soto and Catalina Vergara's film is rooted in the sadness of solitude and was regarded by a number of observers as worthy of the main prize for its touching and sensitive portrayal of death. Quiero Morirme Dentro de Un Tiburón (I Want to Die Inside A Shark), directed by Sofía Paloma Goméz and filmed within the confines of a centre for children with behavioural issues, was another film of an inwardly reflective and personal nature, while the negative effects of globalisation on small communities provided the key theme of two films, Las Cruces de Quillagua (The Crosses of Quillagua), directed by Jorge Marzuca Venegas, and Javier Correa's A Primera Hora (Early). Watched in tandem, the films show the geographical contrasts of Chile (Marzuca's film focuses on a small town in the arid north, while Correa took a small community in the verdant, rainy south as its focal point) but both highlight the drastic impact of the modern world on traditional ways of life.
The prize in the Latin American competition was taken home by Argentinean director Martin M. Oesterheld for his film La Multitud. Now this was an interesting choice by the judges. Not a conventional film by any means, La Multitud (see the above image) is cinema as art, taking a series of moving images and creating a cinematic canvass upon which its vision can be realised. Oesterheld spent several months filming around an abandoned sports complex and nearby construction projects in Buenos Aires with the purpose of exploring the city's contours from a detached perspective. The result is a thoughtful and visually arousing film that reimagines the urban landscape as a living thing of constant evolution, where countless tiny components come together to form a single organism. Rarely has a metropolis, with its density and pollution, looked so remote or peaceful.
Two films that touched on similar ground were La Gente del Río (The River People, from Argentinean directors Martín Benchemol and Pablo Aparo) and Patricia Ayala's film Don Ca (Mr Ca, which I reviewed here for Sounds and Colours), both of which featured outsiders settling into new communities, with different levels of success. The former's focus was toward the collective experience, and featured several members of the community whose presence contrasted between sadness or humour, while Don Ca was very much an individual story, something which I felt detracted from an otherwise engaging film. The political traditions of Chilean folk music were dealt with in Mélanie Brum's No Habrá Revolución sin Canción (There Will Be No Revolution without Song), which tells the story of the left-wing connotations of the genre, its repression during military rule in Chile, and its ongoing importance in today's student movement.
All in all, then, there were many compelling works in the two main competitions, yet one of the main events at FIDOCS this year was undoubtedly a rare cinematic showing of Patricio Guzmán's masterwork The Battle of Chile, filmed in Chile shortly before and during the coup d'état against Salvador Allende's socialist government that brought about the Pinochet dictatorship. Shown here to mark this year's fortieth anniversary of the coup, the three-part documentary has been widely lauded as one of the most important political films of our time, and recognised as a key document in the formation of memory and detailing the circu events of the coup. As the military authorities maintained an iron fist over what was reported under military rule in Chile, the work of exiled filmmakers such as Guzmán took on great importance in creating global consciousness of the situation in Chile. Today the films maintain a raw power for their portrayal of a society fracturing at the seams due to internal conflict and outside interference.
There were also 'focus' sections at the festival for two other Latin American filmmakers. The first of these was the Mexican director Juan Carlos Rulfo, son of the writer Juan Rulfo, whose films cover various aspects of Mexican identity and the national experience. One of his best-known films is En El Hoyo (In The Pit), which looks at the lives of a group of construction workers employed in the development of an enormous highway through Mexico city. Also honoured with his own section was Brazilian artist-director Cao Guimares, whose work explores visual concepts of light, shape and colour. In Andarhilo (Wanderer), the director follows three vagrants as they roam without purpose through the northeast of Brazil, and finds that it is this very act which gives them a sense of being, their ongoing movement providing mental sustenance to their existence. I was also very taken by Guimares' collection of short films, which flow through a rich visual tapestry of images.
The sheer range of films on show and the central location of the festival, plus a reasonable pricing policy, make FIDOCS a festival of wide appeal. This is reflected in the audiences and the attention generated by the festival. Yet there is a sense that much more could be done to support Chilean documentary filmmaking. In his acceptance speech for the best Chilean film, El Otro Día director Ignacio Aguero criticised the hypocrisy of national television station TVN, which sponsors the festival yet carries very little national documentaries on its main channels, preferring the more commercially lucrative, yet artistically vacuous, realms of light drama and entertainment. As Patricio Guzmán explained, FIDOCS was founded as a means of supporting Chilean filmmakers and providing a platform for their work. While the festival undoubtedly does that, and emphasises the talent that exists in the documentary genre, there remains an overall lack of finance and infrastructure to provide many of these films with the exposure that they merit.
But on a more positive note, this was a reminder of the exceptional level of filmmaking in Chile and the wider region, and the continuous ability of documentary to carry strong messages and dissect various aspects of the human psyche. Although there was the odd duffer, it was a very enjoyable week of film in Santiago, and one that will hopefully act as a springboard for many of the films on show.
You can read about the full festival on the official FIDOCS website.

Follow Sounds and Colours: Facebook / Twitter / Instagram / Mixcloud / Soundcloud / Bandcamp

Subscribe to the Sounds and Colours Newsletter for regular updates, news and competitions bringing the best of Latin American culture direct to your Inbox.
Share: