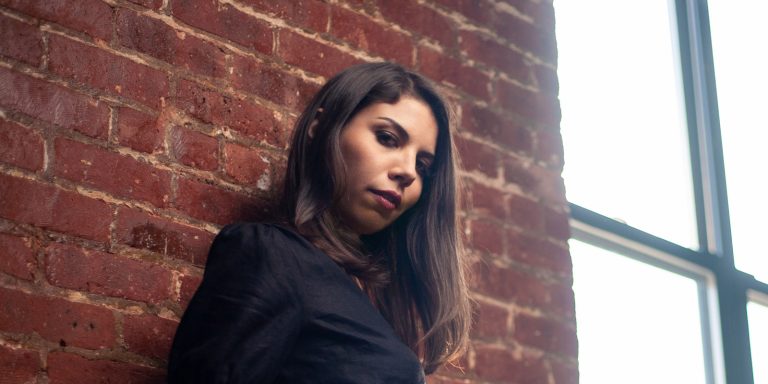 Eduardo Pavez Goye
Melissa Aldana's Deep Bond with the Tenor Sax
26 April, 2022
Ever since Coleman Hawkins forged the template for the tenor saxophone in jazz, the instrument has been synonymous with the male sex: the classic silhouette of the tall hombre wielding the big brass horn. Things are changing a little now, but it's still rare to find a woman who has carved out a reputation on the tenor sax. Rarer still to find a woman from Chile. Not that Melissa Aldana necessarily thinks of herself as a "Chilean saxophonist", rather a tenor saxophonist who happens to come from Chile.
I caught up with Melissa via Zoom during her day-off in London from promoting her first album for the legendary Blue Note label, 12 Stars. She and her band were then off for the first of three scheduled European tours this year before their return to England for the Love Supreme festival at Glynde Place in East Sussex at the beginning of July. They'll be appearing with the likes of Gregory Porter, Erykah Badu and legendary saxophonists from the jazz pantheon, Gary Bartz and Charles Lloyd.
In fact, I suggested, I heard shades of Charles Lloyd in her light and airy tone, and amongst the intricate harmonies of the seven compositions on her impressive Blue Note debut. If so, he wasn't one of the five key influences she cited: "sexophonist" Don Byas; Duke Ellington's elegant latter-day tenor man, Paul Gonsalves; ex-Jazz Messenger and composer, Benny Golson; "saxophone colossus" Sonny Rollins; and the contemporary tyro, Mark Turner. Melissa picked up the instrument as a young child in Santiago, Chile. Her father was a tenor saxophonist and his father before that. "I grew up in a sort of bubble," she reveals, "thinking that Charlie Parker was the hippest musician and going to high school where people were like 'What are you talking about?' Chile was not a country that embraced jazz." Nevertheless, she's "had a deep bond with the saxophone since [she] was very young." Although her sister "completely hated the saxophone", the instrument brought Melissa closer to her father. "I was lucky having a really great teacher… I know he was very strict; I used to practise about eight hours a day when I was a kid, but I don't remember it as something I didn't enjoy – luckily!"
It wasn't long before she outgrew the somewhat limited Santiago scene. "I always had a feeling that I wanted to leave, that I didn't want to live there," she tells me. It was the Panamanian pianist, Danilo Pérez, who helped effect her move to New York at age 16. Having introduced herself to him at a gig in Santiago, he invited her to a jazz festival in Panama, where she was able to connect with musicians from the United States. She won a scholarship to Berklee, which gave her "all the external experiences that [she] wasn't able to get in Chile."
The notion of the personal 'journey' has become a bit of a modern-day cliché, but in Melissa's case it was an actual, as well as a spiritual and musical, one made somewhat easier post-Berklee by winning the coveted Thelonious Monk prize in 2013, three years after moving to New York. "Out of the twelve people chosen, I was the only female, so it was sort of a big deal. I won the competition and that really helped economically speaking. It opened a lot of doors."
One such door led her into the all-female supergroup, ARTEMIS, and I wondered whether Melissa was consciously carrying the torch for her sex as a female musician. "I'm very conscious about it… I come from a very machismo society, where a lot of things are normalised that I'm not OK with… But I don't want people to know me because I'm a female who can play the saxophone, I want them to know me because of my sound and what I want to say. I want the music to be strong and transcendent and deep enough…"
"I never really had the feeling that I was being disrespected because I'm a female, you know… [Nevertheless] I have been in places where they, like, don't even know who I am and I'm actually the band leader, and they don't even look at me or acknowledge that I'm there." She noticed, however, that attitudes changed after she won the Thelonious Monk competition "and started having more of a name… I've sort of found my place now and am conscious of the importance of what I'm doing. The responsibility I have is to be the best person I can and practise my ass off so I can be as strong as I can for the future generations. The thing is, you need to respect everyone – whether they're a famous musician or they work in the kitchen. You need to be a nice human being."
That, she certainly is; what's more an incredibly hard-working human being. She manages to combine teaching (privately and at the New England Conservatory) with seemingly constant touring and intermittent recording, while practising around five hours per day, or three when she's on the road. "I love to practise," she beams. "But it's not about the business of being super-killing, more to take advantage of playing every day… I try to keep it going, but I don't want to burn myself out. So I may be doing a bit less teaching [next year], then just hang with the band for a while."
Her band (Norwegian guitarist, Lage Lund, pianist Sullivan Fortner, drummer Kush Abadey and long-time collaborator Pablo Menares on bass) are paramount in her future plans. "Me, next? It's the band." She cites Coltrane and "his search for the sound, which had a lot to do with the band he was playing in. I want to have that experience of finding something. I want to do at least another five or ten albums with the band and go super-deep into it. The key is to have the same people all the time. It's never been about the career itself, but about having a strong career, so I can keep the band, you know – then everyone can make some money!" she laughs.
In terms of a career, 12 Stars already represents Melissa's fifth album. I asked about any discernible Chilean influences. "More Brazilian," she replies. "I've learnt so much from artists like Caetano Veloso and Gal Costa. The beauty of the harmonies and melodies is something that I'm very connected to, something that was there when I was composing the music for the album. As a saxophonist, I can't express myself through the lyrics, so the harmonies help me to be as expressive as I can."
Thematically, the twelve stars are those that adorn The Empress's crown in the Tarot. "The Empress is a symbol of creation," Melissa has previously explained. "She represents my essence as an individual." The phoenix, too, is an important emblem for her. Themes of rebirth and letting go of the past are keys to interpreting the seven numbers she co-composed with her guitarist and producer, Lage Lund. She plumbed the depths of her personal life during the pandemic, separating from her husband just before lockdown, but refers to this "collapsing" as "something very important to [her] – in order to know [herself] better." She elaborates: "It had to do with a very deep personal process, which is very related to music. That's why the last album and this one have a lot to do with my story and this process of growth, which has to do with letting go: on a personal and a musical level… It's important to let go when you play in order to connect with the emotional content of the music."
Melissa has literally and figuratively moved on to a good space. She moved back from Harlem to Brooklyn, where she now has her own apartment and a stable base. Recording for Blue Note has been a "very positive, good experience. I finally have a really amazing team of people working behind me, making things happen." She has a terrific band and a burgeoning reputation, with all the work she can handle. Now, too, the younger generation of musicians look upon her as a role model. "I feel like a mom sometimes," she quips. "It makes me feel a strong sense of responsibility."
"I think I'm very much obsessed by the idea of the tenor saxophone," she reflects. "I spend all of my time trying to figure that one thing." So what would her sax-hating sister back in the old country make of that? She smiles. "We live extremely different lives, but we're very connected." It's high time to connect with this radiant young tenor star – on stage and on record. Be quick; Melissa Aldana is rapidly going places.
12 Stars is released by Blue Note Records

Follow Sounds and Colours: Facebook / Twitter / Instagram / Mixcloud / Soundcloud / Bandcamp

Subscribe to the Sounds and Colours Newsletter for regular updates, news and competitions bringing the best of Latin American culture direct to your Inbox.
Share: