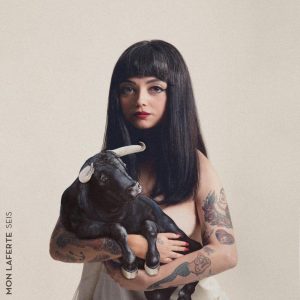 Review
Mon Laferte – SEIS
SEIS is a shift in Mon Laferte's career. Impregnated with a Mexican aesthetic and dramatic singing this album is an intimate journey into traditional Mexico and Mon Laferte's universe.
Mon Laferte may have always been versatile, but this very Mexican album is a surprise in comparison to what she's done before. It's a testament to her attachment to Mexico, the country the Chilean artist now calls home. The record features iconic regional Mexican artists such as Arolladora Banda El Limón de René Camacho, and Alejandro Fernandez (son of the very famous ranchera singer Vincente Fernandez), as well as famous pop singer Gloria Trevi. Mon Laferte embraces all Mexicos, in order to transmit her own picture and tribute to the country. The album is sprinkled with homages to Mexican rurality: they are found in the instrumentation, lyrics, as well as in the videos.
The figure of Chavela Vargas was also an influence for the release. She is a major Mexican singer who revolutionized ranchera music with her interpretation, intense and dramatic, as well as being a symbol for the representation of women in music. Her inspiration can thus be understood in many ways; by the use of ranchera and its accompanying aesthetic throughout the album, by the deep and powerful vocals, and by a real commitment to defend freedom and represent women in the lyrics. Choosing to sing about Mexico with rancheras is also very significant; as the genre developed itself after the revolution; it is a strong symbol of Mexican popular culture.
In her own way, but also influenced by the legacy, courage and pride of Chavela Vargas, Mon Laferte reinterprets Mexico and ranchera music through singing about love and sorrow.
Tragic love …
SEIS may be one of Mon Laferte's greatest vocal performances. Her singing is powerful and emotional, accompanied by all the diversity and richness of a mariachi orchestra; guitars, trumpet, strings and accordions, that support the vulnerability, and profundity of the lyrics. Many songs use all the characteristics of traditional and rural Mexican music; to sing the pains of the soul: love, loneliness, and disillusion. There are ballads such as "Amigos Simplemente" and "Amado Mio", and misleading joyful waltzes like "No Lo Vi Venir" and "Canción Feliz".
The album opens with "Se me va a quemar el corazón", a song which talks about heartbreak and tragic love, a love that hurts and burns the hearts. It is a classic melancholic ranchera that expresses much suffering, detailing a toxic and abusive relationship from which a woman is trying to get out of. It's a song made for crying, and for drinking your sorrows to, as its video suggests. "Que se Sepa nuestro Amor" is another single, a romantic and imposing ranchera sung with Alejandro Fernandez where we get to enjoy the complete mariachi band, accordion, strings and guitars that honour Mexican traditional music but also a love that needs to be sung out loud. "Nada me importa la gente, lo nuestro tiene que saberse en honor a esta pasión […] Al mundo le es urgente que se sepa nuestro amor" ("I don't care about people; our story needs to be known in honour of this passion") sings Laferte. As the lyrics talk about a late-flowering and forbidden love, I cannot resist thinking about Chavela Vargas, who came out publicly as homosexual and had romances until her later years, building the first steps of a new representation of love, music and women.
Celebrating great women
Many songs celebrate women and differentiate the production from a traditional regional Mexican album. In "Te Vi" Mon Laferte thanks a mother – possibly her mother, or Latin American and Mexican mothers as a whole? – for her toughness, courage and dedication. "Se va la vida" is a moving funeral march about the unfair death of women of all ages, accompanied by a popular orchestra.
The production also spotlights the musical contributions of women, featuring as it does a feminine band of traditional oxaquense music, with the "Que se sepa nuestro amor" video filmed in Garibaldi Square (a symbolic location for Mexico's musical history) likewise having the participation of female mariachi orchestra, Mexicana Hermosa.
"La Mujer" may be one of the most significant and powerful pieces on the album. We already know Mon Laferte's commitment to offer new stages and voices for women, but this song is even more powerful thanks to Gloria Trevi, an important voice in Mexican pop music. Both sing of revenge after a separation, and unite their voices to defend a woman who ran away from an unhealthy relationship. Empowered by a full range of brass instruments they sing the power of a woman her partner never saw because he was too busy handling everything in his own way. They tell of a relationship that taught them about pain and about the freedom felt when letting it go, and daring to recognize the culprit. "Calavera" is another song of vengeance and justice, in what seems to be a conversation with death. The calavera (skull in English) is Mexican death personified as a woman seeking justice for all women that have been hurt. The song is a trial: "Dime a cuantas mujeres mataste de la pena […] Quiero dejar atràs estas penas" ("Tell me how many women did you kill with sorrow") that will help the victims to free themselves from the curse. The magnificent and powerful instrumentation of the song made by an entire orchestra of strings, wind, Latin percussion, piano and a trumpet, support and reinforce the tragic conversation, as well as another great vocal performance from Laferte. The singer's calaveras represent all female victims of love whose sadness brought them closer to death.
…From Latin America.
Mon leaves Mexico for only one song: "La Democracia". It's a popular cumbia anthem with great choruses, made to sing along to. Mon Laferte asks us, or maybe the politicians, what happened to democracy, and seeks to empower the people. It's the most political song on the album, and seems to refer to the events of the past years in Latin America, to the difficulties the continent is going through. Without a doubt it's dedicated to all Latin Americans.
Mon Laferte pays homage to her land of adoption, its traditional music but also to women: Mexican or Latin American women that suffer from violence every day but stand proud, speak and sing loud. As with Chavela Vargas, Mon Laferte gives her own interpretation of Mexican traditional music, whilst also fighting for female freedom in all fields, whether it be music, society or relationships. Ranchera music can be described as a music of the soul. With its dramatic interpretations and lyrics, SEIS can be described in exactly the same way, this is music of, and for, the soul.
SEIS is released by Universal Music Mexico

Follow Sounds and Colours: Facebook / Twitter / Instagram / Mixcloud / Soundcloud / Bandcamp

Subscribe to the Sounds and Colours Newsletter for regular updates, news and competitions bringing the best of Latin American culture direct to your Inbox.
Share: