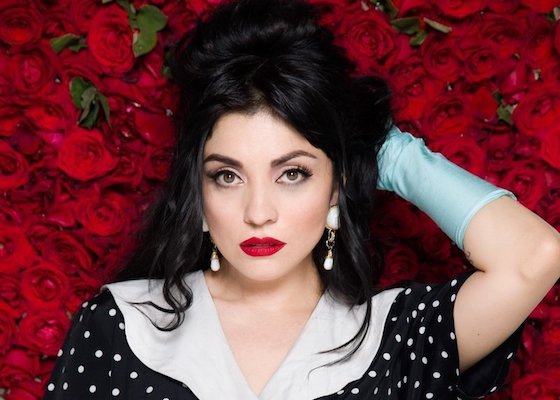 Mon Laferte Talks 'Música Cebolla' and Why Latin America's Dance Halls Are Perfect For Exploring Love
06 November, 2018
A photo that accompanies the press release for Mon Laferte's latest album Norma shows the singer with a look of anguish, holding a knife and an onion. We ask if this is a reference to música cebolla— onion music. "Yes!" she laughs. "In Chile we use the term música cebolla to refer to music that makes you cry, but it is also about the music from the barrio, of the people. For me it's an affirmation of my social class, and it is also the type of music that I like."
Mon Laferte grew up Monserrat Bustamente, playing in the bars of port town Valparaíso. Her story is one of perseverance and determination, after a stint of fame in a Chilean talent show in 2003, she went to Mexico to pursue her career. She released two independent albums and kept a relatively low profile for several years while battling health issues and overcoming cancer.
Eventually she caught the eye of Universal Music and released Mon Laferte Vol. 1 in 2015, which was a critical and commercial success. This was followed by the 2017 smash hit album, La Trenza, which featured Latin Grammy winning song, "Amárrame".
Despite the slick polish of her latest major label tracks and dizzying heights of her fame (she's now one of Latin America's biggest stars), she remains inherently connected with her roots. Her music typically chronicles the stories and emotions of the everyday—so much so, that she looked to the humble salones de baile (dance halls) of Chile and Mexico to inform the sound of her new album, Norma.
"The salones are where older people go dancing. They play salsa, mambo, cha cha, boleros… I started to go to those places to dance with señores, and got hooked on the music". Salones de baile are modest places equipped with sheer basics—a few tables and chairs lined around a dance floor, with a fuzzy-sounding stereo bleating out songs. This traditional way of experiencing music, so crudely, yet so intimately, inspired Laferte. "Dance halls are very cinematographic. I wanted to make an album that used all the rhythms you hear there to tell a love story."
Norma channels the music of the dance halls to explore love in all its forms, "[the story] is not only told through the lyrics of the songs. I believe the style of music also reflects the different phases of love", she explains. "The first stage of meeting someone, the seduction, is the cumbia. There is a song about jealousy, which I wrote as a mambo song, as it has a much more violent rhythm. The breakup song, called "Funeral", is a classic bolero."
Norma will be released on the 9th of November, the same day that she will be playing in London. "It is my first time in Europe, and I am excited but nervous".
She explains that she always gets anxious ahead of playing anywhere for the first time, "but I think it is a good thing". She maintains that she isn't worried about playing to crowds who may not know Latin music as her audiences in the Americas do, "Every place I perform I bring my emotion. I am a singer and songwriter, but I am also an actress on the stage", she explains.
"More than a concert that just goes through the songs, I want it to be a deeper experience. I like to move people so that they can dance, jump or cry… that they feel something."
No onions required.
Mon Laferte will play EartH (Evolutionary Arts Hackney) in London on November 9th (tickets available here), the same day on which Norma will be released.

Follow Sounds and Colours: Facebook / Twitter / Instagram / Mixcloud / Soundcloud / Bandcamp

Subscribe to the Sounds and Colours Newsletter for regular updates, news and competitions bringing the best of Latin American culture direct to your Inbox.
Share: