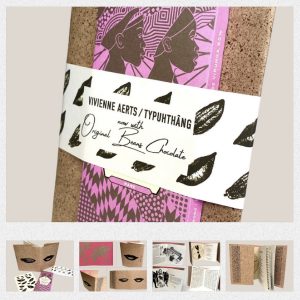 Review
Music for responsible chockaholics (Vivienne Aerts – Typuthâng)
Today is International Women's Day and here's a lovely, worthy project linking women and chocolate: a great combination in my book. Specifically, it's a musical exchange between Vivienne Aerts, a Dutch jazz singer, composer and arranger now based in New York, and a hundred next-generation female musicians in collaboration with Original Beans Chocolate. The idea being that the album will help to empower the female cacao farmers of the Congo's Virunga State Park with a view ultimately to replant the rainforest. Inspired by her community-focused parents, the artist wants "to use my music to raise awareness of this project… not to inspire charity but to match [the female farmers'] entrepreneurial spirit and generate business."
I must be getting a little slow on the uptake these days, because it took me a while to work out that the album's title is a play on words and not some obscure region of Laos or Vietnam. So what, you might ask, has this type of thing – responsible and inspiring as it is – got to do with a Latin-oriented website? Well, fifteen or so of the musicians involved are from Latin America, including Chilean Camila Meza who arranges the delicious single, "You Are My Morning", with its sparkling touches of duduk, vibes and harmonica. The charming accompanying video was made by Chilean film makers. "Silence", built around a small string orchestra and the singer's crystal-pure intimate voice (that puts me in mind here of the semi-legendary Patty Waters), is arranged by Ines Velasco from Mexico. The lilting bolero "What Will We Be" is arranged – with consummate taste – by Zahili Gonzales Zamora from Cuba. And the album is mastered by the Colombian engineer, Maria Triana. Convinced? Well, try that delightful video I mentioned for a taster…
The composer tends to focus on electronics and "multi-sensory experience design". The four "soundscapes" that accompany the other five original numbers do indeed engage several senses, based as they are on field recordings from a 2016 BBC radio documentary on Virunga State Park by Pennie Taylor and Elaine Livingstone. Aerts mixed the sounds of birds, work and singing and such like with sounds from other contributors to create a kind of "glue between songs or a palette cleanser between courses." If the culinary metaphor sounds at all fanciful, her husband Ted is an haute cuisine pastry chef. Together they have created the ChocoJazz/Vervool project, and live performances are "made to listen to, watch and taste, making the audience part of the art."
Hence, too, the connection with Original Beans Chocolate, whose CEO Philipp Kauffmann is a massive jazz fan. Everyone who buys the CD will also receive a bar of "Original Beans Femmes de Virunga". I'm looking forward to mine. I only hope it's as rich and as succulent as this mesmerising album.

Follow Sounds and Colours: Facebook / Twitter / Instagram / Mixcloud / Soundcloud / Bandcamp

Subscribe to the Sounds and Colours Newsletter for regular updates, news and competitions bringing the best of Latin American culture direct to your Inbox.
Share: