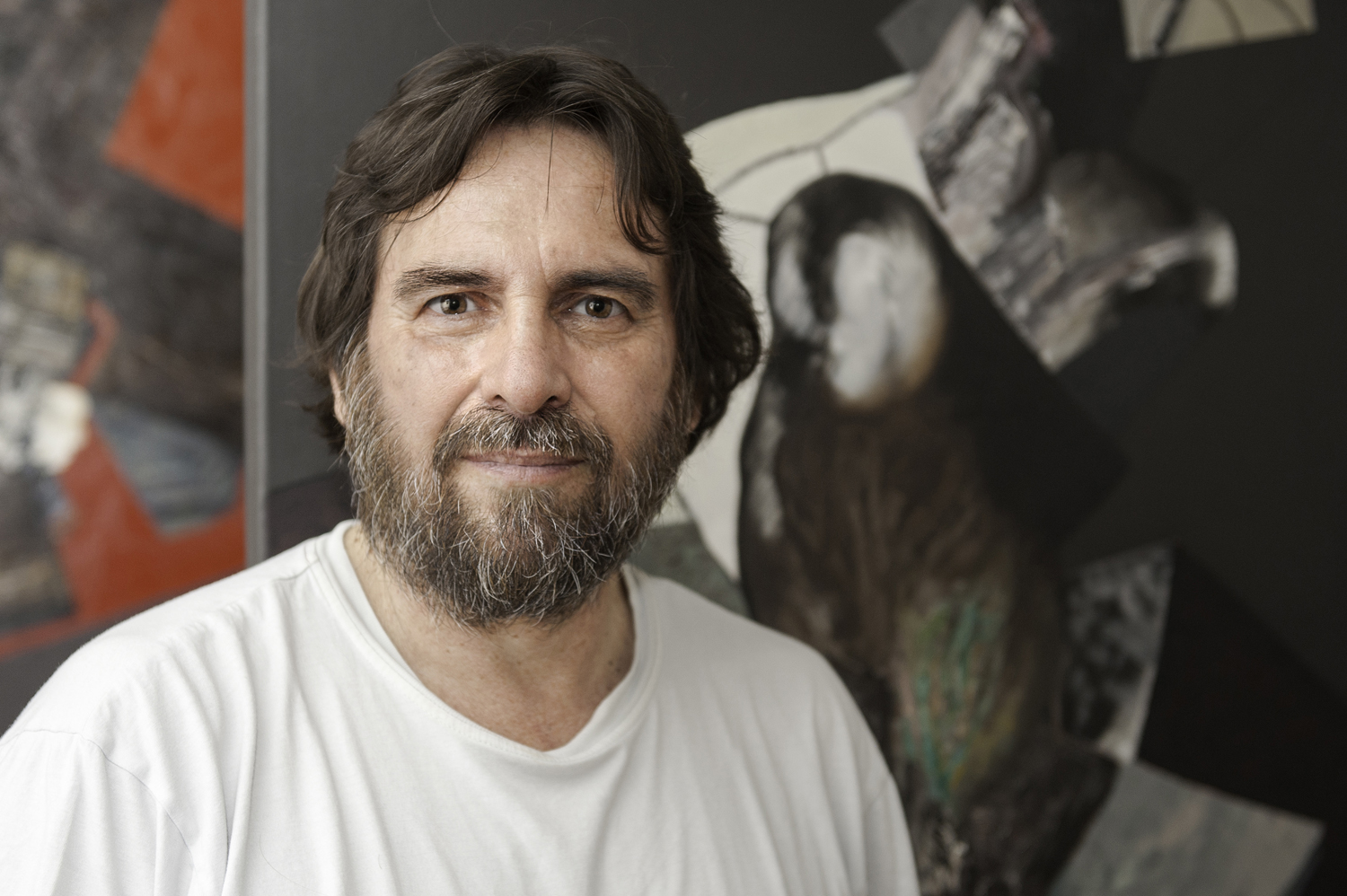 Seeing What Others Do Is Essential To Growth: An Interview With Chilean Artist Raul Eberhard
29 April, 2015
Raul Eberhard is a Chilean artist whose primary focus is the world and how it makes him feel. Raul connects the world around him with those too stuck in the worldwide system of blinking lights and dial tones. He creates no distinction between himself and his paintings; they both belong within each other as well as independently of each other. His first UK exhibition will be featured as part of The Collective 2015 exhibition happening at the soon-to-be-closed Westbank Gallery in London (27th April – 4th May). I recently spoke to Raul so please have a read of our interview, become inspired, and go experience Raul's genius as well as the other featured artists.
How are you feeling about your first UK exhibition, especially considering that this iconic building where it's being held will no longer exist after the exhibition?
I'm very excited, and the fact that the Westbank gallery is closing down makes it even more important to be starring in The Collective 2015. Everything is disposable, I am very proud to be able to say that I was there; I was a part of it.
 
Do you believe that your paintings say a lot about who you are?
My relationship with painting makes up who I am; I have never distinguished between my profession and my personal life. I am in what I do, it emotes me. I think that we are living in a time where there is such a kaleidoscope of cultures, forms and contradictions being expressed simultaneously. I believe that my work lives independently of me.
 
How far does your personality influence the use of your favourite mediums to create art with? 
I feel closer to certain types of media, but I am always keen to investigate others. I always look to get involved in different expressions, with common and repeated elements: my hands, my eyes or my head. 
 
What inspires you to paint?
My desire and need to narrate my relationships with the world.
 
Was it hard to find yourself and work in the style you do when exposed to so many pre-determined methods of creating art?
No it wasn't. When I was younger I started participating in, and later directed, the workshops of Gestalt and Encounter Groups, so the dynamic of meeting myself and the dynamic of the internal dialogue were integrated as everyday constants. Later, once I knew myself, I found the style and forms I wanted to work with without fear or trepidation. I often look behind and look at what I created years ago; it reminds me of what I was going through in those moments.
 
Why did you feel drawn to this particular style?
I think that the more we interact with the 'virtual' in our everyday life, the more we are displacing ourselves from the world of sensations: the best way to properly engage with it, in my opinion, is through abstract art, where there are no limits and interpretation is open.
 
After so many exhibitions in Latin America and Spain, what has made you decide it would be a good idea to exhibit your work in a place that is still fighting to get Latin American artists to be noticed by the general public?
 
This is exactly what drives me – it is the best motivation to come here and share my work.
 
What else do you think is needed to be able to showcase Latin American art more often in London and across the UK as well?
Conventional and official lines on the delivery of culture to the populace fill up speeches, as do the reasons why there are other more pressing necessities, so it's a slow process. There is also this idea that "we understand only what is our own", when in fact the truth is that we, as human beings, are pretty repetitive both in our tragedies and in our good times. Seeing what others do is essential to growth, for all of us, while we continue our path.
The Collective 2015 exhibition will run from 11am-7pm from 27th April – 4th May 2015 at the West Bank Gallery, 133-137 Westbourne Grove, Notting Hill, London W11 2RS.
Here's an example of Raul Eberhard's work. This is Moon of Jetties (Luna de los Malecones):
Other artists exhibiting as part of The Collective 2015 include:
Kimberley Thomas – Illustrator /  Mixed Media / Painter
Robin Easterby – Landscape Painter using oils, acrylics, mixed media etc
Marcus Sprigens – Illustrator
Georgi Liberty Lingwood – Brilliant emerging artist using a mix of styles
James Mylne – Ballpoint photorealistic
Simon Stocken – Incredible bespoke Jigsaw Art – Handmade jigsaw maker for the Queen
Venetia Dearden – Photographer 
Lauren Baker – Multi mixed Media
Claire Bentley-Smith

Follow Sounds and Colours: Facebook / Twitter / Instagram / Mixcloud / Soundcloud / Bandcamp

Subscribe to the Sounds and Colours Newsletter for regular updates, news and competitions bringing the best of Latin American culture direct to your Inbox.
Share: