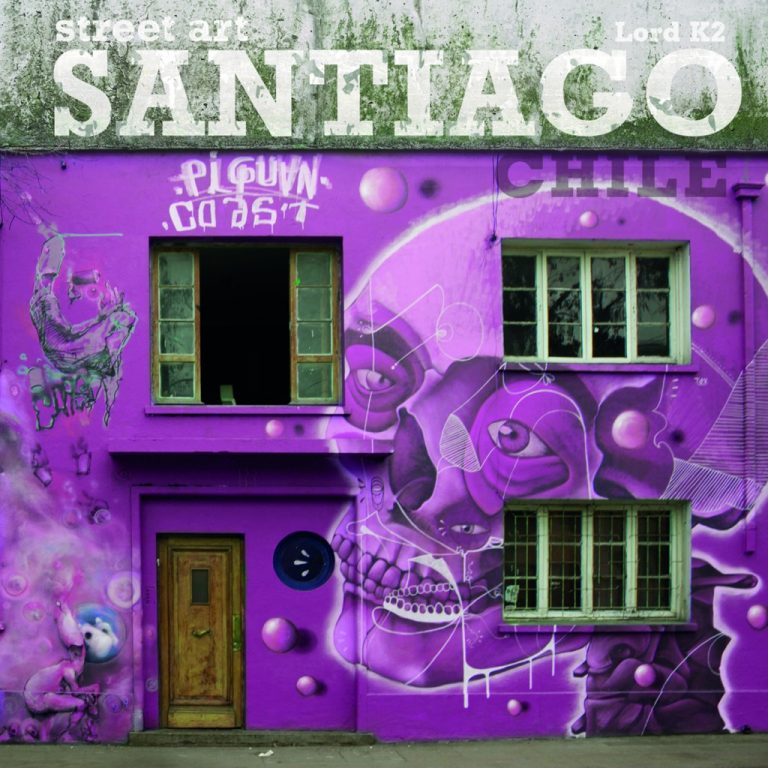 Street Art Santiago
21 December, 2016
It's unlikely that Santiago will ever get a book devoted to its street art as in-depth and beautifully-envisioned as this one. It's only recently that Chile's reputations as one of the capitals of worldwide street art has emerged, but it's a reputation that is well deserved. Santiago, as well as Valparaíso, have become havens for artistic endeavours, their urban spaces canvases for colour-rich murals and evocative images, whether the intent be personal, political or simply a diversion.
Street Art Santiago offers a unique portal into the world of graffiti by detailing the most prominent barrios (neighbourhoods) in Santiago and speaking to a ridiculous amount of artists working in each one (this book must have taken a long time to transcribe and translate).
The result is a book that's full of incredible photos – no doubt due to the fact that its author Lord K2 is an avid artist and photographer himself – alongside insights from the artists themselves. From the hyper-real characters of Santana and Faya, to the stencils of Piojonewen, Charquipunk's vast neon murals and the ghostly visions of Spam, as well as hundreds of other artists, we get to see and hear from a multitude of Santiago-based artists. These plentiful interview segments give a real sense of the artists' intentions and the scene itself. Whereas many articles or books will tend to edit these interviews down to fit the narrative of a piece, here they are allowed to exist on their own terms. The flipside to this is that the book is filled with micro-interviews that don't always follow on smoothly from one to the other, and there is plenty of overlap between statements from different artists. However, this is the price to pay for letting the artists' voices be heard and for producing such a detailed account of the scene.
Chile's graffiti history dates back to the 70s when people began to occupy public spaces as a form of protest against the military rule of Allende's government, and this continued through the 80s and 90s. In recent years, when street art can be seen as splitting into two different spheres, with muralism entering galleries and being commissioned by major commercial entities, Santiago can be seen as a unique location where the street art has remained on the street due to the close ties between the artists and many of the cities they are based or work in, something which is documented well here.
It's so rare to find a book that catalogues an element of contemporary culture so thoroughly as this one. Street Art Santiago does not intend itself to be a history of street art in Santiago – though it does provide an efficient overview – or a critical analysis of the movement. What we get is a passionate 229-page document of a group of artists and ideas that are currently thriving in Chile's capital, in a book that is packed with Lord K2's stunning photos and perceptive interviews with the leading practitioners. All in all, it goes to show why Santiago is thought of, by those in the know, as the equal of New York, Buenos Aires and São Paulo when it comes to discussing street art. It also shows how the artists in Santiago have managed to retain an important link with local communities and businesses.
Street Art Santiago is available from Amazon UK and Amazon US.

Follow Sounds and Colours: Facebook / Twitter / Instagram / Mixcloud / Soundcloud / Bandcamp

Subscribe to the Sounds and Colours Newsletter for regular updates, news and competitions bringing the best of Latin American culture direct to your Inbox.
Share: