The Maid
31 October, 2010
The Maid is an intriguing film that takes its time before showing its hand. The austere, barely-saturated film, along with minimal use of music often make the film feel close to a documentary or realist construct. As the film progresses this choice pays dividends as the story of the characters brings life to the film.
This is the story of Raquel, faithful maid to the Valdes family. It's safe to say that she is stuck in her ways, which includes her resentment towards the family's eldest daughter, a resentment which is never explained or needs to be. It's a life that she has become content with, even though this contentment may simply come from a resistance to change. As a series of headaches begins to affect her ability to work the family decides to hire an extra maid. Mercedes from Peru arrives, and it's a wonder she stays for a month considering the treatment Raquel gives her, constantly making her feel inferior and stopping her from doing her work, as well as unmentionable acts to the family's new pet (which I don't want to mention in any detail.) This film could be split into three parts, and it's this second section, featuring Mercedes, which is full of black humour. It's the humour that never goes too far, even though some of the actions could be deemed extreme there is a sense of reality to each one which leaves you in complete thrall to Raquel's actions. In other words, it has comedy but it never becomes farcical or over-blown, always within the realms of the characters.
After a number of maids quit due to the pressures of working with Raquel another joins. At first, the same story seems to be unfolding, until a couple of moments of real ingenuity change the complexion of the film altogether.
When this film began I was unsure of where it was heading but after the characters began to reveal themselves it's charm set in and I began to enjoy the awkwardness that watching Catalina Saavedra as Raquel undoubtedly made me feel. This is the second feature from Sebastián Silva and is expertly deals with domestic situations creating a portrait of the many sides to the maid's personality, while also adding plenty of moments of comedy and tension to proceedings. This is highly recommended viewing.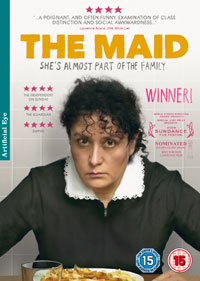 The Maid (Chile, Mexico, 2010)
Dir: Sebastián Silva
The Maid is available to buy on Amazon from November 8th 2010.

Follow Sounds and Colours: Facebook / Twitter / Instagram / Mixcloud / Soundcloud / Bandcamp

Subscribe to the Sounds and Colours Newsletter for regular updates, news and competitions bringing the best of Latin American culture direct to your Inbox.
Share: