Underground Rock in Santiago: The Chancaca Story
02 June, 2011
During the first decade of this century, Santiago's underground rock scene flourished with new bands and solo acts that covered almost every nook of the rock spectrum. Heavy, experimental, punk, psychedelic, folk, blues and pop bands started to compete for venues and form alliances with each other. Some took this a step further and organised labels and became music promoters for their events. Some are gone, some are still producing, and some have moved to the surface. From my perspective as one of its most active members, I will tell the story of a particular group of bands that organized themselves in 'Cooperativa Chancaca'.
Chancaca was a music cooperative that between the years 2004-2008 supported lots of different acts, released a few albums and organised a countless number of gigs. Chancaca was born in the courtyards of Campus Oriente where a few of us were Music Composition students and we started sharing music and talking about our rock bands. What Chancaca bands had in common was a critical, thoughtful approach to music-making that led us to an acceptance of multiple styles and crossing genres with a freedom that other scenes did not encourage. Another common feature between Chancaca bands was that the members had varied musical backgrounds, from the amateur to the classically-trained professional. In Chancaca everyone was equal. Looking in retrospective, it was easier to become a member of one of the Chancaca bands if you were part of the family or a friend rather than if you shared a musical style. Actually, most of the bands were formed by siblings and cousins. As a result, a blend of many playing techniques, genres and instrumentations resulted in a peculiar musical scene that was labelled as experimental in lack of a better definition.
Throughout Chancaca's lifespan the bands that were most active were Cuchufleta, Conjunto Vacío, Fasat Alfa, La Chingana, J.P Rozas & la Orquesta Densa and Chupilca del Diablo. Numerous other acts performed in Chancaca events such as Umbría en Kalafata, Goli, Tío Lucho, Jengibre, Felipe Yaluff, Duam, Matías Radic, Bryanson, Tartamudog, and many more.
Chupilca del Diablo
The mother ship from which Cuchufleta and Conjunto Vacío spread their wings. This band formed in 1997 and remained active until 2005. From the beginning it was a band rooted in South American folk music. Formed by friends and members of the Fontaine family, we coined the term rock'n'dino to refer to our musical style, as both a continuation and a different step to the rock andino style.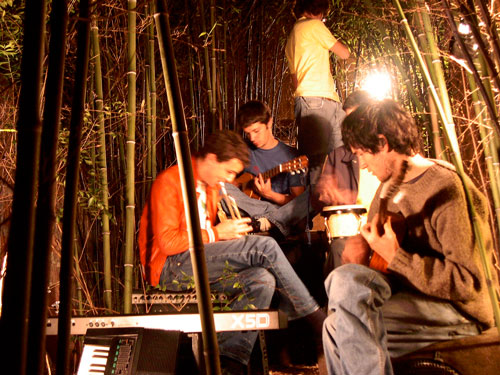 Chupilca del Diablo was a very energetic band with a strong stand. We dealt with Chilean political and social issues in our lyrics in the same vein Violeta Parra or Víctor Jara did in their own time. Along with South American folk we mixed a vast array of musical influences from hip-hop and pop to experimental improvisation. We took the name from a healthy cocktail Chileans used to drink in times of war: a mixture of Agua Ardiente and Gunpowder.
http://www.myspace.com/chupilcadeldiablo
Fasat Alfa
Along with Chupilca del Diablo, Fasat Alfa is the only band that was there from the very beginning. Formed in 1997 by friends and members of the Larraín family, they have released two albums to date, Fasat Alfa and Saiyen Pepe. They create a massive sound that mixed Punk and melodic hardcore with a progressive touch performed with great mastery. Their songs usually developed many different musical sections and their lyrics have a strong poetical content.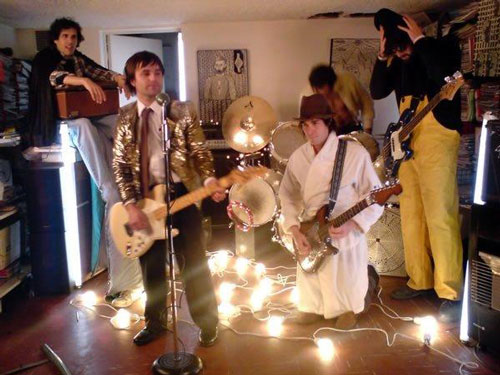 Fasat Alfa has had media exposure and their single "Miedo al Vacío" has been broadcast on TV and radio. Currently, they are preparing material for their third album.
http://www.myspace.com/fasatalfa
La Chingana
Taking their name from typical folkloric Chilean parties where everybody drank as much chicha and ate as many empanadas as possible, this band is an exponent of 'Punk Andino'. A guitar-based band that mixes folk melodies with punk, indie rock, a guachaca style of singing and a hint of pop. Their drum player has his own solo project were he develops his pop side http://www.myspace.com/javandrecord. La Chingana's front man is the brother of J.P Rozas from J.P.Rozas & La Orquesta Densa and he is also a visual artist. Some of the Chingana members are involved in La Orquesta Densa.
[See main article photo of La Chingana]
They have released one album to date, Mortal Compact, although they have more material ready.
http://www.myspace.com/lachingana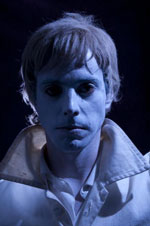 J.P Rozas & La Orquesta Densa
Coming from the free improvisation group Dolores Fiuler emerged J.P Rozas & La Orquesta Densa, when J.P, their front man, had his metamorphosis and became the "Fluorescent" with his body painted white, all dressed in white and his hair dyed white. They have developed a glam rock style that has been interdisciplinary in approach. Mixing dance, visuals, poetry and a theatrical stand their music is fearless in doing abrupt changes and pastiche twists to their songs.
They have developed a very interesting concept of 'online concerts' where you can see the band playing in their own fantasy world (or universe).
http://www.youtube.com/watch?v=Vq-jbUou1IA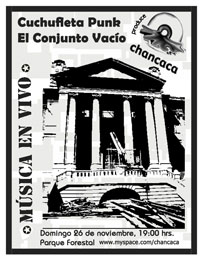 Conjunto Vacío & Juan de Chile
After Chupilca del Diablo dissolved, my brother Juan went to make his own band under the name of Conjunto Vacío. This band made everybody dance to their 'nueva ola' rock'n'roll sound of catchy guitar riffs and powerful vocals. They released their album Furia Catete in front of a packed audience of over 400 cheerful fans. With Conjunto Vacío, Juan drifted away from the folk influences he shared with me and the rest of the Chupilca del Diablo's members. Yet, after a short but intense run, Conjunto Vacío was dissolved and Juan re-emerged as a soloist, doing beautiful and howling folk ballads.
http://www.myspace.com/conjuntovacio
http://www.myspace.com/juandechilemusica
Cuchufleta
[Warning: every thing I say about Cuchufleta may be biased as it is a project for my songs!] Starting out as a violin, piano & drums composition that I did under the name of Cuchufleta Punk in 2004, this project has gone through multiple changes and has taken the heritage of Chupilca del Diablo as a rock'n'dino project. We have released four albums to date. In Cuchufleta we have developed a style mixing South American folk, free improvisation, punk, hard rock, disco, etc. I believe that what bonds this project together and makes it easily identifiable is my songwriting style that is very personal. I'm now working on new songs that deal with just intonation and micro-tonality and releasing new songs every month on Cuchufleta's official site.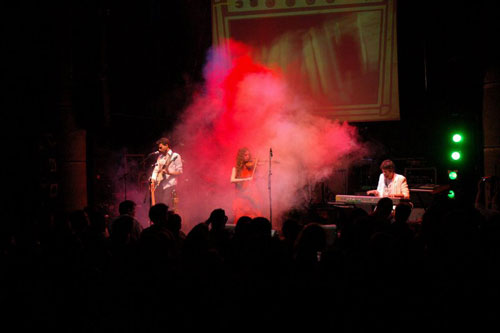 Currently, Cuchufleta is based in London and signed by the New York label 27 Sound.

Follow Sounds and Colours: Facebook / Twitter / Instagram / Mixcloud / Soundcloud / Bandcamp

Subscribe to the Sounds and Colours Newsletter for regular updates, news and competitions bringing the best of Latin American culture direct to your Inbox.
Share: