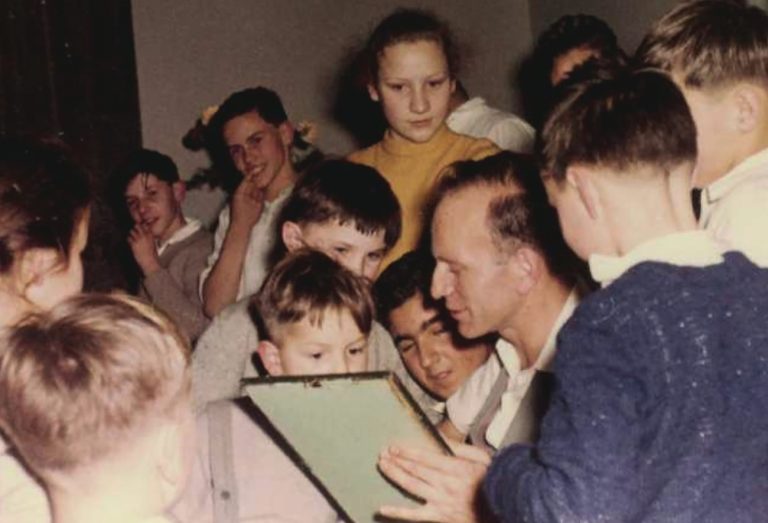 Courtesy of Netflix
Victimhood, Responsibility and Regrowth in Netflix's 'A Sinister Sect: Colonia Dignidad'
08 February, 2022
Cults and secret societies remain mainstay topics of contemporary documentary series, providing access to communities normally closed off from the broader public. They ask how could someone follow along with this?; why didn't they leave? and how did this go on for so long? In doing so, these series attempt to illustrate the power charismatic leaders exert over their followers and highlight the continued impact on victims. A Sinister Sect: Colonia Dignidad, a Netflix original miniseries directed by Wildrief Huismann and Annette Baumeister and narrated by Salo Luna, asks these questions of the isolated community today known as Villa Baviera. Through six episodes the series documents the joy, love, pain and terror that filled Colonia Dignidad and how these violently conflicting experiences coexisted in the idyllic Andean landscape of central Chile. It leaves the viewer contemplating the line between victimhood and responsibility and how communities can and should regrow after living under absolute control.
The story of Colonia Dignidad begins in 1945 Germany where Paul Schäfer, returning from service as a stretcher bearer, began his involvement in the church; first as a youth worker in Gartow, then as a traveling preacher amassing followers across Germany, and ultimately beginning his first mission in Heide. Key patterns in Schäfer's behavior are illustrated: rampant sexual abuse and manipulation of young boys, use of communal labor and pooled resources, the development of community organizations targeting vulnerable populations, and increasing community isolation. After two boys from outside of the community reported Schäfer's abuse, Schäfer fled Germany in 1961 searching for a new home for himself and his believers.Leveraging the vulnerabilities of his German followers in the midst of the Cold War, and the Chilean state after the Valdivia earthquake, Schäfer moved 300 community members across the Atlantic to build the Charitable and Educational Society 'Dignity' in the ​​Maule Region. Here Schäfer and the systems of labor, surveillance and punishment he led exerted what many would consider almost total control of the bodies and minds of his followers. A Sinister Sect documents the evolution of Colonia Dignidad, the various experiences that existed within its fences, and the lasting impacts the community had on its members and victims. Episodes detail the colony's access to vulnerable populations through building a hospital, school, and youth group, Schäfer's relationship with the military and right wing politicians leading to the detention, torture and murder of civilians on the property during the Pinochet dictatorship, sexual abuse and medical torture of young boys, physical abuse and emotional manipulation of colonists, and the slow downfall of Paul Schäfer and his accomplices after decades of power and control.
The narrative of A Sinister Sect powerfully combines interviews, archival materials and contemporary footage of Villa Baviera. Interviews with German-born colonists, Chilean-born members of the community's programs, victims of Dictatorship era torture, members of the political and criminal justice systems and family members of the disappeared introduce a variety of perspectives into dialogue with each other, creating tension between conflicting experiences and memories of the community. These retellings provide rich insight into the lasting impacts of guilt, trauma, victimization and control, as interviewees attempt to make sense of what has happened within their understanding of their world. Archival audio and video footage, primarily drawn from the community's extensive film archive, provide polychromatic gazes into the functioning of Colonia Dignidad and previous iterations, and their attempts to influence the world outside of their gates through propagandistic video campaigns. The lack of archival materials documenting the torture and abuses that laid beneath the surface create space for productive juxtapositions between verbal accounts and their accompanying visuals. Furthermore, the contemporary footage of Villa Baviera provokes questions about the community's continuing physical, cultural and social presence in the area.
Emotionally powerful and human-centered, A Sinister Sect adds more nuance to the story of Colonia Dignidad providing space for community members, victims, and others to share their stories. The series serves as a case study in contemporary dark heritage leaving the viewer to navigate difficult questions about responsibility, victimhood and the future of Villa Baviera. While Schäfer passed away in 2010 in a Chilean jail, those around him are left to pick up the pieces and chart new paths forward amongst the rubble.
A Sinister Sect: Colonia Dignidad is available to watch on Netflix

Follow Sounds and Colours: Facebook / Twitter / Instagram / Mixcloud / Soundcloud / Bandcamp

Subscribe to the Sounds and Colours Newsletter for regular updates, news and competitions bringing the best of Latin American culture direct to your Inbox.
Share: