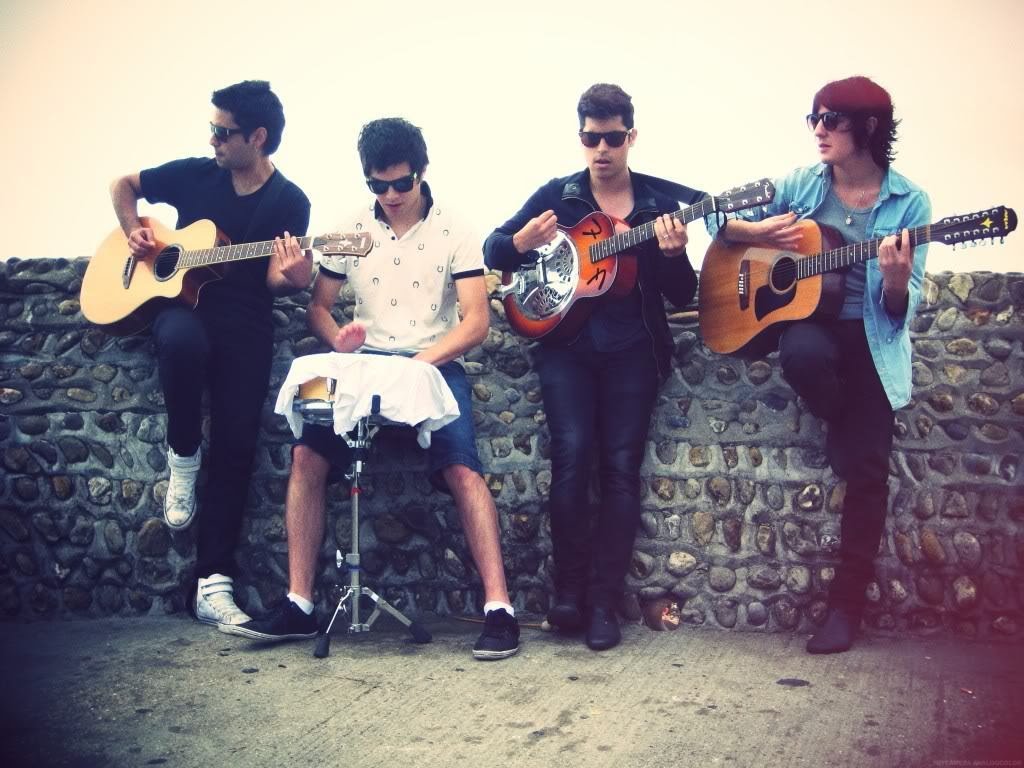 We Are The Grand and the Chilean groups who look towards Britain
14 August, 2013
It doesn't take long when in Chile to become aware of the special regard that exists there for British rock music. Obviously a lot of classic bands have sprung up from that small island over the last half-century and gone on to become massively famous all over the world, yet in Chile it seems that their popularity is even more pronounced than in most other rock-loving nations. Nights out in Bellavista in Santiago are regularly soundtracked to chirpy Britpop nostalgia, new wave parties featuring Joy Division, Siouxie Sioux et al still go down a storm, and Pink Floyd bathe in a hallowed glow of quasi-religious reverence.
So what explains this widespread adoration of waifish Brit posers with bad teeth, big lips, and pasty complexions? Is there something within the essence of British rock music that especially connects with the Chilean national psyche? Chileans are often referred to by their neighbours as 'the English of South America', albeit probably not in an entirely complimentary way, but rather a way of teasing Chileans over their perceived reservation and conservatism. Could it be, however, that the term contains a smidgen of truth that is evident in the esteem enjoyed by everyone from Arctic Monkeys to The Beatles to The Clash? It wouldn't surprise me if Blur had earned more royalties for 'Girls and Boys' in Chile than in the whole of the rest of the world (I hear that song a lot).
Considering all this, it comes as little surprise that British bands have provided their Chilean counterparts with plenty of musical influence over the years. Back in the late sixties Aguaturbia became one of South America's best-known psychedelic rock bands, channelling the spirit of Cream or The Beatles, although the group they most closely resembled was California's Jefferson Airplane. Aguaturbia´s experimental blues-rock, expressed through extended guitar jams, swirling organ and singer Denise's yowling vocals, meant that the band was a distant cousin to the groups of the nueva canción (new song) movement, such as Quilapayun and Inti-illimani, whose brotherly comradeship was part of a wave of socialist transformation in Chile. While those bands upheld the traditions of Chilean folklore, blending roots revival with a striking political awareness and involvement, Aguaturbia's outlook was more global, mirroring the hippy movement that was flourishing in Europe and North America in songs like 'Heartbreaker', 'Eres Tu' and the demonic 'E.V.O.L.'.
The military dictatorship in Chile had painful repercussions for the national music scene in the seventies as many musicians went into exile, in fear for their safety after the murder of Victor Jara, and cultural expression was severely curtailed. This began to change, however, in the early eighties as military rule was by now so entrenched that a slight relaxing of state control allowed dissenting voices to be just that little bit more heard. After a decade or so of the dictatorship, those who were too young at the time of the 1973 coup to fully understand its implications were reaching early adulthood, and a new rebellious spirit started to appear amongst Chilean youth relatively unscarred by the brutality of the coup. Bands such as Los Prisioneros and Electrodomésticos emerged onto a newly-formed Santiago underground scene comprised of clandestine venues and disenfranchised young people, channelling their pent-up frustration into the throbbing atmospheres generated at these gigs. The scene echoed the angry escapism of British punk and new wave, while style-wise the bands looked to The Clash or The Jam. The authorities controlled cultural releases in Chile, meaning that several bands' music was difficult to obtain due to 'suspect' content, but enough seeped through the net to foment the formation of an uncensored national movement.
These bands have all had an influence on the contemporary Chilean rock scene, which today is home to a new generation of musicians, a number of whom sing in English. Not only does this give the music a wider appeal, it also allows these bands to more closely relate to those that inspired them. From the stoner garage rock of The Ganjas to Miss Garrison's kinetic electro-punk, Santiago is home to many English-language groups whose choice of language highlights the important role of British music.
Another such band is We Are The Grand, a Santiago modern indy four-piece, whose association with British music goes that one step further than most of their contemporaries: an extended period spent in Liverpool during which the band toured the UK and generally absorbed the culture of The Beatles' hometown. They are possibly the most anglophile of Chilean bands, a feature which becomes apparent in punchy, fast-paced songs delivered in singer Seba Gallardo's impeccable English. The influence of The Smiths and Joy Division is marked even though We Are the Grand are also capable of spinning off into heavier realms of danceable indy-rock.
Previously known simply as The Grand, the group released their eponymous debut EP in 2009 shortly before setting sail for Liverpool and beginning their pilgrimage of UK music venues, where a dispute with a Norwegian musician led to the prefixing of 'We Are'. The 2010 EP Chasing Lights contained songs such as 'Faint' and 'I Just Want It Tonight' whose marriage of poppy exuberance with a more grown up delivery resulted in a broadly appealing sound that saw We Are The Grand play Lollapalooza in Chile, the South by Southwest Festival in the US, and open for The Killers.
In March 2013, the band released their full debut album 'Until The Morning', a somewhat amorphous name that follows in the footsteps of purposefully non-descriptive classic album titles such as 'Definitely Maybe' or 'Dog Man Star'. Musically, however, 'Until The Morning' leaps out as a debut of stirring quality and robust delivery, and whose songs would be equally at home in underground sweatboxes or as anthemic stadium rousers. The forceful opening salvo of 'Perfume' gets the album under way with a blistering sense of urgency, and 'Until The Morning' impresses with its compelling drive and a surprising sensitivity to Gallardo's vocals.
Other moments of real strength can be heard in tunes like 'Donovan', which manages to combine upbeat melodies with a wrenching core, the harmonious restraint of 'Ecstasy', and 'Century 16th', the album's most relentlessly boisterous tune. There are a couple of moments which fall short of the overall quality that largely characterises the album, principally in 'It's Coming Again', but this is overwhelmingly a record of rare vitality on the modern rock scene, whether in Chile, the UK or wherever.
This popular affiliation of Chilean musicians and their British predecessors shows few signs of letting up. A recent article from the online Santiago Times newspaper looked at 'Morrisey's enduring affinity with Chile' and contained some revealing quotes as to just why British bands are so popular. According to one commentator, journalist Marisol Garcia of Qué Pasa magazine, "There's a minority of Chilean students that are very much into the melancholy aspect of certain British musicians, and their love is sincere and loyal". It is an observation that is perhaps born from Chile's geographical isolation from the rest of South America that has led it to eschew the more commonly-held stereotypes of tropical festivity that are often attributed, rightly or wrongly, to the continent. We Are The Grand are just the latest in a long line of artists that have constructed musical bridges which span anglo-chileno cultures.

Follow Sounds and Colours: Facebook / Twitter / Instagram / Mixcloud / Soundcloud / Bandcamp

Subscribe to the Sounds and Colours Newsletter for regular updates, news and competitions bringing the best of Latin American culture direct to your Inbox.
Share: