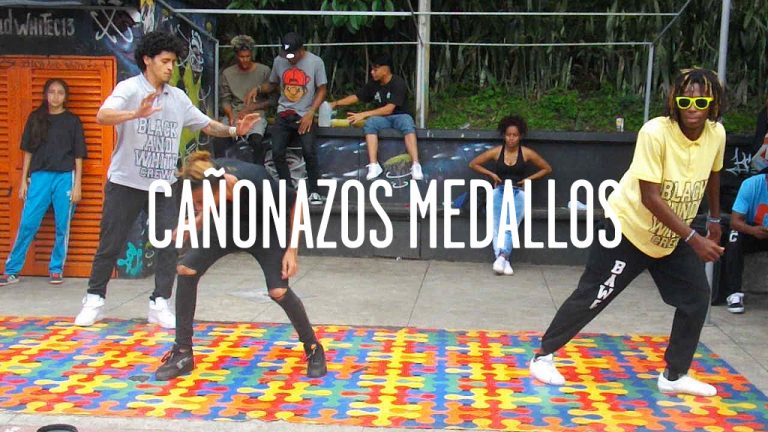 10 Emerging Artists from Medellín You Need To Hear
03 April, 2019
To say that Colombia has a complicated relationship with its musical history is something of an understatement. On a recent trip to Medellín I made a point of asking every Colombian that I met (taxi drivers, hotel workers, shopkeepers) if they were big fans of Colombian music. "Of course" was always the answer, we love salsa, cumbia, tropical music, love it all. Which is all well and good, but in most of the places I visited (and especially in the taxis) it was reggaeton on the airwaves, or R&B or pop music of some kind, rarely did I hear any of that classic pre-1980s cumbia or tropical music that is so beloved of vinyl heads and world music lovers worldwide.
Despite Medellín being home to Discos Fuentes, and hence the home of the tropical music industry during its heyday, it's a city whose people love reggaeton, salsa and metal (the funeral of Elkin Ramírez, frontman for iconic metal band Kraken, brought the city to a halt in 2017) in large measures, but look between the cracks and there's so much more too. The hip-hop scene has been strong for a number of years with Crew Peligrosos and Alcolyrikoz two of the most prominent names, however the last few years have seen more diverse rappers/producers like Mabiland and Crudo Means Raw emerge, threatening for rap medallo to enter the mainstream. In addition there are groups like F-31 Quinteto, Gordo's Project and Orquesta La Pascasía who are looking to the city's tropical and tango histories to find interesting ways of combining the old and new.
Together with artists exploring synth pop, post-rock, psych jazz and lush acoustic experiments there is so much to be enjoyed in the Medellín music scene right now. Supported by the Música Corriente record label, La Pascasia venue and Puerto Candelaria-affiliated Merlin Producciones, with the hip-hop scene having its own developing infrastructures, this is a scene whose new artists are threatening to put their own spin on the Medellín identity, showing the multicultural, multi-faceted city that it has become.
Mabiland
Born in Quibdó on the Pacific coast of Colombia, Mabiland released an EP before moving to Medellín and causing a stir with her debut album 1995. The noise being generated seems justified as her debut is a multi-faceted, personal listen uniting her love of hip-hop, and dextrous rapping, with a sensibility that comes from her appreciation of the more soulful side of US R&B (where Erykah Badu, Lauryn Hill and Destiny's Child were formative influences).
Alibombo
Alibombo's tagline is "No Hacemos Música. La Encontramos" ("We don't make music. We find it."), a philosophy reflected in their use of unusual DIY instruments (bike tires, tin cans, plastic tubing) but also in their freely structured compositions. However, what we really love are the percussive grooves that run through everything they do, and the unique sounds within their productions. There are very few artists who sound quite like Alibombo.
Gordo's Project
Medellín was for a spell the home of tropical music, especially once Discos Fuentes moved to the city in time in the 50s ready for an explosion of interest in the music through the 60s and 70s. Gordo's are harking back to those golden days when the big bands ruled the roots, though they're also doing it in their own style, adding catchy pop elements as they look to find an alternative yet danceable tropical music experience.
Mr Bleat
After two critically-lauded albums in Los Lobos (2015) and Señor Bleat (2011), Mr Bleat returned to the fray with their single "Búho" last year, proving they are still one of Colombia's most interesting electro-pop groups. Heavily influenced by the darker side of Depeche Mode and New Order, this trio seem to have a knack for getting under your skin, through melancholy vocals, unnerving beats and deft synth touches.
F-31 Quinteto
Tango did not mean a huge amount to the people of Medellín, until a place carrying legendary Argentine tango singer Carlos Gardel crashed at the airport, killing Gardel instantly. From then on, the people of Medellín's poorer neighbourhoods took the style to their heart and for a good period the city became a second home for tango and tango enthusiasts. Inextricably though, despite this love for the style, there are very few tango artists or bands actually from Medellín itself, and certainly not a particular Medellín style of tango. F-31 Quinteto are looking to put that right with a style of tango that is clearly influenced by the Argentine masters but which also aims to evoke the feel of Medellín.
La Gra$a – Se Va
This is one of the big tracks from the debut album of La Gra$a, a dream team of Medellín's rap scene, with rappers/beatmakers Granuja, Zof Ziro, Mañas and Métricas Frías, as well as Crudo Means Raw, who is surely one of the most hyped hip-hop producers in Colombia at the moment. This is what Medellín hip-hop is all about: laid-back flows, precise beats and lyrics that do not shy away from life in the city.
Feralucia
Clearly a precocious talent, Feralucia does not so much sing her songs, as inhabit them. There is a visceral quality to listening to her music, the songs feel like portraits ripped from her soul. It would be easy to make comparisons to Bjork, Kate Bush or St Vincent, but this is all its own thing, an artist striving to reveal themselves to the world. Listening to Feralucia is never dull.
Militantex
Is psych jazz a thing? This is certainly where it feels Militantex are coming from. At the core of what they do is a blissful psychedelic soul jam, reminiscent of Shuggie Otis freaking out, but every now and again they go for the heart of the sun. All the while it's clear that their jazz chops are in check, eager to keep things moving, pushing forward.
Hombre Memoria
Echoes of Slint and The For Carnation can be felt in the brooding music of Hombre Memoria. This is a group happy to let textures and emotions slowly reveal themselves. At their best they are transcendental and all-consuming.
Goli
A beautiful project from Sara Rodas Correa: gentle, delicate, affecting. With just a few simple instruments (guitar, piano, drums) for accompaniment, the music of Goli is all about Correa's voice, which has a way of soothing while also embedding itself in to your conscious. This is music to get lost to.
BONUS TRACK
Crudo Means Raw feat. Mabiland – La Mitad de la Mitad
This was one of the biggest underground hits of 2018 in Colombia, and one that pushed the names of Crudo Means Raw and Mabiland towards the mainstream. It also showed a possible new redirection in Medellín rap with a real flavour of dancehall and the Caribbean, something that has largely been absent prior. Such a great yet simple beat.
Spotify Playlist
Discover even more new music from Medellín in our Spotify playlist below, featuring many of the artists featured above as well as tracks by established names from the city such as Puerto Candelaria, Alcolyrikoz and Dany F, and other emerging names (Orquesta La Pascasia, Felisa, Doble Porcion, Mowa, La Banda del Bisonte, Granuja, La Guaneña).

Follow Sounds and Colours: Facebook / Twitter / Instagram / Mixcloud / Soundcloud / Bandcamp

Subscribe to the Sounds and Colours Newsletter for regular updates, news and competitions bringing the best of Latin American culture direct to your Inbox.
Share: