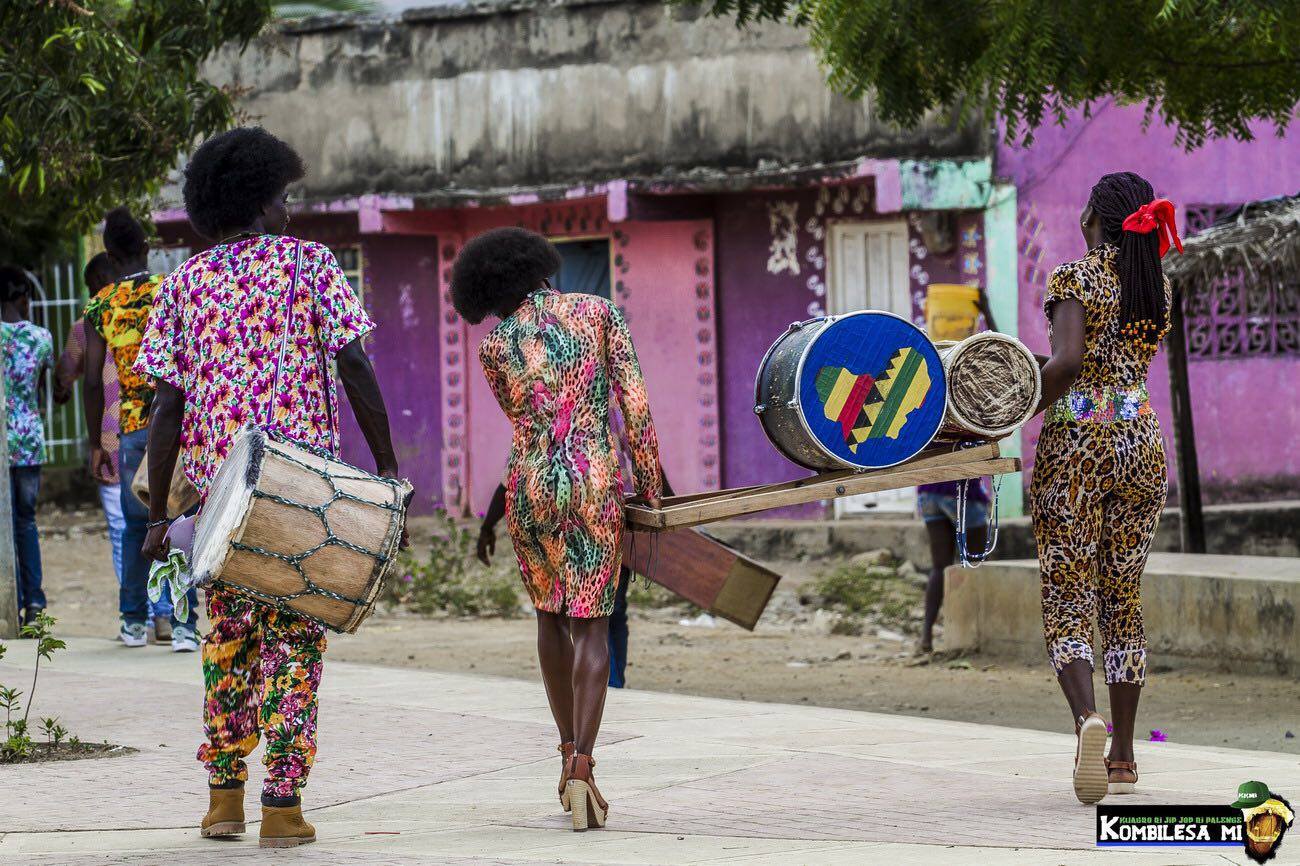 12 New Colombian Bands That You Need To Hear
15 January, 2018
It's been a crazy couple of years in the Colombian music scene, and it shows no sign of letting up as we kick off 2018.
There's been a multitude of exciting new sounds, projects and albums and of course, a couple which we may have missed from a year or two before that. Yet as we brace ourselves for another exciting year of Colombian music it's about time we checked in as to where we are at.
By now we all know Bomba Estéreo, Meridian Brothers, Ondatropica and co. And well if Shakira and Carlos Vives are your thing, we're guessing (with respect) you landed on this site by accident. Instead, we present here some of the sounds that are packing the venues and filling the airwaves (perhaps consuming the bandwidth might be a better-used term in the modern world, but you get us) right now.
We've tried to keep it nice and broad with a range of genres, though we're sure there'll be some more to introduce to you over time; however, we wanted to compile a list of artists emergent or otherwise who we've not really focussed on much through the site so far. An introduction if you will, and hopefully, a few gems that our readers haven't yet stumbled upon to start off the year.
Alexis Play
Hip-hop fresh out of Quibdó. Emerging as one of the most exciting voices from the department of Chocó on Colombia's Pacific coast, Alexis Play has been steadily growing his profile within Colombia over the last couple of years. He released debut album Lírica Satíricain in 2016 which fuses urban delivery with pacific coast influences and is supported by wide-ranging musical complementation. 2017 single "El Pueblo" was made in collaboration with Alexis Play's audio music students and released as an important social commentary on a region at odds with its government. Also a prolific collaborator he has worked with a number of other Colombian artists, including Chocquibtown. An artist in the ascendancy with little sign of letting up.
Boom Full Meke
After initially reserving their sounds for parties and picó's (Afro-Colombian bass-heavy sound systems), Boom Full Meke in 2017 brought their raw bassy sounds out of the underbellies of Barranquilla and Santa Marta with debut EP El Guchi. The underground duo utilise a fusion of powerful bass music, champeta and vacile styles, with psychedelia weaving throughout. They've created their own culture and live by it. Whether it floors you like a punch in the face or has you bumping and grinding like a true costeño, listening to Boom Full Meke is an unmistakably impactful experience. Now a beast unleashed, you get the feeling they will be difficult to tame. Exciting.
Cerrero
So far with only one release, Cerrero certainly sits as one of the newer artists on the list yet emerges out of a well-established background. The project, brainchild of Llorona Records' Diego Gómez, fuses an ethereal and ceremonial production with an all-consuming sound. In a blend of ritualism and futurism, Cerrero is (naturally) a perfect embodiment of the Llorona Records spirit. Here's hoping this year brings us more.
Kokodrilo
Born in 2016 and bringing together an eclectic mix of Bogotá artists who draw on inspirations from Latin America and beyond, Kokodrilo released their first album just last year on Mambo Negro Records. Translated as 'Crocodile' in English this orgy of noise is at times intense as a death roll itself; bolero gets grungey, salsa gets it's rocks off with psychedelia and audiences are left wondering whether what it is they have just come in to contact with will ever call back. Fortunately, these reptilian beings are only just starting out and we can expect plenty more noise excitement from them in 2018. Watch this space.
Kombilesa Mi
Located in Bolivar, some 50kms or so up the Magdalena River from the Caribbean coast, San Basilio de Palenque was declared the 'first free town' of former African slaves in all of the Americas. Naturally then, it's a town with a strong sense of its ancestral roots. Although on first listen, the hip-hop bars scattered with rap of Kombilesa Mi may not sound quite like what you would expect from traditional Colombia, closer observation points to far more folkloric themes. From the traditional percussive elements such as the tambor drum to the unique Palenquera language in which the group vocalise, Kombilesa Mi recount their stories much in the same way as those who went before them did, albeit with themes more suited to their peers. Culturally integral and musically original.
N. Hardem
In 2003, Andre 3000 and co posed the question "What's cooler than being cool?", to which the answer was "ice cold", apparently. You can probably forgive them for not having a young N. Hardem on their radar at the time, however, a lot has changed in the world since then and nowadays you'll struggle to find a much cooler character than the emerging Bogotano rapper. Delivering his message in a style so laid back you might be mistaken for thinking it's still yesterday in his head, his tracks are flavoured with hip-hop beats, sporadic scratching and the odd jazz harmony.
La Payara
2017 couldn't have started much better for Colombian producer Claudio Tantimonaco, better know as La Payara. After Bomba Estéreo's Li Saumet spotted him at a new years party, he was invited to play the bands Estereo Beach festival in April. Last month La Payara released a debut single entitled "Bogotá". The record features an A and B side which pull together a mixture of electronic, psychedelic cumbia and experimental bass sounds to create a mesh-like interpretation of the Colombian landscapes in which La Payara feels most at home.
La Perla
As a millennial who grew up in 1990s Great Britain, the phrase 'Girl Power' (when applied to music) scares the wits out of this writer. It's a term that has long needed redefining and who better to do so than one of Colombia's most exciting new groups, La Perla. Power is indeed the lasting impression that the all-female bullerengue quintet leaves on listeners, bringing gaita, tambor and all-immersive rhythms fit to give you a second heartbeat. From pure-to-the-core-cumbia to the interspersed fast spitting bars of lyrics, La Perla combine the traditional with the innovative, and are set to follow 2017's debut EP Paren La Bulla with more exciting sounds new year. We dare you to stand still when you listen.
La Sonora Mazurén
How to define La Sonora Mazurén? It's a difficult question. With accordion and guitar leading proceedings they're a group that fuse traditional Colombian cumbias with the spacial, psychedelic sounds of Peruvian chicha. Sprinkle in some futuristic sounds and we still haven't quite arrived at our destination. La Sonora Mazurén and their unique brand of warped tropical quirk could light up a pitch black room in a heartbeat. Hearing is believing.
Moügli
Electronic duo Moügli announced themselves on the scene in 2016, presenting their celestial and encapsulating sounds through three single releases, one of which ("Mi Canto") features Caribbean folklore icon Nelda Piña. Back in 2017 with a new 8 track LP, the outfit evokes the sounds of nature and their deep production style to offer an original take that calls on all sides of Colombian music scene, including a new track "Oye Yo Sé" featuring the unmistakable talents of Nidia Góngora.
Mós
Sofia Mosquera, better known as Mós, struts her way on to this list with her own brand of R'n'B. A nascent artist who is bringing a new breed of music fresh out of Latin America. In addressing her subject matter in English she presents the Latin American urban genre for new audiences, and as she does, prepares for more releases in 2018, looking set to transcend any North/South, Latin American/European divides.
Rancho Aparte
Chirimía music originates from Colombia's Pacific Coast and is distinctly identifiable from other forms in the region primarily through its rhythms and focus on wind instruments, such as horns and clarinets, often in lieu of the marimba. Rancho Aparte, hailing from the Chocó region that stakes its claim as the home of chirimía, are easily one the best modern-day bastions of the genre and are actively bringing these lesser known sounds into the fore with the energy and excitement many have come to expect from Afro-Colombia. Starting parties is just what they do. We think you'll like them.

Follow Sounds and Colours: Facebook / Twitter / Instagram / Mixcloud / Soundcloud / Bandcamp

Subscribe to the Sounds and Colours Newsletter for regular updates, news and competitions bringing the best of Latin American culture direct to your Inbox.
Share: