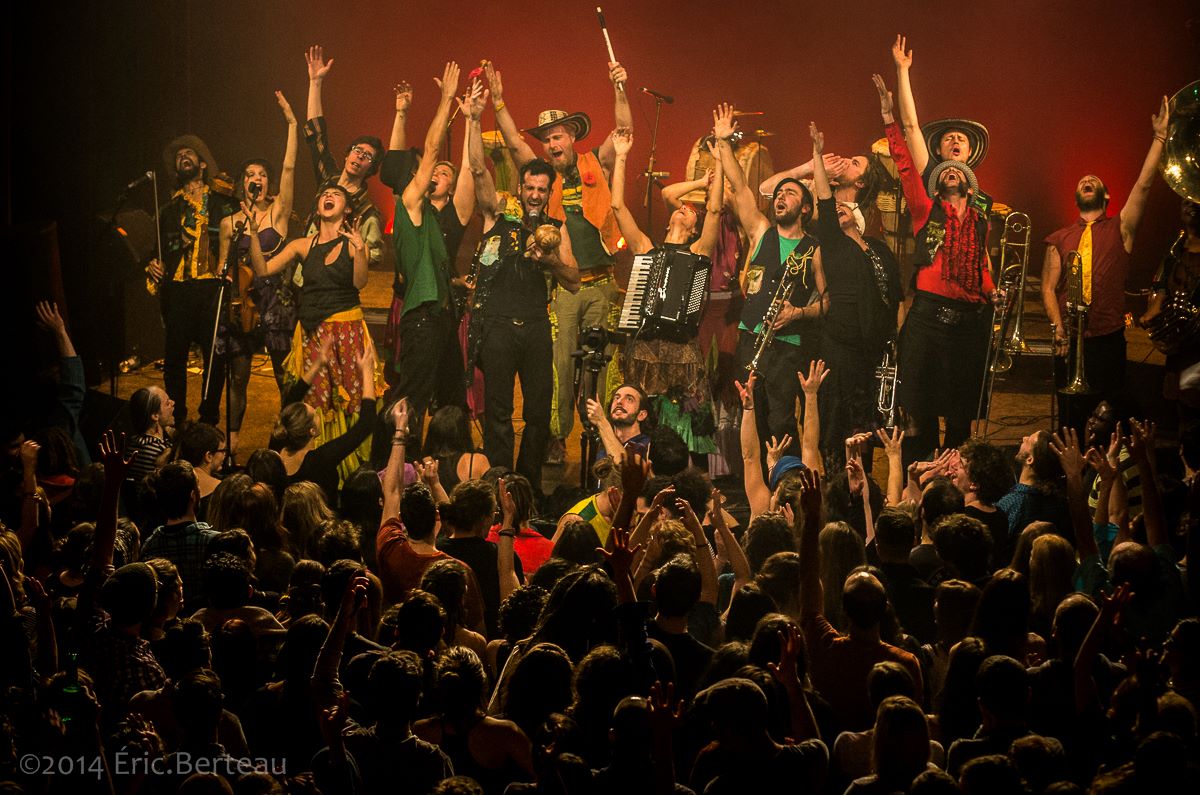 Eric Berteau
A Dazari Por Un Mondo En Libertiti: An Interview with Gypsy Kumbia Orchestra
03 February, 2015
For almost three years now, the Gypsy Kumbia Orchestra, a colourful, festive and nomadic big band fusing Afro-Colombian percussion with the brass melodies of Eastern Europe, has carved a place for itself in Montreal, Canada. With its 18 musicians, the interdisciplinary project is a work-in-progress; trying to go beyond the idea of a standard musical band by creating an artistic chaos where music, dance, circus and theatre co-exist. Here are a few questions I asked the two founders of GKO, Sebastian Mejia, percussionist and singer and Carmen Ruiz, choreographer and dancer.
Where did the idea of Gypsy Kumbia Orchestra come from? Why did you decide to create a fusion of Afro-Colombian and Eastern European music?
Carmen: Once we left Colombia, the Afro-Colombian music connected us to a part of ourselves that we had left behind. It connected us to our story and to our history. Sebas and I actually met when we both reconnected with that music; when I started to dance in a troupe called Raices Afro-Colombian, and Sebas had started to play the Afro-Colombian drums. There are many projects that emerged from that exploratory period of the music and our roots, and the further we got, we realized how much we liked being nomadic, and that we had so much respect (and were inspired) by Roma culture. We discovered that both Colombian and Roma musical traditions were sounds of resistance. People resisted to keep their culture and they stayed alive through music and dance. GKO comes from mixing these "culturas hermanas" in an artistic project where the core idea is movement and life.
Gabriel García Márquez and Emir Kusturica are two important inspirations for GKO; in which ways are they inspiring to you?
Sebastian: García Márquez and Kusturica are our references from the two cultures we are fusing together; García Márquez brings the magical realism into the imaginary universe we create, and Kusturica inspired us with chaos and imperfect realities. He tries to show how multi-faceted people are, they are not just good or just bad, and his movies don't always have a happy ending. That's what we're trying to convey in our concerts. GKO is actually a trilogy in progress, the Gypsy Kumbia Orchestra Despertaculo. In that trilogy, we talk about power, and how we relate to power, and how society gives us the model of the "perfect" human being that in reality is really rare and almost impossible to achieve.
C: Also, I think that we were really inspired by Melquiades, a character by Gabriel García Márquez. He is an outsider coming to Macondo and starts changing the town. We really thought about that when we were living a nomadic life while travelling with Salsa Descalza, another project we started a few years ago. It's at that moment that we started questioning power and movement. Kusturica interested us because of the way that music is incorporated into the movie. We want to do the same thing with our shows; we want them to be more than just live music, we want them to be visual, to be a story.
http://www.youtube.com/watch?v=YnsPXuqSEH8
Can you elaborate on the trilogy concept?
C: It's a long-term work in progress. So far, we have come out with the first part called Makondo and we're now starting the creative process of the second part, and then we'll have the third one at some point. I think it's something really new, as much for the industry as it is for us. We're still trying to shape it within the context of being exposed as a "music band". We want those three pieces, made at different moments and presenting different point of view on power, to make one big piece at the end.
You already have one album and you're in the process of recording the second one. Are these albums the first and second part of the trilogy?
C: Well, we consider the first album more like a demo because we recorded it really early in the process, and it was made with the idea of showing what the fusion of the two musical influences could be. The album we're producing right now, is, so far, called Trimitus and it will be the first and second part of the trilogy.
With your music, you take popular or traditional songs from Colombia or Eastern Europe, and adapt them by changing or adding lyrics. Is there a message you want to transmit with the choice of songs and the lyrics you add to them?
S: Well, in reality, the lyrics are not a priority for us; if we feel they are useful for a song, we will add lyrics, but what we want is to make people dance. "La Pollera Adolorida" is a song we made to take to Colombia because it's one of the most popular songs ("La Pollera Colorida") in Colombia, and giving it different lyrics was a way to give a chance for a different reality to Colombian society. And the ending of the song is actually original from Anit Gosh, the musical director of GKO.
You already toured Quebec, and then you decided to tour in Colombia. Why was it important for you to make your first "international" tour in Colombia, and not in Eastern Europe or somewhere else?
S: I think that it comes from a real desire to go back, even before the onset of GKO. Regardless of why you left your country, most people think of going back. For a long time, we had that idea of going back and sharing something, giving something back to the place where we were born. Carmen and I always wanted to create a piece to take back to Colombia. Originally, we thought it was going to be a dance piece but it actually became GKO. Going to Colombia was important for the GKO, but it was even more for us, as immigrants. It was a way to go back and give back.
C: Also, we left Colombia for so many reasons and we feel that we've been cut from a part of our history. There is always the feeling that you're not there with your people, going through what they have to go through in Colombia; you're here, in a secure place. You're growing and expanding in a different way than you would have had if you had stayed. So that idea of going back and sharing, of hoping to touch and to be touched, was important. And it was also, for GKO, creatively and artistically a significant source of inspiration. It made sense to go, as it will make sense to go to Eastern Europe at one point.
And now, after touring Quebec and Colombia, what's next?
C: We're doing a tour in France in May, where we will do an exchange with La Belle Image, a fanfare that has played cumbia for 20 years now. It will be really interesting to meet them and see their creative process! We're also going to participate in two festivals, Baule d'Airs, from the 15 to the 17 of May, and Mix' Terres, as well as some shows on our own. This tour will open doors for us in Europe, which will hopefully allow us to do some exploring and eventually tour there again.
Gypsy Kumbia Orchestra is starting again its monthly party at Sala Rossa, in Montreal, on February 7th.
You can check them out at gypsykumbia.com and buy their music at gypsykumbia.bandcamp.com.
Docu-video from Oscar Ruiz on the creative process of GKO:


Follow Sounds and Colours: Facebook / Twitter / Instagram / Mixcloud / Soundcloud / Bandcamp

Subscribe to the Sounds and Colours Newsletter for regular updates, news and competitions bringing the best of Latin American culture direct to your Inbox.
Share: