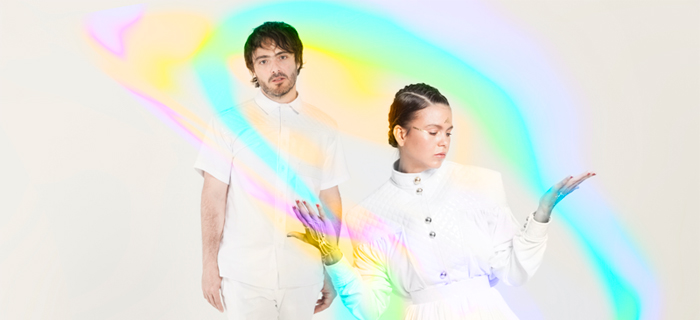 A New Way To Mix Sounds: An Interview with Bomba Estéreo's Simón Mejía
01 June, 2015
After exploding internationally with "Fuego" in 2009, Bomba Estéreo have come a long way since they first came into being in 2005. Their latest album Amanecer, released by Sony Music Latin, is an ingenious piece of work, stretching their creative limits and taking us to new levels.
At first Amanecer appears to be a largely bass-heavy and electronic affair but soon it reveals sultry textures with a Caribbean neo-soul spirit. Their use of Juke and dancehall rhythms while still using Caribbean elements ensures the listener never forgets that Bomba are proudly Colombian. The album's poetic lyrics and strong mixture of folkloric and avant-garde sounds guide us through a journey into waking up the consciousness within. Amanecer, also the first song of the album, literally means to wake up or to dawn. Throughout the tracks we learn so much about this self-celebration, culminating in "Raiz" (Root), the last song of the album.
Amanecer is a beautiful album that truly shows the spirit and growth of Bomba Estéreo. It beckons towards the soul to dance in celebration of the self and reflect for change. Here, Bomba Estéreo's Simón Mejía, fresh from playing in his home town of Bogotá, talks about the new album, working with Sony and the future of their music.
I understand that this album was recorded both in the US and in Colombia. Can you explain what that process was like?
The whole process of writing the album took about a year. We started to write the album in 2014, recording in our homes, and spent six months creating demos, and then when we finally chose a producer we collected all of the demos and started to work with them. That was another 6-8 months of work between Los Angeles and Bogotá.
The placing of the tracks is brilliant. "Amanecer" let us take a breath and reflect. You take us through a beautiful, complex, poetic, tropical, neo-soul/Caribbean journey that speaks beyond the Colombian experience, yet doesn't stray too far away from the folkloric. It uses Juke, dancehall, bass-heavy sounds but also elements of champeta and cumbia. How do you balance this Colombian authenticity and use of folkloric elements when reaching out to different audiences?
This record is a new way to function for Bomba Estéreo. It's a new way to mix sounds, you know, we're working with a North American producer and it's a new form of experimentation. We are trying to take this music to the next level. It's an album that is much more emotional, lyrically, but also using much more global sounds. This album has no cumbia at all actually. We use lots of electronic beats, and Afro and Jamaican rhythms. We are taking this sound to the next level.
This feel is a lot more spiritual and almost personal at times and I really appreciate that. In tracks like "Soy Yo", there is an almost unapologetic claiming of the self, promoting self-love. How is this feel different from your other albums?
It's growth; I think this album is a reflection of all that we went through in the past year. It was a hard year with strong and very beautiful experiences that showed us powerful things about life. We grew up and are becoming more adult [in our sound] – we've been doing this music for 10 years now. Every time we learn more that music is an experience beyond tendencies and business. It's a spiritual experience sharing energy with the people and the people sharing their energy with us. The album talks a lot about that and despite everything that's happening in the world, it's important to look inside and change yourself. Things outside you are so complex and difficult to change, so changing yourself is something we can do. This album speaks to these things.
This is the first album with Sony. What was it like working with them and how has it affected making music?
It's our first album with Sony, it's also our first album with a producer. Working with Sony… well it's like part of the process of working with any album out of a major label right? We worked with the producer, using their ideas to help us grow. It's been an enriching experience, a totally positive experience for us and it serves as a way to bring our music to a larger audience. He introduced us to a way of producing that we have never tried before, so I think this album will help the group grow.
I noticed that New Balance has sponsored Bomba Estéreo recently. How do you see Bomba Estéreo growing beyond the music with these corporate collaborations?
New Balance has sponsored more than just the band, but a whole concert we did in Bogotá this past Sunday. We've been working with lots of brands for a while like Red Bull. Red Bull has sponsored the band a lot. We've done things with Nike, some things with Adidas. That's like the future of the music you know? Brands are getting involved and helping develop bands in a respectful way. Their [role] kind of becomes like a salesman in a way that supports music. And I think this is what is happening today, there hasn't been a brand that has been as important in music as Red Bull are.
I saw that Bomba Estéreo will be performing in the US a few days after the album drops. Should we expect Amanecer to be touring in the near future?
Yeah, the idea is to have two different concerts for the releases. One is in Los Angeles and one in New York. And then after, mid-way through July, we would like to have a longer tour whilst also promoting the album. In reality, the idea is that from now 'til the end of the year we're going to go back [to the US] a couple more times to continue promoting the album. It's being released over there [in the US] because Sony's US Latin office is in Miami. It's going to be strong!
Amanecer is released on June 2nd, 2015, by Sony Music. It's available from Amazon UK (mp3 only), Amazon US and iTunes
Interview conducted in Spanish, translated to English by author.

Follow Sounds and Colours: Facebook / Twitter / Instagram / Mixcloud / Soundcloud / Bandcamp

Subscribe to the Sounds and Colours Newsletter for regular updates, news and competitions bringing the best of Latin American culture direct to your Inbox.
Share: