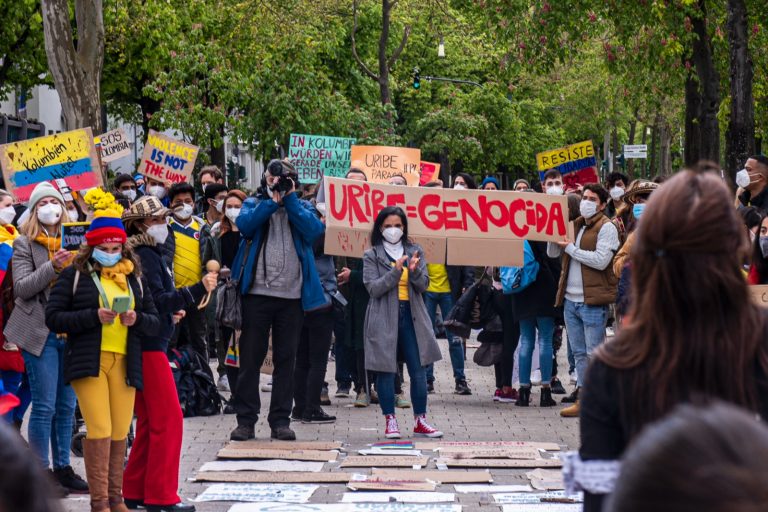 After Two Months of A National Strike In Colombia The People Don't Give Up Hope
27 July, 2021
More than two months of national strikes in Colombia have gone by as Colombian expats have come together to continue manifesting our support to the social protests that began on April 28th of 2021. The situation is ​​​​​concerning and we want to reiterate the deep rejection of the public forces who have been implementing excessive cruelty, systematic violence against civil society, and violating human rights. We speak up in disagreement with the lack of respect for the right to protest and the lack of disposition of the government to conciliate or to listen to the petitions of an agitated country.
At first, a Tax Reform Project proposed by the government of Ivan Duque —Colombia's current president— triggered the National Strike. Consequently, this tax reform would have imposed an additional social and economic burden to the middle and lower classes, in a context in which precisely these population groups have been the most affected by the COVID-19 Pandemic. On the contrary, the private sector has received considerable financial support from the government to mitigate pandemic-related issues, all while the banking sector of the country has exhibited a record-high profit.
Although the government withdrew the Tax Reform Project a couple of days after the beginning of the strikes, they have continued to push their agenda due to reasons that find their roots far beyond the origin of the pandemic; dating back to several decades of racism, colonialism, and classism. To this day, the younger generation, students, artists, land folk, indigenous and Afro-Colombian communities, women in all their diversity, social leaders, LGBTIQ+ community and teachers are exercising their legitimate right to peacefully gather to demand a halt to financial inequality, structural and systematic violence, impunity, unemployment, lack of adequate public services and the systematic detriment of the country's ecosystems, based on extractivism, indiscriminate logging and the extensive use of glyphosate as a pesticide against coca fields.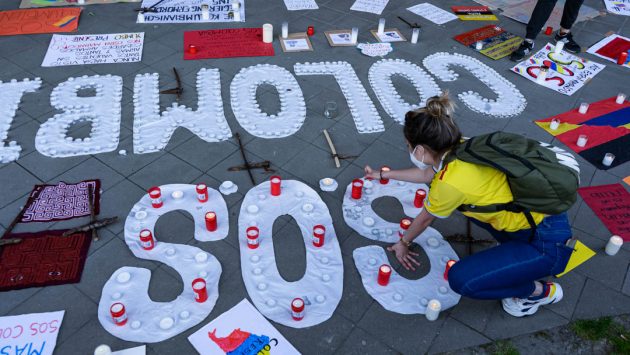 Notwithstanding, the message that continues to be delivered from the streets of Colombia is clear: "They are killing us" ("Nos están matando"). The unit of the national police known as the anti-riot squad (ESMAD) has interrupted and scattered pacific demonstrations using excessive and brutal force, to the point of using lethal ammunition. These human rights violations are not isolated events of misbehaved agents; instead, these show deep structural flaws. In this regard, Colombian authorities are not taking any measures to either stop, penalise, or to investigate such crimes, which are being committed mainly against protesters, but also against press representatives, health workers, and human rights advocates.
Considering this, nationwide and worldwide NGOs (@tembloresong or @indepaz) have been forced to keep record and to date have exposed more than 4,687 cases of police violence committed by the public forces, including 79 homicides, torture cases, ocular aggressions, and acts of physical, sexual, and gender-based, violence. Nevertheless, these records do not include the number of people who have gone missing during protests.
Enforced disappearance is a crime against humanity
Enforced disappearance is a kind of repression against the social protest that generates terror, as evidenced by the murder of Santiago Ochoa, a young man from Valle del Cauca who was disappeared and found beheaded on June 20th of this year. Since the beginning of the social outburst in Colombia, social organisations have exposed new cases of enforced disappearances. Diverse organisations constituted by families of the victims see with great concern the return of the criminal practice of "detention-disappearance". This crime, characterised by arbitrary and/or illegal citizen captures by the public forces without notifying where people are being taken, has increased in a disturbing way along with the National Strike. This procedure is not new in the country. On the contrary, according to the Missing Persons Search Unit (UPBD, in Spanish), the practice dates back to 1977 with 80,000 recorded enforced disappearances.
Facing this scenario, the Colombian Attorney general office and the Public Ministry has shown a total lack of interest in taking action on the matter, carrying out pertinent investigations, or establishing transparent control measures so that these crimes do not remain in total impunity. To deny the existence of enforced disappearance, authorities utilise terms such as "reported for location", "not located", "to be located" or "persons still unaccounted for". This is a strategy to deny the existence of these crimes based on euphemisms and impunity perpetuation.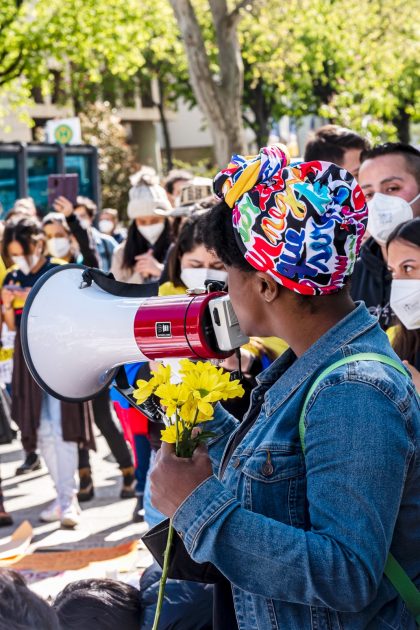 As of today, there is no consensus on the number of people who have been victims of enforced disappearance as a result of the current National Strike. This number changes every day, but governmental and non governmental institutions differ significantly in terms of the reported data. While the attorney general reports 84 "non-localised" persons, human rights organisations have recorded more than 700 enforced disappearances since the beginning of the National Strike, most of them committed by members of the national police and ESMAD.
Enforced disappearance is the kind of crime that can be met with impunity: without a body, witness, or evidence to allow an adequate and timely prosecution. Alongside the disappearance are the threats to the families of the missing people, that frequently result in forced displacement, such as, neighbourhood and place of origin abandonment, caused by the fear of possible retaliation. It is imperative to acknowledge that: one missing person is already one too many. Enforced disappearance is a crime against human rights, which is more representative of a dictatorship than a democracy.
In search of an alternative towards a dignified life
The current situation in Colombia leaves, as a result, thousands of victims who have already denounced the intimidations and threats directed towards them. These threats aim to avoid their cases from going public or to conduct proper prosecution. The involvement of the Colombian army in acts of violent repression, together with stigmatising statements from the government towards protestants and victims, has resulted in a diminished possibility to find protection and security inside the country. As a consequence, many Colombians are forced to migrate abroad in search of a dignified life, one which Colombia is now unable to provide.
Despite the signing of the peace agreement with the FARC in 2016, the number of asylum applications from Colombians in other countries considered safe, has been gradually increasing until 2018. Additionally, as a result of the current situation in Colombia, these numbers are expected to increase. In many countries of Europe, these people are already facing the existing, complex problems that asylum seekers face in difficult and precarious conditions. They live the experiences of discrimination by the authorities in everyday life, which, especially for those who have suffered persecution in Colombia, are re-traumatising and re-victimising.
Support to the National Strike from Abroad
It is now over two months since the beginning of the National Strike. The Colombian expat community has been constantly and peacefully manifesting itself through art and dialogue, generating interchange spaces in multiple languages seeking to inform and give visibility to the current circumstances faced by Colombians in and outside the country. This is how collective initiatives arise, identifying pedagogical needs to look for a more democratic and less violent society. For instance, the campaign #TuYYoSomos (#YouAndIAre) (on Twitter & Instagram), is intended to emphasise the importance of a transforming society that challenges harmful and violent discourses and attitudes such as racism, classism, sexism, and homophobia.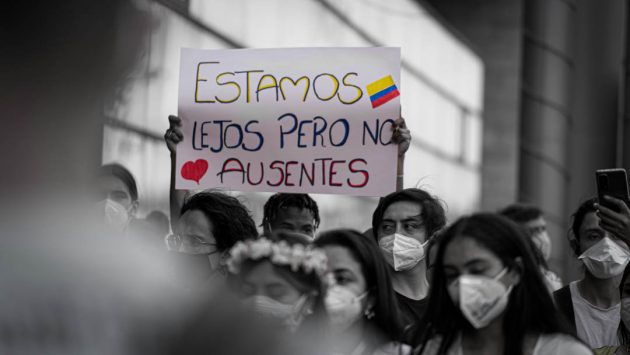 The last weekend of June (26th-27th), Colombians living abroad gathered to collectively manifest and demand that the Colombian government stop violent repression against those protesting; to guarantee not only the right to protest and peacefully gather, but also the right to live in freedom, and with personal integrity. We invite and ask the civil society, the media, and NGOs to join this call. It is urgent to investigate and disseminate information and content in numerous languages that will make visible in a timely and truthful manner the atrocities being committed under the current Colombian government. It is time to demand international solidarity to firmly advocate for the defence and respect of human rights, the implementation of the 2016 Peace Agreement, and that these crimes do not remain unpunished.

Follow Sounds and Colours: Facebook / Twitter / Instagram / Mixcloud / Soundcloud / Bandcamp

Subscribe to the Sounds and Colours Newsletter for regular updates, news and competitions bringing the best of Latin American culture direct to your Inbox.
Share: