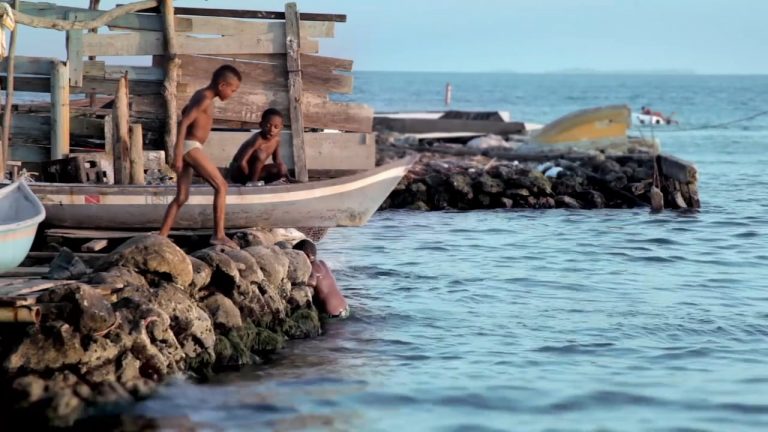 Aislados (Isolated)
03 April, 2017
Sitting in the sparkling blue waters of the Colombian Caribbean there is an island of approximately 1200 sq m. On this island there are around 100 houses which are home to over 800 people. It is known as the most densely populated island on earth. Its name is Santa Cruz del Islote and it is the subject of this excellent feature-length documentary from director Marcela Lizcano. At first glance, the island might appear a beautiful place and the lives of its residents might seem simple, but Aislados (Isolated) reveals the challenges faced by Islote and turns the struggles of this tiny islet into an allegory for the challenges we all face as a people.
Aislados tells the story of Islote through the eyes of its residents. A poetic and observational documentary, it sidesteps excessive exposition and narration and allows the voices of the islanders to speak for themselves. Essentially a series of vignettes showing the varied facets of life on this crowded little island, there is no linear narrative to speak of, and comparatively few words spoken. The simple and straightforward words of its subjects, juxtaposed with the beautiful cinematography, tell a deeper and more complex story than an outside narrator ever could. Aislados makes no judgements, it simply tells a story and allows the viewer to come to their own conclusions.
Special praise must be reserved for the cinematography. From underwater footage of young men free-diving for crabs to rich tracking shots following the children weaving through the narrow streets of the community, the film is a visual delight. And sometimes the film-makers know exactly when to simply sit back and watch: one scene where an old fisherman sadly explains that he has to stop free-diving to prevent deafness is a particular triumph. As soft jazz plays on the radio, he stands and shuffles through an open doorway out into the sun; the camera remains as his wife continues to sweep the floor and a small child wanders out after him and sits on the stoop. It's gentle and simple, but rich in pathos and emotion, all in a single static shot.
But Aislados is far from a simple documentary about the lives of the islanders. At the core of the film is an examination of our planet and the impact that we have on it. Islote becomes a metaphor throughout the film for the earth as a whole, as its residents struggle with overcrowding, depletion of fish stocks, the future of young people, and the rise of technology. Older fishermen remember the days when they could pull kilos of lobster from the sea in one outing; a stark contrast to the struggles of the younger generation, who will struggle to find that much in weeks. In this way it calls to mind Colombia's biggest film of recent years, El Abrazo de la Serpiente. For two films that share few similarities cinematographically or, at least on the surface, thematically, the two are connected by a common message: things are not what they once were, and if we're not careful, pretty soon there will be nothing left to fight for. "Can't you see that things are disappearing," asks one man late in the film, and the question feels directed at us.
The film is equally preoccupied with the young people of the island. The camera repeatedly cuts to them, and a scene in the island's overcrowded classroom muses on their role in the future of Islote. A teacher commendably encourages their dreams of becoming doctors and policemen. With these skills, he argues, they will be able to come back and help an island which currently has no resident doctor. The film-makers, however, are too smart to suggest any easy answers. Soon after, we cut to a scene of a young boy flying a kite over the sea. "There's no future on this island," he solemnly intones, as the ragged fabric soars high above him, trying desperately to break away, but tethered to the fragile land below.
And one has to wonder about the future of Islote. The older generation are proud isleños and committed to safeguarding the future of their home, but a scene showing a group of teenagers playing with iPads and smartphones and dancing suggestively to the latest reggaeton hits hints at an inevitable conflict as a generation raised on technology and a vision of a wider world come of age. One young girl talks wistfully of her dream of leaving, studying, and coming to take her mother away from the island. One has to wonder what her mother would say about that; if a generational divide is commonplace around the world, then Islote is no different. An older isleño muses that the coming of electricity to the island will bring some benefits, but is perturbed by the idea of constant music and television; the young people like that sort of thing, he complains, but for the old it's a nuisance.
Nostalgia is another common theme throughout: several times during the film one of the residents laments the passing of time and the changes it has wrought on their community. "It's not the same anymore. How times change," sighs one older fisherman, and later in the film another man essentially repeats those words: "Things are not like before." It might be tempting to presume that life is simple on an island with fewer than 100 houses, but the film never lets us rely too comfortably on these lazy assumptions – one man wistfully remembers the days of 18 houses and communal island shopping lists!
Reading this review, it might seem that Aislados is an unrelentingly bleak and melancholy film, but moments of beauty and joy shine through: two young boys ribbing each other about how many girls they've kissed, children dancing, the whole town out on their boats, banging drums and singing on the day of their saint, the Saint of the Fishermen. At its core, this is a film about people and life: there are moments of reflection, moments of sadness and nostalgia, but there are simple and happy moments too. And there's hope. As Aislados ends the camera rises high into the sky, revealing the tiny island in the entirety of its isolation for the first and only time. "We will invent something to survive […] we will come up with something," a voice pronounces. What is certain is that the makers of Aislados have come up with a truly excellent film, one which will be a real treat for anyone who makes the effort to go and see it.
Aislados will be screening in Manchester as part of the ¡Viva! Spanish & Latin American Festival 2017 where it will be receiving its UK premiere on Tuesday 11th April 2017 at 18.20.

Follow Sounds and Colours: Facebook / Twitter / Instagram / Mixcloud / Soundcloud / Bandcamp

Subscribe to the Sounds and Colours Newsletter for regular updates, news and competitions bringing the best of Latin American culture direct to your Inbox.
Share: