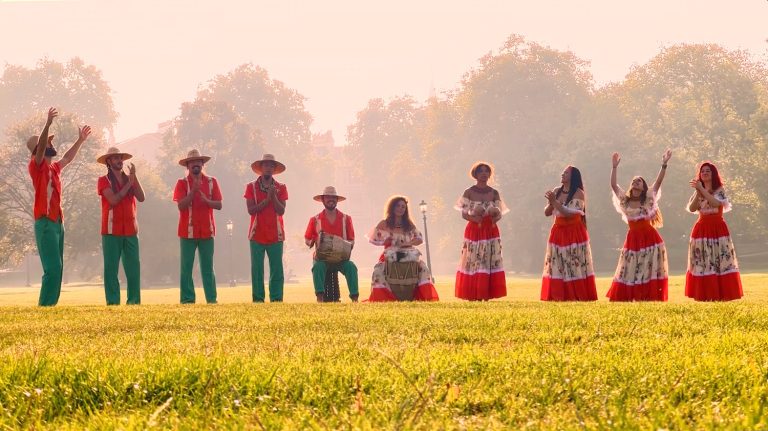 Akolá Tambó: Trailblazers of Bullerengue in London
14 December, 2022
It's a Saturday night during the summer of 2021 at The Post Bar, Tottenham, a music venue in north London. The venue is packed with a fervent audience who are dancing to the drums and chants of an unknown-to-them genre called bullerengue. The group bringing this traditional music and dance from Palenque communities across the Caribbean coast of Colombia to a London audience is Akolá Tambó, formed by Latin American expats who primarily wanted to share different Afro-Colombian rhythms and, soon after, began only focusing on bullerengue. Now fully organised as a 14-member group of men and women wearing co-ordinated clothes inspired by the outfits of traditional bullerengue groups, Akolá Tambó have performed at festivals across Europe including FEST LATAM, Tonnau in Anglesey (North Wales), Prende La Vela Festival in Barcelona, the Vortex Jazz Festival and the Great Exhibition Road Festival. Dazzling audiences with their traditional music, the group has also hosted many gigs in London venues such as The Jago, Hootananny Brixton and Paper Dress Vintage.
We talked to Akolá Tambó about their process, projects, sounds and the bullerengue scene they are building in London. This conversation took place just before they were heading off to the María la Baja Bullerengue Festival, one of the main gatherings for the bullerengue community in Colombia.
What is the meaning of the words akolá and tambó?
Akolá is a word in Palenquero, a native dialect from the palenque de Benkos Biohó, better known as San Basilio de Palenque, which means "to remember". Tambó is short for tambor ('drum' in Spanish), an expression used on the Caribbean coast of Colombia where this tradition is from. By joining these two words, we want to portray the phrase "remember the drum" or "remember the root".
How was Akolá Tambó conceived?
Akolá Tambó arose from a communitarian gathering we've started building following the release of Esteban Card's album, INELEMENTUM. We started sharing different Afro-Colombian rhythms in a space we called La Bulla, but Esteban was very insistent on focusing on bullerengue. This motivation led him to start Akolá Tambó, gathering some friends and acquaintances that were interested in practising and learning bullerengue.
What is the movimento bullenguero like in London? And what part does Akolá Tambó play in it?
Akolá Tambó has played a crucial role in the bullerengue movement in London as this is where it all started: it was the first space created for its experimentation, learning and practice. In fact, we are the first bullerengue group that we know of not just in London or the UK, but anywhere outside of the Americas. When we started showcasing our process, we immediately started receiving incredible feedback. People all over started falling in love with bullerengue and we started performing more and more often. A bullerengue movement was born and lots of people were interested in getting involved and learning more about it.
Through constant practice, we also started realising its connection with spirituality and its enormous potential for healing. From what we were experiencing and what people were telling us after the performances, we understood that there was a need to expand this to a wider community. That's when Bullerengue Circle came into the picture: a community project led by Esteban Card and Valeria Pacific dedicated to sharing bullerengue as a healing ritual and practice. Bullerengue Circle has created many spaces such as workshops, ruedas, drumming circles and jams where everyone can learn about and practise bullerengue, thus becoming active participants of it, rather than just spectators of a performance.
To add to the growing movement, Tatiana Roa, better known as Taty Tambó, arrived in London and immediately joined Akolá Tambó. She has been studying bullerengue, sharing with communities in Colombia and, since her arrival, she has started offering drumming lessons and workshops. Since this all started, a few other music groups have started experimenting with bullerengue and incorporating it into their sound. Between the many performances of Akolá Tambó and other bands, and the spaces hosted by Akolá Tambó, Bullerengue Circle, Taty and other members of the group, there are more and more people who know about and understand the power of bullerengue in London, so the movement has kept on growing.
In what other projects are you engaging around bullerengue?
Bullerengue Circle recently obtained a grant by the Arts Council with which Esteban Card and Valeria Pacific will soon go to Colombia in order to research the ritual and spiritual aspects of bullerengue. They aim to enquire about the ancestral knowledge of this tradition that has become increasingly inaccessible with the death of elderly maestros. Once back in London, they plan to share their findings through workshops and other activities to promote a deeper way of understanding and connecting to bullerengue.
This will happen right before Akolá's participation at the festival in María La Baja [you can see some photos and videos from their time at María La Baja on their Instagram], which means that the end of this year will be a super enriching time for all of us. Both from Bullerengue Circle's findings and from Akolá's first experience going to the cradle of bullerengue, sharing with the community in its place of origin will be a stepping stone in our learning process and will allow us to understand more deeply the tradition that we practise in order to continue to represent and amplify it here in the UK and Europe.
Why bullerengue and what does it mean to you?
Bullerengue was the tradition that has most inspired and connected with Esteban Card. This took him on a journey to Colombia on two occasions to learn and work with the community, and his love and appreciation for this ancestral practice kept on growing. Bullerengue is a neglected tradition that not even most Colombians know about and, for Esteban, this was something that needed to change. This was his main motivation to push for a bullerengue group in London.
To us, bullerengue means a lot more than music. It has been a window for releasing, for finding joy and confidence, and for facing our fears. It has also been a symbol of resilience and resistance, as well as a reason for all of us to get together, heal our differences, listen and understand each other within a community context and, above all, to enjoy and dance away our emotions to the beats of the drum.
Akolá Tambó combines dance, drums and chants. Can you expand on these different expressions and the way in which you choose amongst group members who dances, who plays the drums and who chants? (Because I have noticed that you all take turns).
What's important to understand is that bullerengue is all about the expression of the moment. In bullerengue there aren't preconceived dances, or drumming, and ideally not even lyrics. It's all about inspiration and what comes to you in the moment. So in terms of dancing, whoever is feeling the call of the drums can come out and dance. Whenever someone else feels like dancing they come in, signal the other person to go out and take their place. In terms of the drumming and lead singing, those of us who have more experience and are more confident doing it, do it, but we encourage everyone in the group to learn all aspects of bullerengue and the idea is for all of us to eventually be able to do everything and, as you said, take turns at it.
What songs do you perform in Akolá Tambó? Are they covers or original songs that you have composed?
We sing a lot of traditional songs, as well as covers from contemporary bullerengue groups and singers, but again, a bullerengue will never be the exact same way twice because everything is spontaneous – the beats and fills of the drum, the words the lead singer is sharing, the dance, the guapirreos. We play a lot with the melodies or tonadas and make them our own and have adapted some non-bullerengue songs into bullerengue. But we do from time to time sing original songs and are planning to record an album next year.
Which bullerengue artists or groups inspire the work of Akolá Tambó?
So many of them! Etelvina Maldonado, Las Alegres Ambulancias, Ceferina Banquez, Petrona Martínez, Jhonny Rentería, Emilsen Pacheco, Las Palmeras de Urabá,, Herederos del Bullerengue, amongst others.
Listening to the different members of Akolá Tambó talk about bullerengue, and to what you are doing with the group, these words and expressions stand out: family, ritual, ancestry, healing, earthly connection. Can you expand on how these words relate to Akolá?
Akolá Tambó is, first and foremost, a family. It's a group where we've all found a home away from home, where we look out for each other, care for each other and help each other grow and thrive. What unites us is our love for bullerengue and our understanding that bullerengue is not just music but a powerful healing ritual. What we've discovered through our practice is that there is an ancestral knowledge hidden in this tradition that goes beyond the festive and celebratory part of it. Through bullerengue, our ancestors left us tools to connect to ourselves and to each other, to ground ourselves in the present and to let go of fears and limitations. The elements of bullerengue (drums, chants and dance) have been used as healing tools all over the world by an endless number of civilisations. And we have them at our disposal right now. So that's exactly how we use them and how we offer them when we perform in public.
Akolá Tambó is going to take part in the festival of bullerengue in María la Baja, Colombia. Tell us about this festival and what you are going to be doing there.
The María la Baja Bullerengue Festival is one one the main gatherings for the bullerengue community in Colombia and we're very excited to be taking part this year! The festival is a bullerengue competition where the best groups from all over the country (and, in our case, from abroad) get on stage to give their best performances, which makes it a high level bullerengue encounter. But, for us, the main part of the festival happens off stage and with no competitions involved. It is an opportunity for us to get to know and share with the bullerengue community. It is one big street party with ruedas de bullerengue in every corner, where people are getting together to dance, drum and unite in a collective chant and celebrate this beautiful tradition. It's a celebration of life at its best!
Akolá Tambó recently launched its first single "Solecito" with a video. What is this song about and how was the creative process behind it?
"Solecito" is a song dedicated to the sun, it sings and prizes its force and unconditional love and energy to show us the path, to guide our steps and give us the will to give our light to the world with the strength to forgive. Offering our chanting to the sun, we ask for clarity, to look at the horizon with confidence and trust, recognising ourselves with gratitude as sons and daughter of the sun and carriers of its values. The song was a result of a jam at home while receiving the beautiful summer sun through our window. The cover was designed by Liliana Romero, better know in the art world as LiloPhilia, who is part of the group and an incredible visual artist.
The video was shot in Primrose Hill and was directed by Suma Phayiri, one of the members of the group. It was a very fun process and we were very lucky to have a beautiful sunrise and a lovely sunny sky in London on the day. The song is available on all digital platforms, including Spotify, and you can find the video on our YouTube channel.

Follow Sounds and Colours: Facebook / Twitter / Instagram / Mixcloud / Soundcloud / Bandcamp

Subscribe to the Sounds and Colours Newsletter for regular updates, news and competitions bringing the best of Latin American culture direct to your Inbox.
Share: