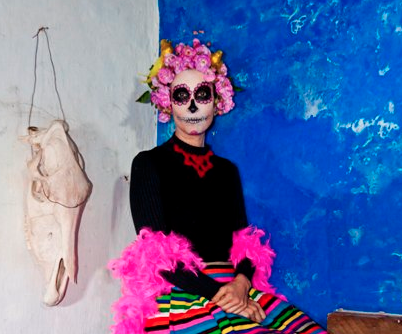 Ana Zuluaga
Andrea Echeverri says 'Ruiseñora' is 'Intimate, Confrontational, and Creative'
07 October, 2013
Andrea Echeverri knows a thing or two about success. With her band, Aterciopelados, she won Latin Grammys, performed on national television, and rocked festival stages around the world, and in the States—Coachella, Bonnaroo, and Outside Lands.
In her solo artist debut, she was nominated for a Grammy. With her latest album, Ruiseñora (August 27), things have gotten personal.
"Ruiseñora is an concept album that I consider a personal quest," she tells Sounds and Colours. "It is deeply feminine. It comes from a time in my life when I had the desire to make a record as a craft."
Echeverri handled the entire production, composition, and vocals on the record, whose themes include feminism, the empowerment and protection of women, and also the author as woman, mother, and ceramic artist.
"Its sound is feminist rock, part roots rock, gospel, ranchera, guabina, blues, but mostly it's me—intimate, confrontational, and creative," she says.
The title track, 'Ruiseñora,' is beautiful. We asked her to describe it.
"Ruiseñora is a guabina. It has a lot of humor. I am a person of highlands—shy and reserved, and here I joke that I'm completely confident, saying, 'I'm the best. You like me.' In reality, it's a joke that has its truth, because I have actually things to be proud of, but overall I feel insecure," she says. "I really liked the word nightingale and decided to use it as a title of the album because it represents the symbolism of a female bird singing [Ed. Though it was long thought to be a female bird, it is, in fact, the male bird singing], and contains the word lady, which signifies a journey of my age and certain authority."
Echeverri tells us this album is very stripped, acoustic, because it's how she dreams up her sound.
"Except for two tracks ('Metetelo' and 'Florence Conexion'), I didn't want to use any session musicians or well known musicians," she says. "I played every single instrument. I used an acoustic guitar with nylon strings and another with metal strings. Then, I found the lioness (the bass used in Son Jarocho music) to replace the electric bass, and the Peruvian cajon in place of drums, and many rattles and shakers."
The album also features flutes, ocarinas, and layers of Echeverri's voice.
On 'Metetelo,' she invited some guest musicians—Neil Ochoa on percussion and Rafa Garcia on bass. In 'Florence Conexion,' she enlisted the voices of fellow fierce females, Susana Baca, Fernanda Takai, Lido Pimienta, and Ella Fuksbrauner.
'Metetelo' is a female power anthem that criticizes the sexism in reggaeton. We asked Echeverri if she thought there was hope for the genre.
"I really like Calle 13, but I can't say I'm a fan of most reggeaton because of its lyrics and the autotune they use on most of the songs," she says.
You can download Echeverri's new album on iTunes. And check out the remix of her anti-reggaeton anthem, remixed by our friend Pernett.
"It's not on the album, but we made a very funny music video for it," Echeverri says.

Follow Sounds and Colours: Facebook / Twitter / Instagram / Mixcloud / Soundcloud / Bandcamp

Subscribe to the Sounds and Colours Newsletter for regular updates, news and competitions bringing the best of Latin American culture direct to your Inbox.
Share: