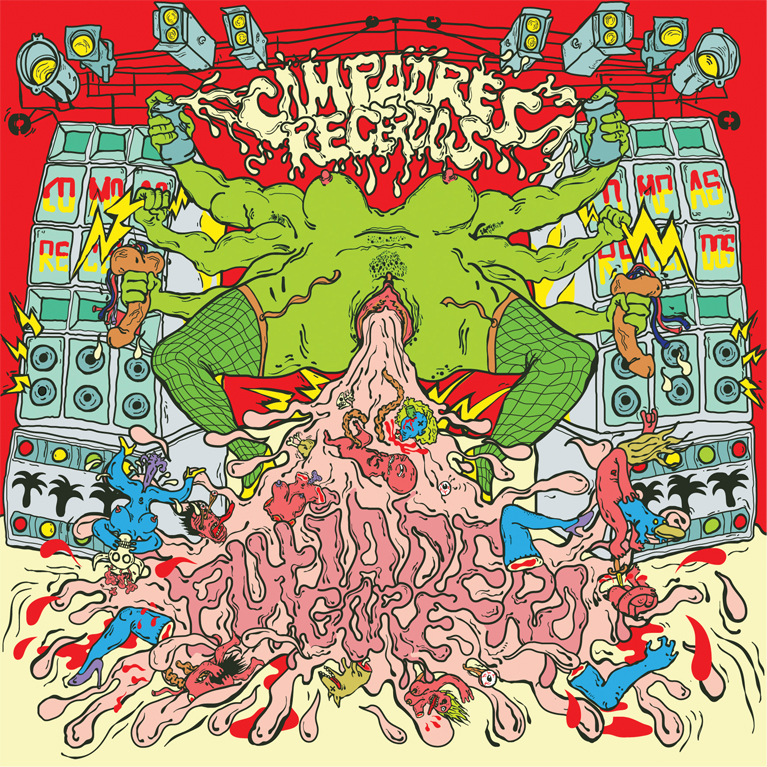 Are Compadres Recerdos The Most Obscene Band In Latin America?
04 March, 2013
According to the group's Facebook biography, the members of Compadres Recerdos met in the Alvaro Uribe Institute where they were being treated for sexually transmitted diseases. While sat in the waiting room they discussed their common interests; pornography, prostitution, reggaeton, extreme metal and hardcore. At that moment they decided to form a band which would harness all of these interests.
[soundcloud url="http://api.soundcloud.com/tracks/29186067″ params="" width=" 100%" height="166″ iframe="true" /]
Compadre Recerdo's sole album, Putiadero Gore, exists apart from much of the music being made in Colombia. Combining the rapping talents of Kipitos, Chambourcy and Betamax, the album – as per the group's raison d'etre – mixes reggaeton with thrash metal. Punctuated by blasts of the infamous reggaeton klaxon (or corneta) the group share rhymes while crunching guitar riffs or spluttering electronic beats alternate in the background. They even find time to sing saccharine Latin rock choruses (as on "Amores Imposibles") or unintelligible thrash grunts ("Putiadero Gore") as the music continually shifts between different styles. It works because the group obviously love both reggaeton and metal, and even though their music must definitely be labelled as a parody it is genuine and full of ideas.
It's lyrically (and via their artwork) where the band get their "obscene" label. The world in which they live – or at least which they have recorded to tape – is filthy, shameless and X-rated; it's also ridiculously funny. For anyone wanting to get an understanding of both Bogotá slang and key cultural reference points they should look no further than Compadres Recerdos. For the former, you just have to take into account how many different words are used on the album for dick or balls – basically every other word – and for the latter just listen to "Orgullo Nacional" (National Pride). The song tells of the group's explorations in Colombia travelling from village to village searching for the "putas" of Colombia, who they then will invariably break. Amongst the references are Carlos "Pibe" Valderrama, Shakira, Juanes, Carlos Vives, Juan Pablo Montoya, Kapax, Transmilenio, sancocho and so many other people and things which represent Colombian culture.
[soundcloud url="http://api.soundcloud.com/tracks/29185715″ params="" width=" 100%" height="166″ iframe="true" /]
Live, the group are even more potent than on record, with live guitar, bass and drums making their sound veer more towards their metal tastes than reggaeton. Thanks to their three-pronged attack – who are clearly having the time of their lives throughout – it's a live show which never gets tiresome. Those who might be expecting something closer to GG Allin will be disappointed as Compadres Recerdos (despite having potentially the filthiest mouths in Latin America) are here to have fun.
In some cases it may feel like the group are going too far, their excessive use of "puta", "putiadero" and lyrics that constantly demean women, could be seen as anything but enjoyable. But overall, you feel that the group aren't misogynistic at heart, there's a playfulness to their music and lyrics which stops this from being the case. Just take the references to Bob Esponja (Sponge Bob Square Pants) or Superman; so even though there are songs like "Fist Fucking" which clearly take a lot of joy in saying the title over and over again, there is contrast, which gives the music a more-rounded appeal.
[soundcloud url="http://api.soundcloud.com/tracks/29185711″ params="" width=" 100%" height="166″ iframe="true" /]
The problem with any parody group – which Compadres Recerdos ultimately are – is that often the music doesn't match up to the joke. This is not the case here. Compadres Recerdos prove themselves masters of both reggaeton and metal, with an abundance of wit, lyrical ideas and variety of rhymes, that sees Putiadero Gore succeed across the majority of it's 18 tracks. Additionally, they have created an important voice – representing the current youth in Bogotá – where both Latin and Western cultures collide and where the important thing is to have a good time. Despite all their obscenities Compadres Recerdos are one of the best party bands in Bogotá.
You can download Putiadero Gore for free from Zombie Discos or listen to more of their music at soundcloud.com/compadresrecerdos

Follow Sounds and Colours: Facebook / Twitter / Instagram / Mixcloud / Soundcloud / Bandcamp

Subscribe to the Sounds and Colours Newsletter for regular updates, news and competitions bringing the best of Latin American culture direct to your Inbox.
Share: