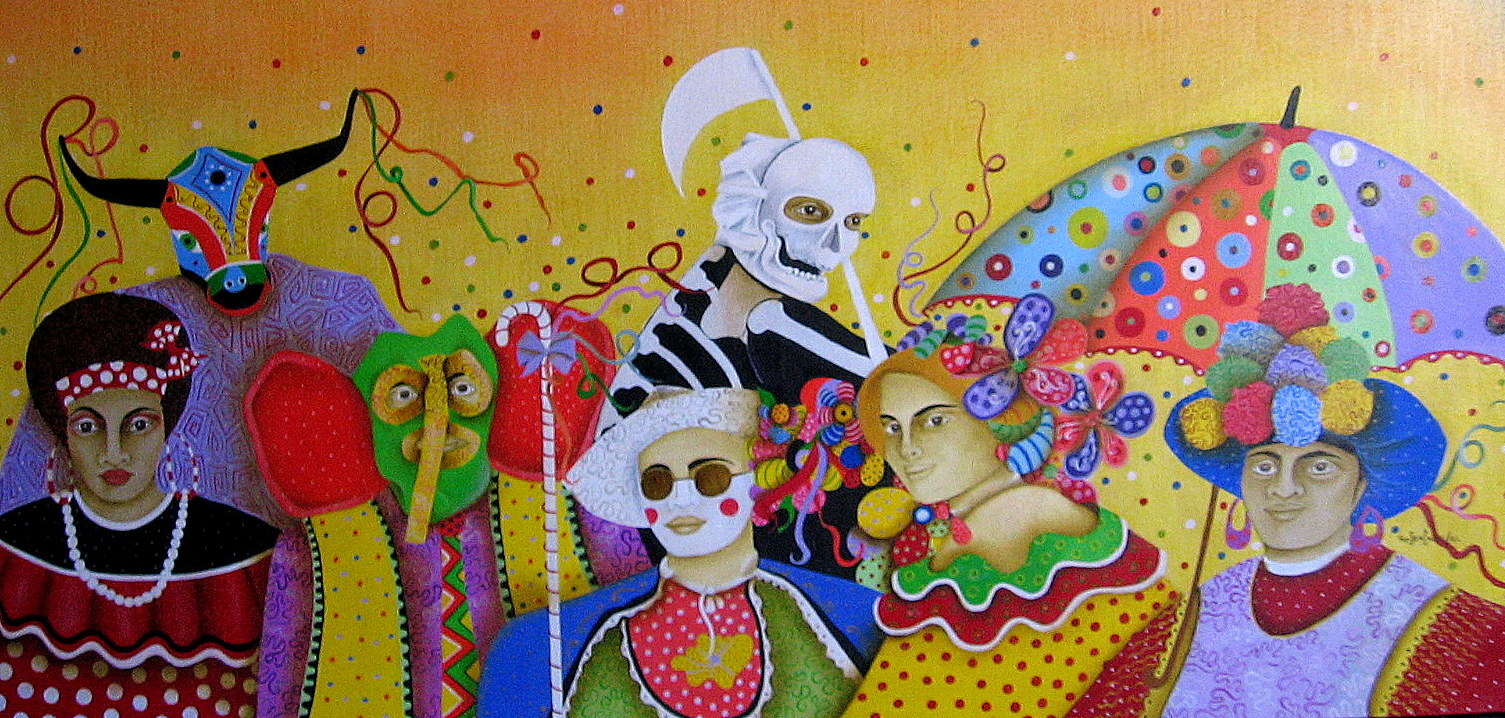 "Carnaval de Barranquilla" by Jorge Rosenvaig
Barranquilla is artist's constant influence
20 August, 2013
If there is one thing I equate with Colombia and its people, flag, music, Carnival, Feria de las Flores, and several other festivals, it is bright, exuberant colors. So I wasn't surprised when I stumbled upon works by Colombian artist Jorge Luis Rosenvaig.
I was searching for an image for a Chibcha (my parents had a couple of Chibcha wall ornaments when I was a kid) for a possible tattoo when I came across Rosenvaig's "Chibchacum" on a site called Saatchi Online, a site whose tagline is "Discover Art. Get Discovered."
Discover I did, and once I started clicking through to his other works, I immediately set out to find out more about the artist. Rosenvaig obliged with the following email interview. (ed. By the way, check out the old legend about the great flood of Chibchacum. It's a good one that's often told to kids in Colombia.)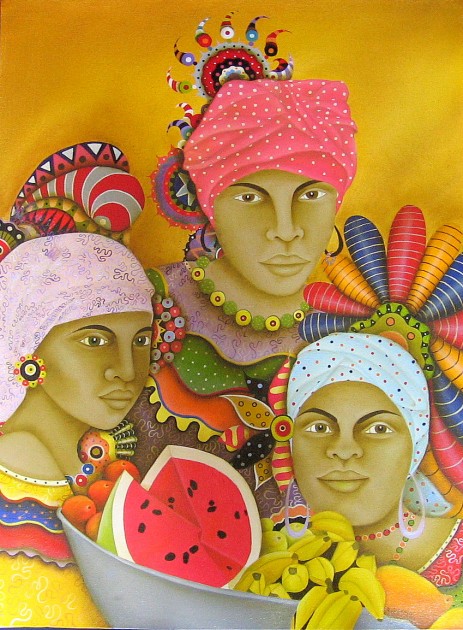 Sounds and Colours: When did you start painting?
Jorge Luis Rosenvaig: It seems I have always painted. I've been doing it since I was a little boy. It has always been what his guided my life. I lived to paint as a way to express feelings, experiences, and memories, hidden in my subconscious.
S&C: Who are your major influences from the art world?
JLR: There are multiple, but I want to specifically recognize Gustav Klimt of Austria. Beyond other artists, the greatest influence was my hometown, Barranquilla—the city where I lived only until age 14, yet it marked me for life. Its people, its sun and its light are special and different from all angles. The idiosyncrasy—the way of thinking and living of the Colombian Caribbean region managed to awaken in me the desire to try to capture feeling in my work.
I have read and seen everything related to [Cuban novelist, essayist, and musicologist] Alejo Carpentier. His idea of ​​ lo real maravilloso (the marvelous real), which is very different from magic realism so often associated with Gabriel Garcia Marquez), has also influenced my work. In Carpentier, lo real maravilloso isn't a reference to something that is great or special, but rather, something great or special it must be abstracted from your subject. The faces I paint are the people I saw, and still see, with large and colorful headdresses and robes. This form of painting customs and thoughts (I try to achieve the color and exuberance of them) is my particular way of seeing the Caribbean.
I'm no stranger to everything good or bad that surrounds me in my country, Colombia, but this isn't what leads me to paint what I do. I paint what comes from my subconscious.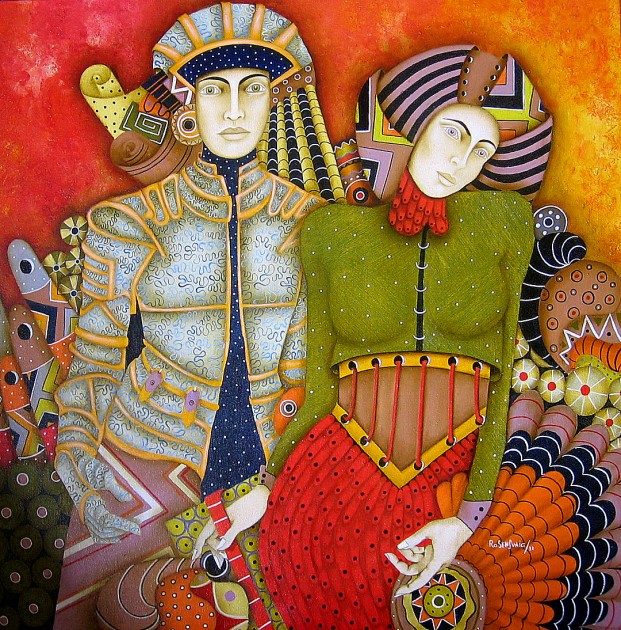 S&C: What is the art scene like in Bogota? Is it a good place for budding artists?
JLR: The art scene in Bogota and Colombia in general is good for young artists, although it is somewhat influenced by the current fashion trends in art, something happening worldwide. What makes it difficult is to get by with art that does not fit according to "art dealers" and gallery standards.
S&C: Where can we find more of your art?
JLR: I have a blog. It is somewhat messy—I'm not very technologically savvy.
If someone is interested in a piece, they can email me, but it is not easy to sell art this way. This is why I prefer to show my work at exhibitions in Europe and the United States.
—
Keep up with Rosenvaig on his blog, on Saatchi Online, and his Facebook page.

Follow Sounds and Colours: Facebook / Twitter / Instagram / Mixcloud / Soundcloud / Bandcamp

Subscribe to the Sounds and Colours Newsletter for regular updates, news and competitions bringing the best of Latin American culture direct to your Inbox.
Share: