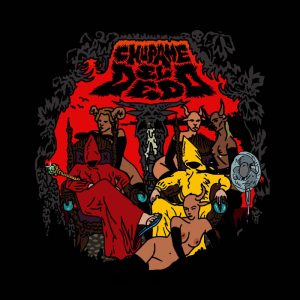 Review
Chupame El Dedo – No Te Metas Con Satan
After almost five years hidden in the shadows, Pedro Ojeda and Eblis Álvarez's bizarre hybrid of tropical grindcore and black metal, Chupame El Dedo, are finally back with their second album. Even though the last few years have been a massive success for both of them as leaders of Romperayo/Meridian Brothers and as members of Los Pirañas, most devotees in Bogotá's underground scene had been patiently awaiting a new collection of obscure tales from the duo, and No Te Metas Con Satan is a well-deserved reward for those avid enthusiasts of Colombian music's avant-garde.
The title track is a fantastic opener to the record, and probably the closest we'll ever get to hearing a pop song from Chupame. Alvarez's long-established combination of alien-esque organ sequences and a high-pitched voice that resembles some kind of sinister child from Colombia's Atlantic coast, blends in perfectly with Ojeda's section, which not only includes his mad percussion skills, but also a stellar and hellish vocal appearance. This peculiar contrast between the two characters is persistent throughout the entire record, and mostly  evident on the track "Alexandria Candelaria": an erotic techno-infused subversion of Little Red Hood, featuring a conversation between a girl who's looking forward to a round of bullerengue, and the devil himself.
"Metalero" presents one of the most noteworthy musical moments in the album. What starts off sounding like a Romperayo track on steroids, rapidly turns into an original and highly addictive version of "El Cumbanchero", one of the most well-known classics in the Latin American music canon, covered time after time by stellar representatives of tropical sound such as Tito Puente, Ismael Rivera and Aníbal Velásquez, as well as many others. Chupame's rendition is clearly not the best at putting together a masterful performance, but it definitely pushes the frontiers of the prolific work that both musicians have successfully undertaken within the renaissance of Caribbean music.
Though somewhat repetitive at times, especially towards its second half, most tracks include the usual bits of satire that would be expected from an Ojeda/Álvarez production. Tracks like "Mi Ancestro Berraco", "Peos"(Farts) and what appears to be a parody of the controversial Colombian national football team's former coach, Hernán Darío "Bolillo" Gómez, on the song "Bolillo Cafre", elucidate a good deal of the ludicrous humor and cartoonish references to Bogotá's popular culture that have become a pillar in the duo's narrative when as a joint force, or on their independent ventures.
No te Metas con Satán is yet another compelling challenge to the broad limits of Colombia's traditional rhythms, and it presents itself as a much more structured project than what was achieved on the band's debut. While its inventors may only see it as a cryptic space for free experimentation, the album certainly extends Chupame el Dedo's identity as a powerful escape vessel for a couple of Colombia's most talented and visionary musicians in the present day.
Chúpame el Dedo will embark on a European tour in April (see dates in image below). Listen to No te Metas con Satán on Discrepant Records / Sello In-Correcto.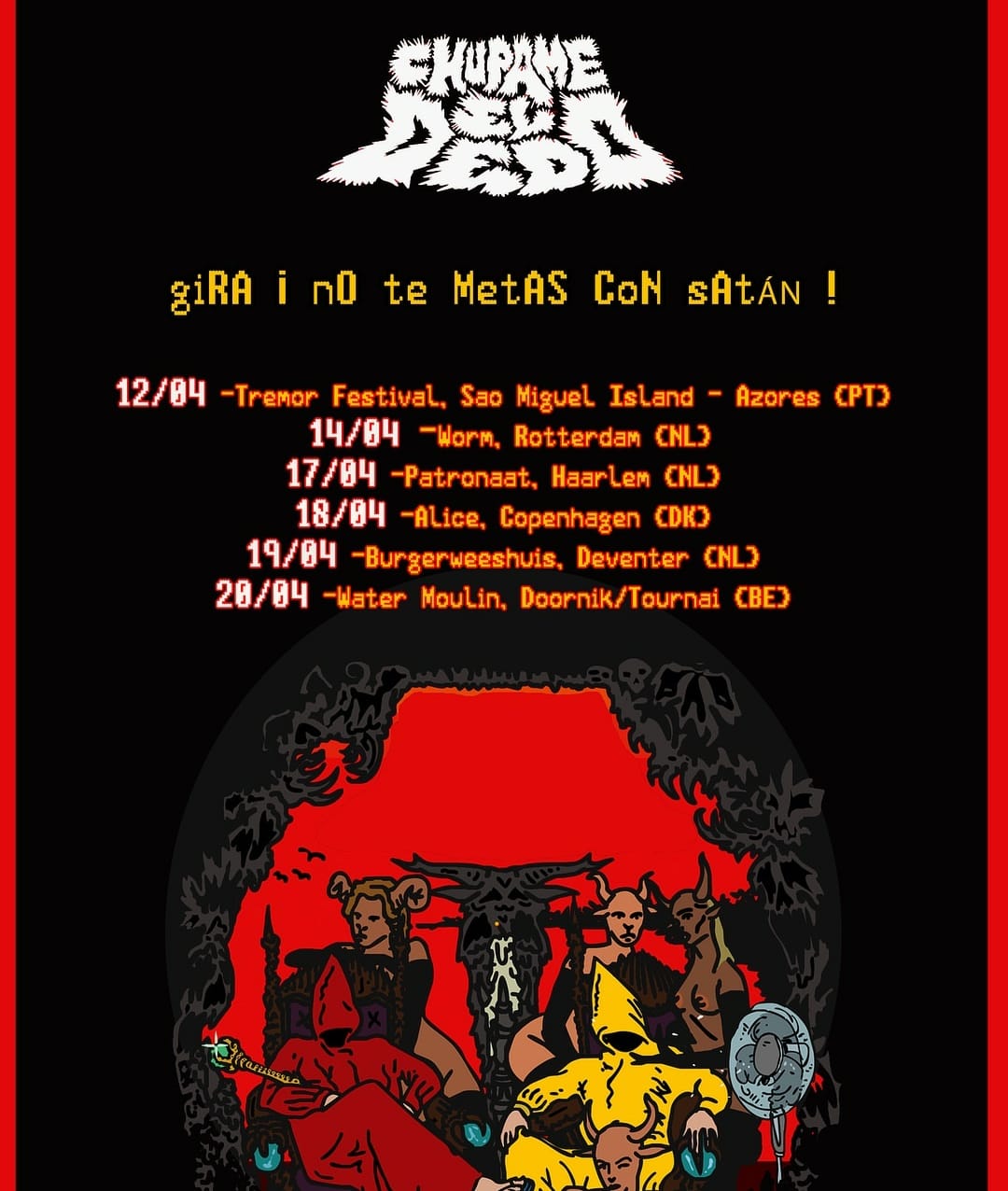 Follow Sounds and Colours: Facebook / Twitter / Instagram / Mixcloud / Soundcloud / Bandcamp

Subscribe to the Sounds and Colours Newsletter for regular updates, news and competitions bringing the best of Latin American culture direct to your Inbox.
Share: