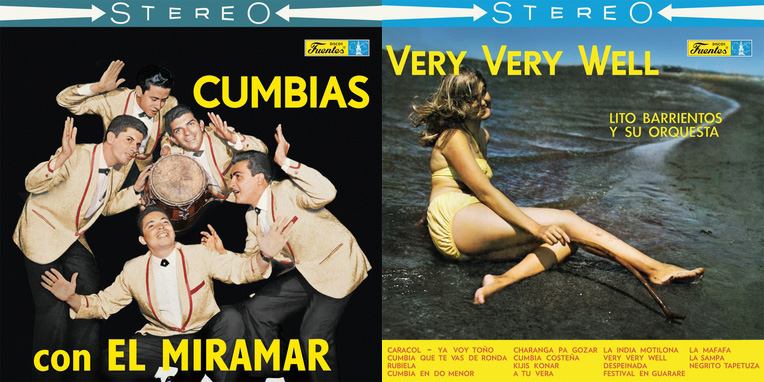 Colombian Reissue Round-Up: Conjunto Miramar, Lito Barrientos y Su Orquesta
04 September, 2019
Hot diggity! Madrid's Vampisoul label has really struck a rich seam of classic Colombian cumbia in its series of reissues from the Discos Fuentes vaults in Medellín. Two more saw the light of day in August.
Conjunto Miramar
Cumbias con El Miramar (1965/2019)
Discos Fuentes/Vampisoul
****
Originally released in 1965, this little treasure understandably has become hard to find and highly sought-after over time. Local DJs have been spinning the opening "Cumbia Loca" and other choice cuts from the album for 50 years or more. While its main musical focus is on the indigenous dance rhythms of cumbia and gaita, modish Cuban influences slip into the mix in the form of guajira, charanga, guaracha and son montuno – all helpfully labelled on the cover and all performed with both expertise and a hallmark youthful exuberance.
As the awkwardly posed cover confirms, Conjunto Miramar was still a young band in 1965. They started as a group of childhood friends eight years previously, fired by a desire to play music together in the holidays. After various permutations, several singles and two albums, bass player and accordionist Hernán Builes was the only original member left. As leader and director of the conjunto, he signed a deal with Discos Fuentes and, for this their initial release for the label, contributed the majority of the original numbers. Reedman, occasional xylophonist and vocalist, Héctor Quintero, added another four of his own.
The xylophone in question is a charming if only occasional addition to the basic instrumentation of drums, bass, accordion, clarinet, piano and guitar. Pianist Dario Restrepo said that it was a small children's model bought in Medellín. It makes a first welcome appearance in the short mosaico or medley on Side 1 and it's significant that Builes would add vibes – under the influence no doubt of Joe Cuba's fashionable sextet – when he adjusted the band's line-up and sound after this release. Here it's a spare but crisp, clean sound throughout the ten brief numbers and the two concise medleys. Typically, the songs share minimal call-and-response vocals, a solid percussive drive, the tune carried principally in tandem by the call of Hernan Builes' accordion and the response of "El Mago"'s 'surf-style' guitar (or vice versa), and solo colour courtesy of Quintero's clarinet or alto saxophone and Restrepo's piano. Stand-outs include "Cumbia del Sol" and the guaracha, "Lelogua", both of which had been recorded on the band's previous album (for the Zeida label).
The pace may vary slightly according to the dominant genre, but it's all very much music to dance to. And dance you must! This is classic cumbia of the era, pared to the bone and about as good as it gets. In their next incarnation as the Sexteto Miramar, outside influences from Cuba and further afield would have a more profound influence on their sound, which – as Fruko, the star of the Fuentes show in the 1970s, acknowledged – helped to persuade the label to embrace salsa dura.
Lito Barrientos y Su Orquesta
Very Very Well (1965/2019)
Discos Fuentes/Vampisoul
***
The year was still 1965, but we move from a small band to a big band, with a particularly tight and muscular brass section. As in the US and the UK, Colombia had its own big band scene and, as in Cuba, it was a heady mix of American swing and tropical rhythms. Inspired by the likes of Glenn Miller and Pérez Prado (though sounding, reassuringly, much more like the latter), trombonist Lito Barrientos formed his orchestra in 1945, at the tail-end of the golden age of swing. Born in El Salvador but a bit of a wandering minstrel, again not unlike Prado, Barrientos' peregrinations took him eventually to Colombia, where he recorded a pair of albums for the house of Fuentes.
This was a particularly popular release – and it's not hard to understand why. It's a lot of fun, performed by a band with class and power to burn. While the Pérez Prado analogy is apt, particularly on the memorable opening cut, "Caracol", overall the parallels with Xavier Cugat are perhaps closer: an outsider by birth, with a keen eye for a trend, he could mix his genres in a kind of musical food processor to produce something tasty and popular, just not entirely authentic. Mind you, one could even say the same thing about such Quincy Jones fare as Big Band Bossa Nova – and Barrientos achieves a similar super-sized orchestral feel on the terrific "Cumbia Que Te Vas de Ronda" – but who's really worried when it's this enjoyable? Both "Cumbia En Do Menor" and "Cumbia Costeña" in particular (instrumentals with a little vocal 'encouragement') are top-notch wide-screen stereophonic show-stoppers.
If I have a gripe, it's the long mosaico that occupies half the second side. I'm not a fan of medleys, particularly long ones: nothing quite gets going before it segues into something else. It would have been rather more seamless if they'd ditched the rock 'n' roll pastiche that lends its refrain to the album's title. "D'you like baby, d'you like woman?/My best friend, very very well…" an unidentified Bill Haley impersonator sings rather bewilderingly in a kind of cod Hollywood-Mexican accent. It's mercifully brief, but it dates things in the kind of tasteless way that the outlandish album cover does. Ah, that smiling senorita in the baggy bikini by the water's edge. They don't make 'em like that anymore. And just as well!
But hey, not everyone's averse to medleys – and anyway, the eight preceding tracks more than compensated a certain picky reviewer for a perceived lapse in taste.

Follow Sounds and Colours: Facebook / Twitter / Instagram / Mixcloud / Soundcloud / Bandcamp

Subscribe to the Sounds and Colours Newsletter for regular updates, news and competitions bringing the best of Latin American culture direct to your Inbox.
Share: