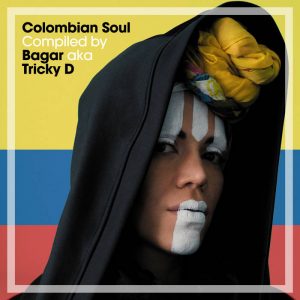 Review
Colombian Soul Compiled by Bagar aka Tricky D
Colombian music is misunderstood.
At least according to Croatian born producer/DJ, Bagar aka Tricky D.
No stranger to Colombian sounds himself, Bagar has spent years travelling back and forth, subsequently living in the country and also finding himself in the thick of many a new sound emerging from its music scene in recent years too.
One thing that hasn't escaped Bagar's attentions in his visits is the often uniform presentation that Colombian music often finds itself subjected to in the exterior. That is a high-energy, party-starting fallout of all that is upbeat.
Of course, for a carnival-obsessed nation with a plethora of colourful festivals there is naturally a fall-out of music designed to get hips swinging at their most breakneck. But what for the dub-drenched? For the beats that amble instead of race? The songs that drag their feet longingly in the minor-key? Enter, Bagar aka Tricky D's compilation of Colombian Soul.
A compilation diverse in inspiration, where wistful production is plentiful alongside the ever dulcet tones of the marimba. An instantly enrapturing opener is fleshed out by the enchanting tones of Bogotana Jimena Angel and followed up by Cerrero's ambient 'Cuando Canto Grito' featuring Lucia Pulido. 
Recognizable names appear throughout the record; Systema Solar's 'Aguazero' features deep chants interspersed with nervously shuffling beats, whereas Systema producer Dani Boom's other project El Leopardo features on a wilder ode to the jungle underpinned by haunting, ambient choruses.
The pacific coast's Esteban Copete fractures between marimba sounds, sultry-beats and broken calls while S&C favourites Romperayo also feature with the sauntering 'Tocaima A Acapulco'.
Two would-be hip-hop tunes play out in the form of Alma's 'Kong' and Ruzto's 'Mañana Será' and there are two moments where, despite aiming for a more downbeat nature, the compilation takes a slightly more upbeat turn; Salsagroove's 'Mujer Divina' and Glasford Howard's 'Healing Song', both worthy of more than a mere foot-tap.
With only the tip of the iceberg reaching the exterior, Colombian music continues to consist of a rich and eclectic catalogue of new sounds. Colombian Soul shines a much-needed light on some of the lesser-known jewels in the Colombian treasure trove. An excellent compilation that not only invites listeners to think a little differently about what exactly constitutes Colombian music in 2019, but also directs them down the various paths they can follow in immersing themselves deeper in the rich array of sounds on offer.
Colombian Soul is released by BBE and available from Bandcamp and other platforms.

Follow Sounds and Colours: Facebook / Twitter / Instagram / Mixcloud / Soundcloud / Bandcamp

Subscribe to the Sounds and Colours Newsletter for regular updates, news and competitions bringing the best of Latin American culture direct to your Inbox.
Share: