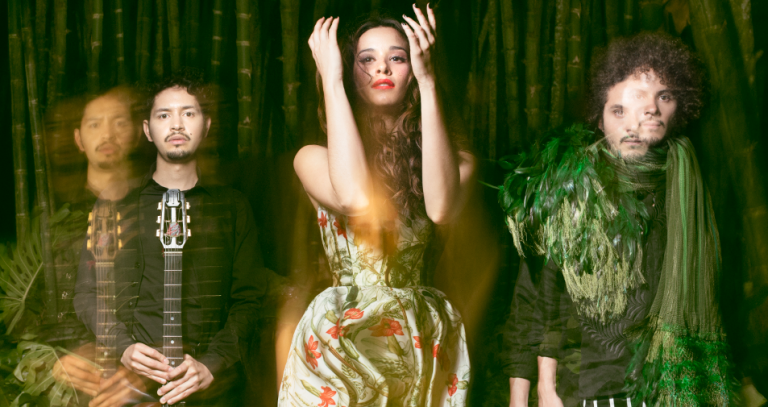 Alejandra Quintero
Colombia's Monsieur Periné Release New Album 'Encanto Tropical'
21 May, 2018
How do you follow up a massively successful album that netted you a Latin Grammy win for "Best New Artist?" In the case of Colombia's Monsieur Periné, you take your time on picking key collaborations and drawing inspiration from all of Latin America.
The band released Encanto Tropical on May 18 and we had a chat with them about the colorful record, which we have on repeat as of late. For this record, the band returned to the studio with Eduardo Cabra (of Calle 13 fame) who produced their last release (Caja de Musica), and while their signature 'swing Colombian style' is still present, an evolution into other genres is obvious.
Sounds and Colours: How did you decide what styles of music you wanted to include on this album? And who you would collaborate with?
Santiago Prieto of Monsieur Perine: We first began composing songs for this album over a year while we kept on touring in Latin America, the USA and Europe. We collaborated on writing songs with Mexican artists Julieta Venegas and Leonel García as well as fellow Colombian artists Mauricio Rengifo and Juancho Valencia. The choices were inspired by the diversity of cultural richness across Latin America. We chose many rhythms and musical styles inspired from our roots and the roots of tropical music. But we also chose some other musical styles like branches: rhythms from the outside that we've been experienced in our nomadic lifestyle as a touring band. We experimented with these styles, like in the way our identity is shaped, to build this album Encanto Tropical and pay homage to the soil from which all these rhythms flourish.
S&C: It's very evident the band has its own voice and sound. In the past, you've toured with artists like Natalia Lafourcade. Who do you envision touring with for this new record? Anyone you'd love to perform with?
SP: We will be touring this summer in the USA – we´ll play in San Francisco, Santa Cruz, Los Angeles, Miami, New York, Washington, Boston, and also Canada and Europe. We'll spread this album around the world and then we'll see where the music takes us. We would love to perform and tour one day with Caetano Veloso.
S&C:  "Me Vas Hacer Falta" is amazing! Bolero! Wonderful job, Santiago! Have you heard of Miramar Boleros? You'd love them. Perhaps they can open for you in NYC someday! Tell me more about the decision for Santiago to sing.
 SP: Just checked them out on Tiny Desk. They're great!!
I have always sung in the band but with these songs we felt this is the moment for my real 'debut'. We have always loved boleros and we always sing them to and with our parents and grandparents. So this is our bolero 'a la Periné'.
S&C: There is A LOT of new music coming out of Colombia, there are no signs of its popularity slowing down. Who do you admire that's new or even undiscovered from Colombia? Do you see anyone or any band that you can envision someday winning 'best new artist' as you did?
 MONSIEUR PERINÉ NORTH AMERICA TOUR DATES
June 3 Upstream Music Festival & Summit – Seattle, WA
June 4 Arts Common – Calgary, AB Canada
June 6 Miner Auditorium (San Francisco Jazz Festival) – San Francisco, CA
June 7 Kuumbwa – Santa Cruz, CA
June 9 Hollywood Bowl (Playboy Jazz Festival) – Los Angeles, CA
June 10 North Beach Bandshell – Miami, FL
June 12 Paradise Rock Club – Boston, MA
June 13 The Howard Theatre – Washington, DC
June 16 Highline Ballroom – New York, NY


Follow Sounds and Colours: Facebook / Twitter / Instagram / Mixcloud / Soundcloud / Bandcamp

Subscribe to the Sounds and Colours Newsletter for regular updates, news and competitions bringing the best of Latin American culture direct to your Inbox.
Share: