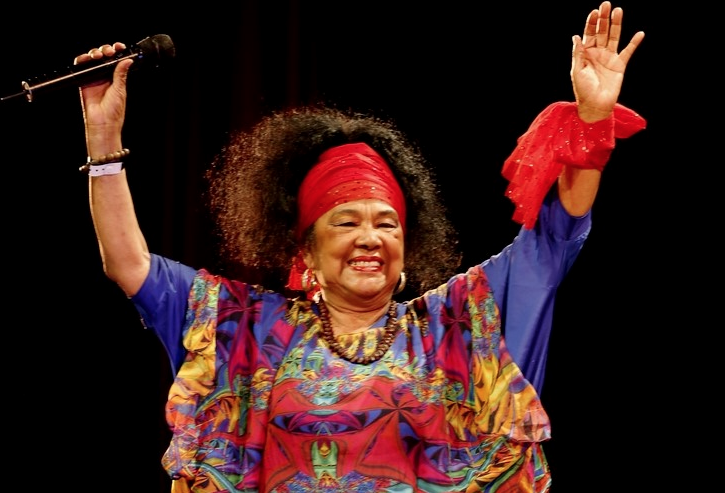 Ignacio Sierra
Coming This June: Totó La Momposina Reimagines Her Classic 'La Candela Viva' Album
18 May, 2015
This summer will bring us a reimagining of one of Colombia's most important albums.
Totó La Momposina's La Candela Viva (1993) will be remixed and remastered (with some additional instrumentation and vocals by Totó's granddaughters) as Tambolero, to be released on June 29 via Real World Records.
Totó will perform in the UK this year at the WOMAD Charlton Park festival on Friday, 24 July (3pm, main stage).
This new work will include a wealth of recorded material from La Candela Viva sessions that never made the original album. It will also have a number of previously unreleased songs.
Producer John Hollis, who stumbled upon the original Candela Viva tapes while searching for an old dance track, says he had to bake them (literally!) to remove any moisture that had accumulated, making them playable again. The recordings could then be digitised to work with modern technology. A process of reassessing all the different versions and new songs, re-editing and over-dubbing began.
"At this point it occurred to me that Totó's granddaughters would add a nice texture to some of the chorus lines," Hollis says. Totó signed off on the decision: "Claro, ellos son mis choristas [of course, they are my backing singers]."  Soon after, Maria del Mar and Oriana Melissa entered The Wood Room at Real World Studios, the very same space in which Totó and her band performed their set live 23 years earlier; Maria was present back then, a toddler at the time, and Oriana hadn't been born. "It was a surreal moment and they delivered their parts beautifully," Hollis adds.
The result is Tambolero, a genuine re-appraisal and re-imagining of the original.
Tambolero is in effect a new album and one in which Totó continues to reflect the experience of her native Colombia through her life and music. The two things are intertwined: the story of Totó la Momposina is truly the story of modern Colombia. It has also become a celebration of Totó's professional career, which will soon reach a landmark 60 years – six decades dedicated to preserving, researching and developing an ancestral tradition, the identity of a people, passed down through the generations.
"For me, connection with my ancestors is all important. It would be a grave situation if Colombians didn't know their musical roots because these are what bind us together. We have a wonderful country but a nation without music would be a people without identity. Our musical identity is a natural creation, evolved by the people of the countryside, inspired by the elements around them. This music is for everyone, for the world," Totó says.

Follow Sounds and Colours: Facebook / Twitter / Instagram / Mixcloud / Soundcloud / Bandcamp

Subscribe to the Sounds and Colours Newsletter for regular updates, news and competitions bringing the best of Latin American culture direct to your Inbox.
Share: