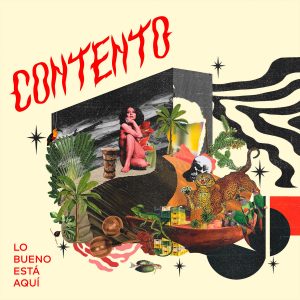 Review
Contento – Lo Bueno Está Aqui
I've been following Sano for quite a few years now, initially for those fun edits he had on Soundcloud. But what changed the needle; and I dare to affirm most of the electronic creative movement in my native Colombia, was the project in conjunction with Matías Aguayo and Gladkazuka, RIONEGRO, released by Cómeme in 2015.
One of the most revealing things about this project was the approach from sampling sounds and rhythms in the development of salsa. From boogaloo to Cuban son and mambo. All filled with industrial tints of techno, hip-hop and elements of Chicago and New York house from the 90s. Lots of Roland 707 sharp snares, gated winds and chichero-tinted electric guitars playing, conjugated to create fresh and danceable tracks.
With this in mind, it was a pleasure to find about his latest project, Contento, in collaboration with Paulo Olarte, of Acid Coco and El Dragon Criollo. From the first notes of their debut album, Lo Bueno Está Aqui, you can instantly recognised the sounds, textures and intentions of the project. We're talking groovy Caribbean Fania/Fuentes/Costeño vibes, digested after having heard massive amounts of house and hip hop. Always true to salsa, the album can work as an introduction and detonate curiosity for newcomers into the sounds, as well as giving joy for those nostalgic for the likes of Ray Barreto or Eddie Palmieri. Two pillars of that initial groove.
Musically it feels like two friends having a great time, playing together, drinking, having smokes, and enjoying la joda: playing around a bit and with this attitude creating really valid musical standpoints.
Talking about groove, it is also fundamental to bring up the role salsa played in the consolidation of house as a sound. Both were born in immigrant neighbourhoods in New York, where the social boiling pot that was occurring was enough to generate a mixture of rhythms and sonic sources that finally became novel sounds themselves. Unsurprisingly then, there is a connection (even familiar) from the Nuyorican house pioneers and the musicians that forged salsa, with it being said that Louie Vega was the nephew of El Cantante, Hector Lavoe.
In my personal opinion, I feel that the album manages to show the power of simplicity in a great way. Please don't misread that phrase. The album is not ambitious, because it does not need to be. With few musical elements, the duo compose patterns that can last for a long time, but without getting boring. This is in part due to the technical polished sound, and also to the jamming / hanging out spirit that these compositions share. From the structure of the tracks, to the lyrics, all feels natural. This is 'having a good time with friends music'.
As told in the press release: "Contento didn't choose their name by accident. They want to make people feel happy, contented. You'd be hard pressed to keep your feet still or listen to this seriously hip, deliciously wonky album without a grin on your face from start to finish."
Lo Bueno Está Aqui is released by El Palmas Music and out now

Follow Sounds and Colours: Facebook / Twitter / Instagram / Mixcloud / Soundcloud / Bandcamp

Subscribe to the Sounds and Colours Newsletter for regular updates, news and competitions bringing the best of Latin American culture direct to your Inbox.
Share: