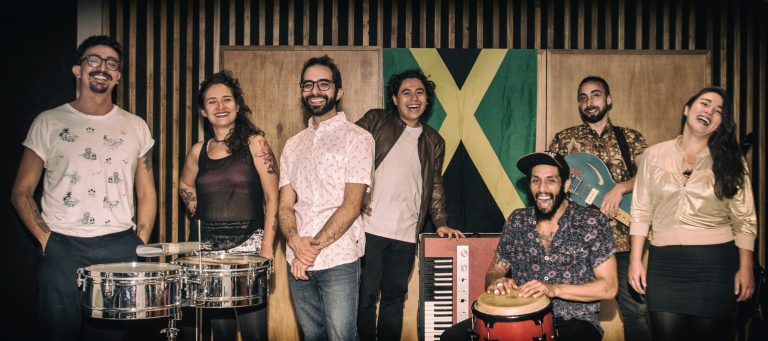 Continuing The Neo-Tropical Revolution: An Interview with La Sonora Mazurén
28 February, 2019
For two musicians well-accustomed to fronting a psychotropic outpouring of vigour, one would be hard pushed to meet a pair of characters more laid-back than La Sonora Mazurén's Nicolás Eckardt and Iván Medellín. Sitting downstairs in the café of Bogotá's Tambora Records' studio, the pair bounce ideas off one another with the ease and shared vision you might expect from a duo whose working relationship stretches back a few years now.
"We came together, to form La Sonora Mazurén, around four years ago", explains Nicolás, "we were going out to a lot of these places that are hubs for live music, watching many of the matik-matik [a flagship Bogotá venue for underground musicians] bands. There was this neo-tropical scene with all of these groups like Los Pirañas and Meridian Brothers; you know these guys [were] making incredible instrumental music, and we were inspired to do something similar", he continues.
Since branching away from another project which the two still remain a part of (La Tromba Bacalao), the duo became founding members in the newest addition to the neo-tropical explosion.
"We really wanted to create something from our standpoint, and start contributing to this atmosphere, it's what we were enjoying and we wanted to just make that kind of music", reflects Iván.
You don't have to look much further than the 'can-do' attitude the two share in identifying the driving force behind La Sonora Mazurén. With instrument changes, and new ones having been learned the focus has been very much around getting the best sound for the band, rather than merely focusing individual personalities and pursuits.
"We started originally as the four of us, Iván on keys and accordion, Juan David [Lacorazza] on guitar and well I [Nicolás] started on drums but Luis [Lizarralde] who is now the drummer was studying with Pedro Ojeda (Romperayo, Frente Cumbiero, Los Pirañas), which was an excellent experience for him to have and apply in the context of the group, so I [Nicolás] stepped on to the bass."
"I've only played the accordion for like 4 or 5 years," explains Medellín with a nonchalance that somewhat belies quite the mastery he has achieved in such a tender time-frame. In what seems to be an ever-growing outfit, the group have also announced the exciting new additions of fellow Bogotanas Diana Sanmiguel and Roberta Leono from La Perla to join them as multi-instrumentalists and on backing vocals in a new look line-up.
For the less-acquainted with La Sonora's proposal, it is a dizzying affair of spacial-tropical fusion with a breakneck pace. Alongside ubiquitous usage of the word lysergic, 'continental cumbia' 'psychedelic chicha' and 'African fuzz' have also been used to describe the La Sonora experience; across four diverse releases, the group have proven an impressive eclecticism in both influence and output.
It is then with an air of over-simplicity with which Eckardt explains, "it is basically just a case of hearing something and saying, 'yeah, we like that and we want to make our own interpretation of it.' We take it from there."
With four releases now under their belt, the group have started to establish a portfolio for themselves. They plan to release each on a 7-inch vinyl A-side only format, and have already started making test plates; "Look it's literally pressed on one side; the other has nothing", says Medellín, holding up a copy of La Sonora Mazurén's "Ceferino en Salsa", demonstrating the contrast between the pressed and unpressed sides.
For all of the excitement on record, however, it is perhaps the group's live shows that are even more enticing. Sonoras (translating as soundtrack/s, in Spanish) have a legacy throughout the region; groups with a main core of musicians and rotating guests quite literally sound-tracking the night's festivities.
"We have what we do on record, but we love to really think about what to put on in our live shows. To immerse the audience. Whilst there is the basic line-up and what we work with in the studio, we want to keep that element of the original Sonoras; that live element", says Nicolás, of the group's dual-personality.
"This year we will be bringing a lot more surprises to our live shows. Some big ones. We've announced a show with Chicha Libre in Bogotá's Teatro Colsubsidio later in the year, that's going to be excellent; we're hoping to include some surprises for sure", adds Iván.
Yet despite a full-throttle live show, it is at the Tambora studios that La Sonora focus on much of the day-to-day. "We're composing our own stuff too at the moment, it's not just covers", offers Medellín.
Eckardt adds, "Yeah we're in the studio a lot, rehearsing, bringing new ideas to the table. It's a really collaborative working environment, sometimes one of us brings an idea and we all contribute to it or sometimes the idea is more developed. We're flexible creatively but, yeah, everyone gets involved."
So as the La Sonora train gathers momentum, with more studio offerings guaranteed, and audiences in Colombia lucky enough to see them live promised surprises aplenty, the two sign off in an optimistic fashion, typically complimenting one-another's ideas.
"First and foremost we do this out of love for the music and wanting people to enjoy themselves listening to it. That's the main thing", states Eckardt.
"But beyond that music is powerful in creating change. If we can achieve that too, it would be cool!", chimes an enthusiastic Medellín.
Check out La Sonora Mazurén's latest release below, "Cumbia de Estrellas" and stay tuned for more releases from the lysergic-tropical outfit this year.

Follow Sounds and Colours: Facebook / Twitter / Instagram / Mixcloud / Soundcloud / Bandcamp

Subscribe to the Sounds and Colours Newsletter for regular updates, news and competitions bringing the best of Latin American culture direct to your Inbox.
Share: