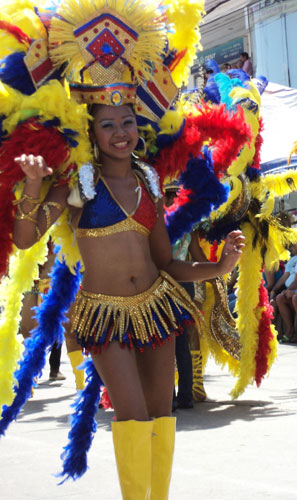 Gina Vergel
El Carnaval de Curramba (Barranquilla, Colombia)
31 January, 2012
Barranquilla Carnival is one of the most colourful and intense carnivals in South America and second in size only to Brazil's. As artist Diego Samper Martinez puts it, the Carnival of Barranquilla is "the ultimate people's celebration — the merriest, the loosest, true to the free-wheeling Caribbean spirit."
One of the most important urban centers on Colombia's coast, Barranquilla is a vibrant port city whose carnival embraces folkloric and popular culture with a variety of multiethnic music from the entire region. And in that world famous music — cumbia, salsa, porro and more — you'll find plenty of references to carnival.
Though its very early history is a bit fuzzy, carnivals in Colombia — a descendant of the festivals of Spain — sprang up in Cartagena, Bogotá and Popayán more than a century ago. The raucous celebrations allowed people from all classes to let loose. This didn't sit well with colonial authorities, which banished them from the major power centers, in turn, shifting them to small villages far from the ruling elites. A then much smaller Barranquilla and fellow villages along the Magdalena River took the tradition and ran with it — uninterrupted party style. And it's been going on, growing and evolving ever since.
Officially, Los Carnavales kick off on January 20th with the "pre-carnival" Lectura de Bando, which features a traditional reading of the declaration of carnival. The party continues every weekend and, as residents will tell you, the electricity of carnival is ever present in the atmosphere. Parties are planned, tickets are sold and the annual theme begins popping up in songs, advertisements, merchandise and even candy.
Subsequent weekend events leading up to carnival are Toma de la Cuidad, the crowning of the Carnival Queen and "El Rey Momo," the children's Carnival procession and the gay parade. This leads to one of the most important pre-carnival events on the Friday before Ash Wednesday — La Guacherna, a night parade of dances and masquerades.
Carnival Saturday, perhaps the most well-attended and significant of the four-day event, sees the daylong Batalla de Flores (Battle of Flowers), a grand parade of wondrous floats and hundreds of dance troupes, musical acts and elaborate and simple, yet clever, costumes.
Sunday is for "the Great Parade." Monday features a special parade for the dance troupes and later, the Orchestra Festival with hundreds of Caribbean and Latin bands. Tuesday signals the end of the carnival, announced by the burial of "Joselito Carvajal", who is mourned by everyone in grand (and comedic) fashion at a parade at Plaza de la Paz. But don't mourn for too long, as Joselito will overcome his "death by exhaustion and hangover" and rise again on the following carnival Saturday.
Many rites from Spain's Saturnalia, which were practiced to bring fertility and ward off evil, can be witnessed throughout carnival. But like everything else in the celebration, Colombians throwing flour, water and eggs, and banging pots and pans are not warding off anything. They are simply having fun. Carnival is chock full of enjoyment and solace through music and dance. "What distinguishes the Carnival of Barranquilla from others in Latin America is the variety of cultural expressions that are part of the party, resulting from the mixture of ethnic Indian, African and Spanish cultures," says Carla Celeia, Director of the carnival's foundation.
The dances, which draw from African and Amerindian cultures, are: La Cumbia, El Garabato, El Son de Negro, El Congo, El Mapale, El Caiman, El Paloteo, El Gusano, Las Farotas, De Relacion and Las Pilanderas.
Just as there are many dances, there are a variety of costumes. Among them, la cumbiambera, decked out in a vast and flowing skirt trimmed with yards of lace and a close-fitting bodice squeezing the waist, which helps emphasize hip movement. Cumbiamberos, sporting white shirts and pants with a red or yellow handkerchief, court the defiant – yet flirty – cumbiambera in this beautiful dance.
Another very popular costume which can also be found on vehicles and other objects (such as a mailboxes and garbage cans) is La Marimonda, a hooded figure with a long nose and floppy ears meant to emulate or elephant's trunk or whatever comes to the onlooker's mind.
The El Congo costume, with its tall colorful hat, is an ode to the slaves who gathered in Cabildos (slave associations that elected their own carnival queen) in the early carnival of Colombia. Other costumes are: El garabato, El Africano, Dracula, El torito, El Monocuco, Los Cabezones, Las Muñeconas, and El Tigrillo.
Samper Martinez said it best: "Carnival occupies a place of honour, an invaluable opportunity to witness in all its splendor, the Caribbean people's way of being, thinking, behaving and feeling."
Older Costeños will tell you carnival isn't the same because of the newer music (yes, reggaeton, hip hop and pop artists can be found eliciting loud cheers when they pass by on those parade floats), its commercialisation and blatant marketing (sponsors are splattered all over the place). Yet they find themselves at carnival events each year. Next thing you know, they're shaking their shoulders to the infectious rhythm of los tambores. For while carnival is in the air, rhythm invades and it's nearly impossible to resist.
Barranquilla Carnival Gallery
Here are some photos from Barranquilla Carnival in 2011, just to whet your appetite (photos by Gina Vergel)
Girl in carnival costume dances in Joselito's funeral parade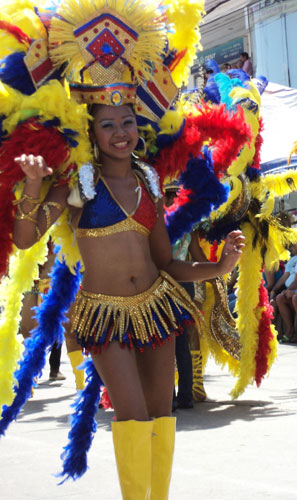 A young cumbiambera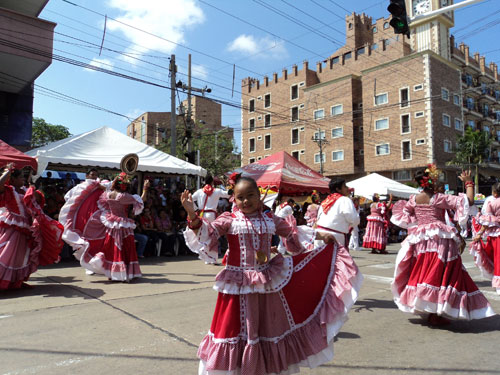 Children, throwing maizena (corn flour) on each other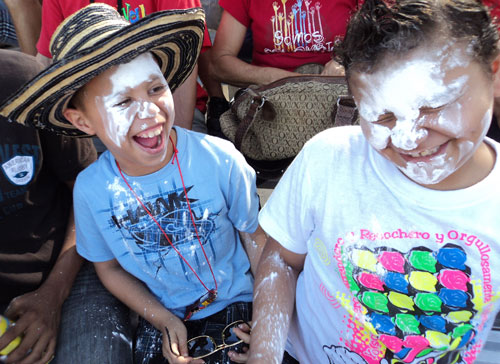 Joselito is paraded down la via 40 (a street in Barranquilla)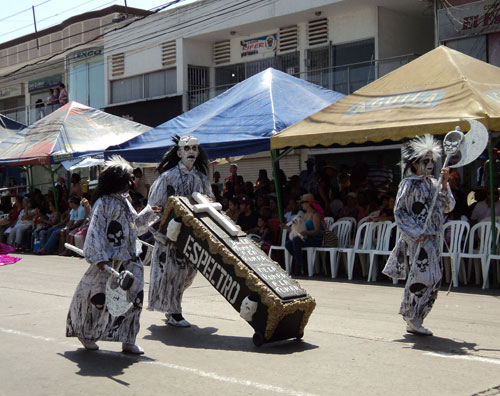 Cumbiamberos dance on la via 40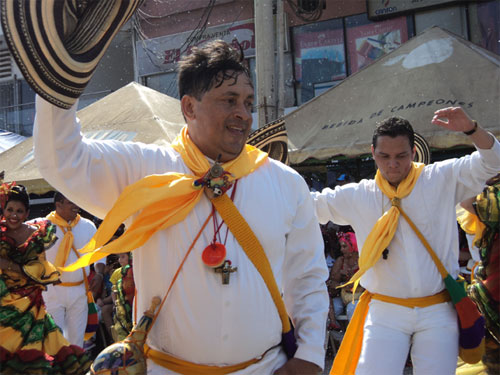 A young princess on one of the grand floats (carrosas) in the Batalla de Flores (Battle of Flowers)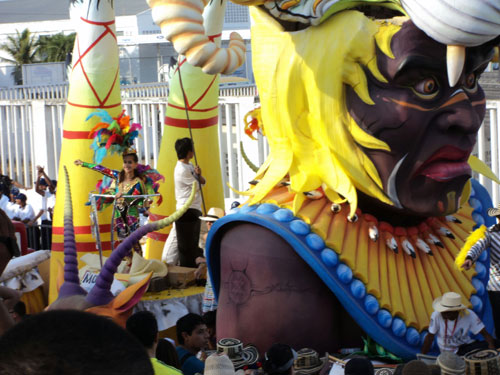 A marimonda doll adorns a car. This popular carnival 'character' originated in Barranquilla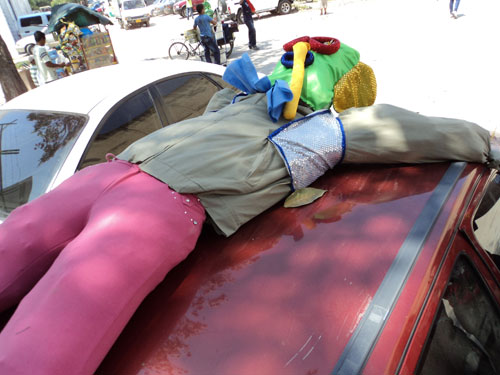 Man in drag. Carnival is a time for fun and this includes inappropriate skits and costumes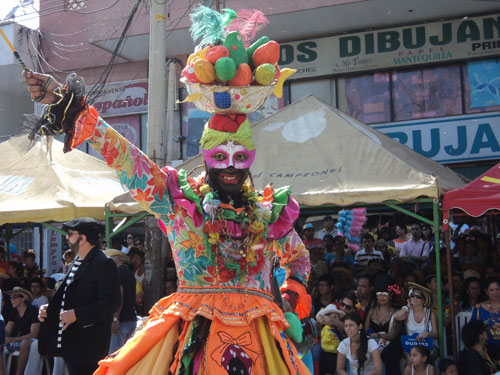 Follow Sounds and Colours: Facebook / Twitter / Instagram / Mixcloud / Soundcloud / Bandcamp

Subscribe to the Sounds and Colours Newsletter for regular updates, news and competitions bringing the best of Latin American culture direct to your Inbox.
Share: