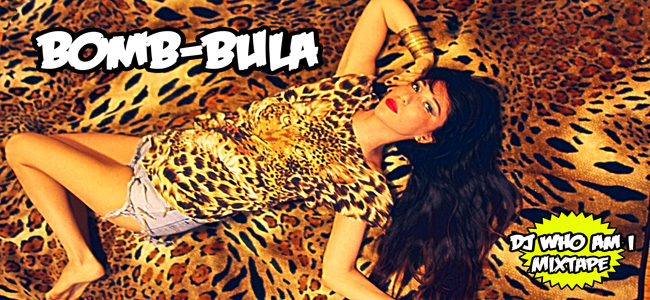 DJ Who Am I
Free Download – DJ Who Am I: 'Bomb-Bula' Mixtape
26 October, 2012
There is nothing we at Sounds and Colours like to do more than share our favorite music and mixtapes.
The latest by Brooklyn, N.Y.,-based DJ Who Am I is a hot one that will transport you to a sweltering party at a small club with tropical music that thumps, live percussion and a line of people waiting to get in outside. And it's not a coincidence, being that "Bomb-Bula" was inspired by Who Am I's Wednesday night party at tiny Brooklyn hotspot, Bembe, where the scene plays out exactly how I described it.
I met Who Am I about two years ago at a Bulgarian dance club on New York City's lower east side. I had my fair share of vodka that night and every time she played something Colombian, I'd stop dancing, point at her and say, "You're awesome!" (Let's just say I probably scared her and my head was definitely hurting the next morning.)
I've hung out with her at tropical parties in New York City dozens of times since and yet this Q&A is the first time I've gotten the story behind her peculiar DJ name, her foray into DJing, how Uproot Andy is the Yoda to her Luke Skywalker and how she sucks at playing the guitar:
Where were you born and raised? When did you move to NYC?
I was born in a small city in Ukraine called Vinnitsa. My family immigrated to United States (Philadelphia) in the early 1990s when I was 10 years old. I took a bus tour to NYC shortly after getting to this country, before I spoke English. The minute I saw the Brooklyn Bridge, I knew that I wanted to live here. I ended up moving right after college and still loving it!
How did you start DJing?
I have always been obsessed with collecting music, a hobby I picked up from my father and also there are quite a few musicians in my family. I tried to learn guitar but I was really bad at it, so I thought I could try to learn to DJ. After college, I was working in Fashion Public Relations and found myself hating the industry and then realized at the peak of my career that it was not for me. I decided to take a break from New York in 2006 and moved to Miami, Florida. Miami bored me terribly and I decided to learn DJing just for fun. I spent most of my time inside the apartment playing around with mixers and computers.  Two years later, I moved back to NYC and begged the owner of Mehanata's (the Bulgarian bar I hung out at literally every weekend) to give me a chance. He gave me a weekly Friday night party and it just kind of took off from there.
The DJ name, WHO AM I? Please explain. 
WHO AM I was really kind of a joke. I created this Facebook account with a fake name to mess with and prank my friends. I just wanted it to be a funny name. Next thing you know, I found people calling me Who Am I instead of my actual name. So it just kind of stuck. It's literally the dumbest DJ name—I admit that—but I don't mind it.
You play a lot of great tropical and it seems you're influenced by Colombia. I know you spent time there. Tell me a bit about that and how it may have influenced your DJ style. 
I am totally excited and fascinated by tropical music—Latin, Brazilian, African, etc. It's just pleasing to the ear and makes people happy. I am influenced by diversity. Growing up, the only Latin music I knew was Gypsy Kings because they are super popular in Eastern Europe. But when I moved to NYC and began going to the old Mehanata on Broadway and Canal, my world changed! That is where I really got introduced to cumbia, salsa, porro, and most importantly, the band Mano Negra.
While I was learning how to DJ, I went to Cartagena and heard music on the streets that sounded African. I learned that it was mapale. I was so blown away by it and would literally stop by every single area that the locals were playing and stare with my mouth open (like a gringa). I instantly began really researching African and African-influenced styles of music.
So that was then. What are you into now?
I love anything with heavy drums, festive horns and cowbells. Right now I'm playing tropical music mixed with lots of house and well as some eastern European and Middle Eastern inspired sounds.
Tell me about your influences.
The biggest as far as DJ style is Uproot Andy. I would go to Mehanata and see him play and freak out because he would blend together so many styles of music from all over the world and it would all make sense and sound beautiful. As a teenager, I went to lots of raves and always heard one genre of music being played for hours. It wasn't actually until I saw Andy play that I realized you can mix tempos, styles and sounds and be as diverse as you want. Years later, Andy now is one of my best friends as well as my Mr. Miyagi [a character from the movie, The Karate Kid] of DJing. He pushed me to take myself more seriously and taught me some nice technical tricks along the way. He also tells me when I suck, which I really appreciate.
As far as other influences, I really admire Shy FX, Louie Vega, Zombie Disco Squad, Chief Boima, Stefano Ritteri, DJ Shotnez, Joro Boro, Jubilee, B. Traits, So Shifty, Brodinski, Daniel Haaksman…. I can go on and on about all the producers I love.
We've mentioned Mehanata's Bulgarian Bar, which is a place that tends to draw Eastern Europeans as well as Central and South Americans. Why do you think there is a common bond between the two?
I am a true Ukrainian at heart.  I love vodka, I love to party, and I love to dance polka in a circle (sorry for the stereotype but it's true). Latinos and Eastern Europeans are fun people, I guess!  Latin music is really diverse. I guess the Latin genre closest to Ukrainian music would probably me Mexican pasito duranguenses, which is amazing by the way! Music is a universal language and appeals to most people. It's sort of instinctual. I guess we all love to party and move our bodies in funny ways!
Bembe! What do you love about DJing there for your weekly party? 
I have played many venues in New York City but there is something special about Bembe. My party on Wednesday nights is a total mix of cultures. Latin Americans, Africans, Brazilians, Eastern Europeans, Americans, etc. l have literally met people there from every continent.
People come to Bembe to listen to great music. No one ever comes up to me to request a Rihanna song. I can play folk music from Brazil, house music from Europe, dancehall from Jamaica and people appreciate it. DJing there also pushes me to discover new music and perfect my craft.  If it wasn't for Bembe, I would of never put together this super tropical mixtape, Bomb-Bula!
You can catch DJ Who Am I for Bembe's Halloween party this Wednesday, Oct. 31.
[soundcloud url="http://api.soundcloud.com/tracks/64389247″ params="auto_play=false&show_artwork=true&color=ff7700″ width="100%" height="166″ iframe="true" /]

Follow Sounds and Colours: Facebook / Twitter / Instagram / Mixcloud / Soundcloud / Bandcamp

Subscribe to the Sounds and Colours Newsletter for regular updates, news and competitions bringing the best of Latin American culture direct to your Inbox.
Share: