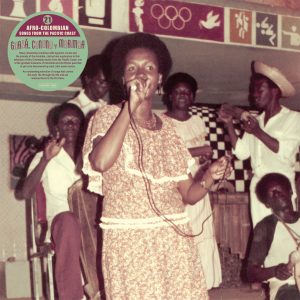 Review
Guasá, Cununo y Marimba
Despite their prolific contribution to Colombian culture, Afro-Colombians, who make up between 10-20% of the country, have long been marginalised. What attention they have received has mostly focused on musical exports – champeta, cumbia – from the Caribbean coast. But a new compilation, Guasá, Cununo y Marimba, subtitled Afro-Colombian Music from the Pacific Coast, sheds light on the often-overlooked musical traditions from the Pacific region.
The double-album (21 songs) has been put together by Palenque Records founder Lucas Silva and Montreal-based digger Philippe Noel (Canicule Tropical). Lucas recognises that the Caribbean is rich in rhythms: "Over 50, he says, and they're the most well known: cumbia, bullerengue, lumbalu, son de negro, and of course porro which came from brass bands. Then today you have the afro-funky things, psychedelia…" But the Pacific coast, a broad stretch of dense jungle that meets the sea, is equally rich, with over 70 rhythms and counting.
Inhospitable and difficulty accessed, the Pacific coast was the last area of the country to be colonised, and the Spanish met fierce resistance from indigenous populations. When they did settle, they brought European instruments and rhythms, which blended with melodies and harmonies from several centuries of slaves brought from West Africa. Polish Mazurka and French contra dances morphed into hybrid styles which have rarely been compiled outside of this album: guasá, cununo, currulao and marimba music – the latter also popular south of the border amongst Afro-Ecuadoreans.
The sleeve notes tell a story of Cuban and Puerto Rican records reaching the shores of Colombia's Pacific coast, but Lucas says this cross-pollination began even earlier in the 20th century: "When they opened sugar plantations in the 1920s, they brought experienced workers from Cuba, Jamaica and the French Caribbean, who in turn brought their music: son cubano, calypso, Jamaican mento. Colombian music is all about meetings."
The varied influences come across on the album, which boasts music from the 70s to the present day, from artists such as Julián y su Combo, Buscajá and La Sonora del Pacífico de Cachito Vidal. Many of the recordings have an alive, raw feeling, like "La Logia" by Chencho Trompeta y Los Brujos, a 13-minute whirlwind of marimba and heavy percussion. The versatility of the marimba is again at the forefront in "Soy El Currulao" by Gertrudis Bonilla, with a mesmerising marimba loop over which breezy guitars float in and out. Indeed African guitar features throughout, with tracks like "La Tunda" by Trovadores Del Pacifico suggesting highlife influences.
Chirimía was born from the reinterpretation of military drums brought in by colonisers mixed with the sounds of the clarinet and euphonium to create "a jazz fanfare from the Colombian Pacific". It's a beautiful mix, as tracks like "Bona, Bona Canoero" by Peregoyo y su Combo Vacana demonstrate, with a beautiful brass section that would sound at home in any mid century jazz hall.
With La Contundencia's feet-stomping track "Kilele" I'm immediately back in bars and dance floors across Colombia, an Aguila beer in one hand and a glass of ñeque in the other. It's a marvel I can listen at all – many of the musicians carry these rhythms to the grave, as younger generations flock to pop music or leave the region altogether. Whilst the global entertainment industry faces an unprecedented challenge with COVID-19, there remains frontline researchers and archivists championing musical styles that face a real risk of extinction. And their work has the most beautiful soundtrack.
Guasa, Cununo y Marimba is released by Vampisoul and Palenque Records and available on Bandcamp and other platforms

Follow Sounds and Colours: Facebook / Twitter / Instagram / Mixcloud / Soundcloud / Bandcamp

Subscribe to the Sounds and Colours Newsletter for regular updates, news and competitions bringing the best of Latin American culture direct to your Inbox.
Share: