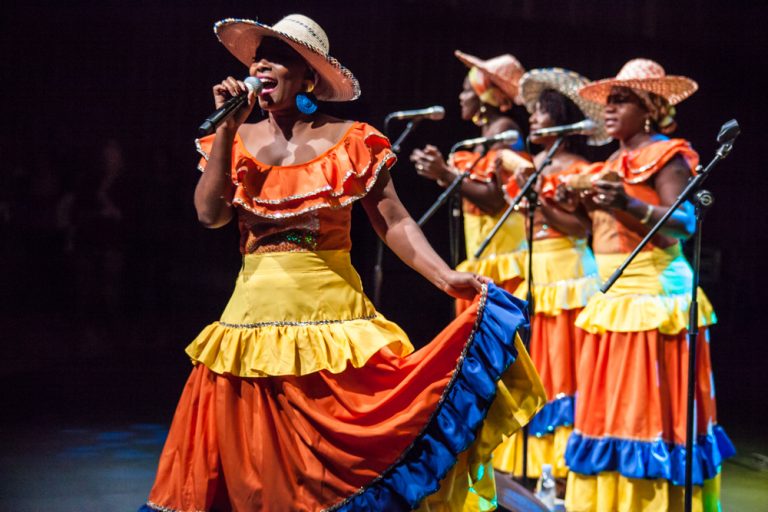 Haus der Kulturen der Welt (Berlin)
The Hidden Gem of Latin America: Music from Colombia's Pacific Region
08 May, 2019
The Pacific region of Colombia is a unique and complicated place. Its population is predominantly Afro-Colombian, in some parts as much as 90%, and it is thought to be largely made up of descendents of escaped slaves who settled on the river banks of its jungles. The region boasts one of the highest levels of biodiversity on the planet, and is still not often explored by travellers visiting the country. Whilst the Caribbean coast is home to some of Colombia's major tourist attractions, the communities living along the Pacific coast are largely cut off from the rest of the country by a vast expanse of impenetrable rainforest, with only a few flights, boats and roads that make them accessible at all.
It is also one of the poorest parts of the country and has been hard hit over the years by civil conflict, illegal mining and drug trafficking. The UNHCR has reported an increase in murders of, and threats against, human rights defenders and community leaders in the Pacific, and mining companies extracting the region's natural resources have been accused of forcing rural communities from their own land. The Colombian government's long-term neglect of the area has resulted in large-scale strikes in recent years, and although promises have been made to invest in the region, there is scepticism about how much politicians really care about its population.
And yet despite the social hardship it has endured, the Pacific region has nurtured a strong cultural identity that flourishes to this day. The region's geographical and social separation from the rest of the country has meant that its Afro-rooted heritage and traditions have been well preserved over the centuries, which has had an important influence on the Pacific's great body of music. Most of its music features some kind of African-influenced percussion, for example, as well as call-and-response phrases between a lead singer and chorus.
The broad term 'Pacifico music' (música del pacífico) encompasses a number of varying musical  styles, which can be distinguished by the different departments of the region they come from: music from the north has a brass band influence and is packed with energy, whilst the southern styles are usually centred around the more mellow timbre of the wooden marimba. The most iconic type is the currulao, a southern style set into a syncopated groove in 6/8, which is performed with a group of singers and a marimba, and accompanied by cununos (hand drum), bombos (bass drums) and guasas (seed shaker).
Such styles have become increasingly popular outside of the Pacific region in recent years, and the international success of some its musicians has helped to raise the profile of this often-overlooked area of the country. Foremost among them is Nidia Góngora. The Afro-Colombian singer hails from the remote river village of Timbiquí, located in the Pacific's south, and has toured throughout Europe and the Americas with her music. She is something of a musical legend in the Pacific now, both because of her success playing traditional music and because of her acclaimed collaborations with international artists.
She is the leader of the group Canalón de Timbiquí, whose new album De Mar y Río features three generations of musicians from Timbiquí performing their region's traditional music. Produced by Diego Gómez – an important figure in Colombia's music scene – the work cuts a fine balance between slick production and a rough-around-the-edges capture of authentic folkloric music, making it essential listening for anyone not familiar with Pacifico music. De Mar y Río has been released on Gómez's record label Llorona Records, which, through its own Llorona Foundation, has been actively supporting Colombia's communities by funding projects that promote musical traditions.
"Music is part of our lives from our very beginnings," Góngora says when I ask her about music's role in her community. "From when we are born until we die, music is with us. Music for timbiquireños is equally as important as the act of eating or breathing. Because of this, when someone dies in our pueblo we sing so that they carry on their next step in in tranquility and happiness." This also reflects the broader link that music has with spirituality in the Pacific, which has its roots in the area's African cultural heritage.
But there has been a rapid rate of urbanisation in the Pacific, and – as a result of the social issues affecting the region's small communities – the amount of rural-urban migration to the Pacific's capital Cali has grown. Preserving the music from these small, rural communities in the modern day has been an important task for Pacifico musicians.
"It's this modernization that is the biggest threat to the traditional music." says Will Holland, aka British producer Quantic, who lived in Cali for 5 years and has worked with Góngora on a number of projects. "Nidia's work has been amazing as she has managed to transplant the traditions of the diaspora to an urban setting and preserve much of what is so special… She is in some ways a modern figurehead for the music."
I ask Góngora about Fundación Escuela Canalón, the educational foundation she has established in Cali to help pass on Pacifico music to the next generation. "At the school we are rescuing the traditions of our territory. There's a large afro-population in Cali which principally lives in the city's poorest and most violent barrios, and our way of contributing to the country's peace is to offer a space to the youth where they can develop their creativity and never forget their roots, from where their parents and grandparents came."
As well as schools like hers, Góngora says that "the national and international DJs that have found in our music a source of inspiration" have helped the region's music survive. Part of her own success has been down to her willingness to experiment with this music as well. As Holland tells me, "She's a writer, singer and community leader with strong ties to her native Timbiqui, but she's also into contrasting her music with modern elements and taking risks."
Elements of Pacifico music have made their way into the region's commercial music over the years, such as salsa and reggaeton. However, efforts to incorporate modern grooves and sounds into Pacifico music have taken on a new level of subtlety and edge through releases like Góngora's album Curao (2017). Produced by Holland, the album is markedly less poppy and commercial in sound compared to many Pacifico fusions, and suggests an exciting new musical direction for the region. Other important harbourers of Colombia's blend of electronic and traditional music include Palenque Records, headed by Lucas Silva, Gómez's Llorona Records, and Mathias Lederer's Galletas Calientes Records.
But, importantly, the traditional music has been able to survive alongside these modern offshoots without being overshadowed by them. And, as Nidia Góngora explains to me, Cali has played a significant role in this: "Cali has welcomed not just the Afro-Colombians but also their cultural expressions. The Caleños feel closer to Pacific music than any other city in the country. It's because of this that in Cali the most important festival in all of Latin America for Pacific music was born: El Petronio Alvarez."
Spanning 6 days, this large festival celebrates the great music, dance and food that make up the rich Pacifico culture. In August 2018, I find myself in Cali crammed into a taxi with a group of excited Colombians, who are heading to an arena on the city's outskirts to see El Petronio. The streets start to fill out as we get closer, and when we round a corner we are suddenly engulfed in a sea of stalls selling sugarcane juice and arepas. Inside, a large crowd dance passionately to famous Pacifico groups like Herencia de Timbuquí and Grupo Bahíá, and roar along to the latter's hit "Kilele" as they close their set [watch that performance below].
When the festival's music ends each night, there are two kinds of after-parties: the clubs that blare out salsa records, or the street parties where marimbas, percussionists and singers pulsate with the infectious grooves of traditional Pacifico music. Fueled by such homebrewed spirits as viche and tomaseca, these street fiestas keep going through to the next morning and see people open up their houses to anyone and everyone. As we watch one group performing in a living room, I find out that we are in fact in Nidia Góngora's house, and moments later she is there assuredly leading the singing crowd. There are no decks nor speakers in sight. Everyone, whether from the Pacific of not, is locked into this traditional music all night long.
With El Petronio Festival growing, it seems that Pacifico music is as alive and breathing as it has ever been. And what are Góngora's hope for the future of this music? "That future generations carry on playing and recording Pacifico music," she says. "And that they do not forget where it comes from."

Follow Sounds and Colours: Facebook / Twitter / Instagram / Mixcloud / Soundcloud / Bandcamp

Subscribe to the Sounds and Colours Newsletter for regular updates, news and competitions bringing the best of Latin American culture direct to your Inbox.
Share: