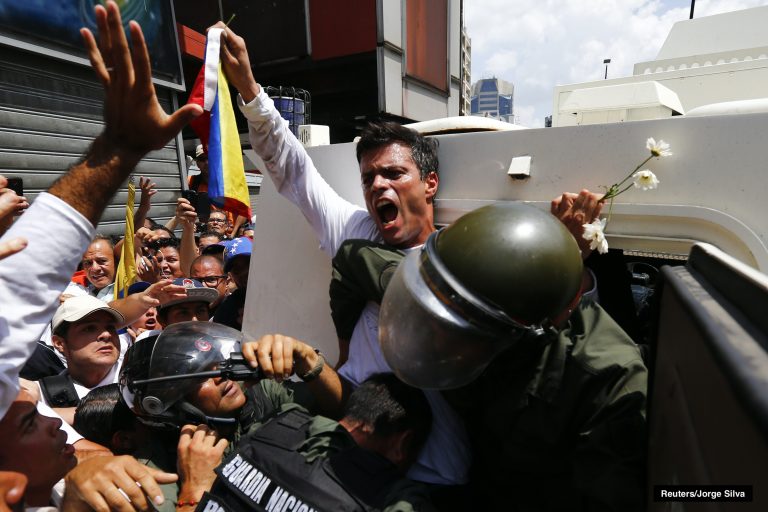 A still from the film 'A La Calle', Reuters photo by Jorge Silva
Human Rights Watch Film Festival: Latin American Films on the Line-Up
16 March, 2021
The Human Rights Watch Film Festival, which for the past 30 years has screened films about human rights abuses throughout the world, will be available for streaming in the UK and Germany from the 18th – 26th March, and New York in May 2021. Human Rights Watch is an NGO based in New York, and for more than 40 years has defended people at risk of abuse by 'investigating abuses scrupulously, exposing the facts widely, and relentlessly pressing those in power for change that respects rights.'
Three Latin American films, Mujer de Soldado from Peru, Bajo Fuego from Colombia and A la Calle from Venezuela are all being shown at this year's festival.
Mujer de Soldado (Soldier's woman)
Patricia Wiesse Risso's documentary Mujer de Soldado deals with the Peruvian army's abuse of power and authority, as soldiers raped local women when sent to find members of the Shining Path. This documentary foregrounds the women that are not only marginalised in Peru, but also by their own communities as a result of the abuse that they suffered. Patricia Wiesse Risso's documentary centres female solidarity, as thirty years later, Magda Surichaqui Cóndor and her friends are bringing in charges against those that abused them.
Bajo Fuego (Under Siege)
Bajo Fuego demonstrates the lived experiences of the 'cocaleros' in the Colombian coca-growing region of Cauca since the government and the FARC (the Revolutionary Armed Forces of Colombia) agreed a peace deal in 2016. For these farmers, this peace has never materialised, as they continue to be threatened and displaced. This film centres those that suffer as a result of political decisions, those that are forgotten about, as the government eradicated the illegal crops without providing farmers with a suitable alternative. The film's director is Sjoerd van Grootheest and the co-director is Irene Vélez-Torres.
A la Calle (To the street)
A la Calle highlights the struggle and efforts of Venezuelans that are committed to restoring their democracy after the country has suffered immeasurably in recent years. The documentary, directed by Nelson G. Navarrete and Maxx Caicedo, depicts protests and violent government retaliation; key figures working to bring about change, such as Leopoldo López; and Venezuelan citizens that want to share their experiences.
Click here for more information about the Human Rights Watch Film Festival.

Follow Sounds and Colours: Facebook / Twitter / Instagram / Mixcloud / Soundcloud / Bandcamp

Subscribe to the Sounds and Colours Newsletter for regular updates, news and competitions bringing the best of Latin American culture direct to your Inbox.
Share: