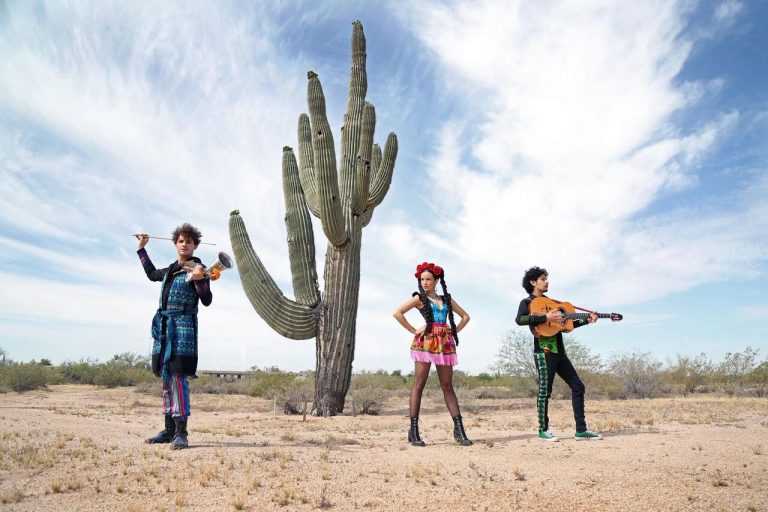 INTERVIEW: Monsieur Perine on their US Tour, Bogotá and Dancing Together
16 August, 2016
I caught up with Santiago from Monsieur Perine in the middle of their United States tour in Santa Cruz, California.  The Colombian band's music is reaching out beyond their Latin American roots to the 'gringo' audience with great success. Monsieur Perine's infectious energy, combining gypsy jazz with traditional Colombian rhythms allows,  them to engage with a wide audience, and get everyone dancing together.
Snippets of their  songs can  heard in the streets of Bogotá, hummed by students and taxi drivers alike, cutting through the salsa and reggaeton integral to the sprawling metropolis's soundtrack. Santiago explains that in the age of music made on MacBooks, Monsieur Perine offers soul, warmth and togetherness.
Hi Santiago, how is the US tour going?
It's great! We are having such a fantastic time. I don't know what is happening with live music in the United States but it feels like people are really excited and happy to hear us play. It's like they need it, like music therapy in a certain way. It's wonderful. People from all over are coming to talk to us and thank us at the end of our concerts. Not just Latin people but lots of 'gringos' and Europeans too.
Tell me about your role in Monsieur Perine.
I play string instruments, so mostly guitar. I also play ronroco (charanga), which is an Andean instrument from Bolivia and Peru, it's like the ukulele of the mountains of South America. I also play the violin.
Where did you start playing as a band?
Well we had the first kind of meeting in a place near to Bogotá, in a town called Villa de Leiva. It was kind of a coincidence. We met Catalina in the main square, and I had just met Nico. We were just hanging out and I had a guitar so we started playing. We thought: wow, this girl sings really well, and we just started playing together for fun, as friends hanging out together.
Then we started as a wedding band, playing and working whilst we were at university. Soon after we decided to enter a contest in Bogota, we applied, we won and everything happened just like that. It was totally organic and unexpected. Bogotá was the centre of all of this. In the last four years it became more serious. Before it was just for fun but now we are really doing it!
Bogotá seems like the kind of place where any movement can grow and develop.
It's a melting pot of different things. There is traditional music from Colombia, and music from all over the world. It's a really big city where everything can come together like Berlin or Montreal for example. It has everything, and every kind of music. In the last few years the growth has been absolutely astonishing. It is a key tool for the growth of our music. Of course, the increase in people travelling between Latin America and Europe have also had a big impact on what we do.
Where does the French influence in your music come from?
That influence is the main reason for the kind of music we play. When we started playing weddings we mainly played jazz, but the jazz we played was inspired by the music of Django Reinhardt. Swing, but written for guitars. We began to make our own songs, but this unusual guitar sound has always stayed at the base of our music.
The language has also been a really important tool for us. Catalina studied in a French school for most of her life. She can express herself really well in French and she knows a lot about the culture and music. This allowed us to explore this kind of music a lot more.
Colombian music and culture have also had a big  impact too, right?
In Colombia music is part of everyday life. It's always there and people are listening to music every day all day. Someone told me that in some parts of Africa music is like this, and that people sing or make music to accompany everything whether they are walking, working, washing etcetera.
In Colombia it's the same. Every kind of person listens to music, from taxi drivers to maids to city workers, and everyone dances. There is this thing of dancing together that is different from electronic music. We dance together instead of on our own and that is a beautiful thing.
So what is next for Monsieur Perine after the US tour?
On the 20th August we finish in Chicago.  Then we're coming back to Bogotá and we're playing there on 27th August. In September we have some concerts lined up in other cities like Manizales and Pereira. We might also be going to Puerto Rico and Mexico. We might do a short South American tour.
When we're not playing we want to dedicate ourselves making new music, to evolve and develop our sound for a third album.  That's what we're going to be working on when we're not playing.
The upcoming tour dates for Monsieur Perine are:
August 17 – Dakota Jazz Club, Minneapolis, MN
August 18 – Yahara Park Place, Madison, WI
August 19 – Chop Shop, Chicago, IL

Follow Sounds and Colours: Facebook / Twitter / Instagram / Mixcloud / Soundcloud / Bandcamp

Subscribe to the Sounds and Colours Newsletter for regular updates, news and competitions bringing the best of Latin American culture direct to your Inbox.
Share: