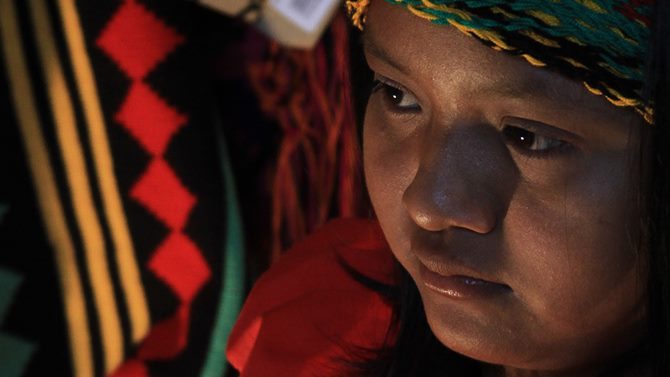 La Eterna Noche de las Doce Lunas
20 June, 2014
As we are so absorbed in our every day lives and #firstWorldproblems we often forget that there is a whole world out there filled with differences. Globalization has made it easy to forget that there are cultures struggling to maintain their traditions. Different ethnic groups fight daily to preserve the way of living they have always known, and that is rapidly changing. Recently, I've found myself watching more documentaries that have opened my eyes to new things, things which have changed the way I view cultures, foreign as well as my own.
Priscila Padilla's documentary, La Eterna Noche de las Doce Lunas (Eternal Night of the Twelve Moons), lingered in my mind for days after I watched it. This compelling film tells the story of a 12 year old girl, Pili, from the Wayuu tribe of northern Colombia. She goes through a ceremony known as "el encierro," or 'the seclusion', where she transitions from being a girl to a woman after her first menstruation. Several men from her tribe build a house out of mud and she transitions there, motionless in her hammock for the first few days. She then spends her days and nights weaving, and is only allowed interaction with other women who have been through the same process. Nobody else can see her or speak to her. She spends 12 months trapped inside the small house where she learns to leave not only her childhood behind, but also her smile. Smiling is not allowed for women in her tribe.
Through the eyes of Padilla we have the opportunity to experience the everyday life of this tribe, and the struggles they encounter to keep their traditions alive. With respect and sensitivity, the film-maker transforms Pili's experiences into a beautiful and heartbreaking film while shedding light on the difficulties that many tribes face, not only in Colombia, but all over the world. Pili's agreement to participate in "el encierro" is based on a need to please her grandmother, who has raised her and wants her to become a valued and respected women in their society, something her mother never managed to do. The film-maker gives the audience the opportunity to accompany Pili through the process of preparation, and to observe her relationships with other girls her age, and how people outside the tribe see the ceremony. However, Padilla does not focus her film on outside opinion, but rather on the figure of Pili and her experience.
12 months later, Pili emerges from the small house where she has been transitioning with a new view on life. Before she went in we saw a strong girl filled with innocence and willing to sacrifice herself to please her grandmother and in order to be respected. After many nights of weaving and loneliness, Pili became a young adult woman who maybe wants more from life. The Eternal Night of the Twelve Moons is a documentary that represents the struggles of cultures against globalization. Pili represents the constant struggle young people in tribes have of whether to stay faithful to their roots and culture or to pursue a different life away from it.
Not knowing exactly the magnitude of what she was going to experience, the bravery of Pili is inspiring. The loneliness she endures in order to" become a women" resembles the alienation the Wayuu people undergo on a daily basis. Priscila Padilla's documentary The Eternal Night of the Twelve Moons allows us to experience this alienation while making us appreciate something as simple as a smile. Can you imagine not being able to smile? This project sheds light on some of the injustices women go through around the world each day. We need more stories like this.

Follow Sounds and Colours: Facebook / Twitter / Instagram / Mixcloud / Soundcloud / Bandcamp

Subscribe to the Sounds and Colours Newsletter for regular updates, news and competitions bringing the best of Latin American culture direct to your Inbox.
Share: