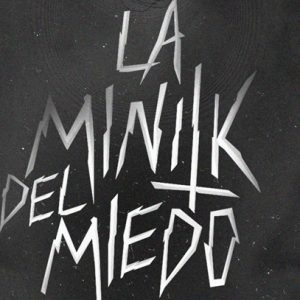 Review
La MiniTK del Miedo – Muerte y Sabrosura
When listening to a record for the first time, it's kind of inevitable to want to look for influences and make connections to artists or music that might sound similar. According to a piece published on NPR's All Songs Considered titled, "Who is making today's most original music?", the most innovative music is the one we can't really trace back easily. Now, I can't say that La MiniTK del Miedo's music is untraceable, but it sure as hell is in a league of its own when it comes to its nü-cumbia counterparts.
Hailing from Bogotá, La MiniTK del Miedo set out to produce what they call "cumbia gótica" (gothic cumbia): a mixture of "neotropical clichés, commonplace nü cumbia, house breaks, vicious shoegaze and industrial violence," according to their biography. This is a pretty accurate description of what you will hear on their first record Muerte y Sabrosura. The cumbia rhythms are buried deep within layers of synthesizers and distorted samples, all of which gives the music a German industrial edge that clashes with the usually upbeat and danceable tropical music. There's nothing Caribbean or tropical about the band's music and I'm glad, specifically because it makes for an interesting re-reading of popular perceptions about life in the tropics.
[soundcloud url="http://api.soundcloud.com/tracks/66155524″ params="" width=" 100%" height="166″ iframe="true" /]
As an introduction to MiniTK's world of fear we have the track that gives the record its name, "Muerte y Sabrosura", which could easily have been at home on a The Cure record. With its warped, psycho circus synth line, the song tells us the record's raison d'être: "Muerte y sabrosura para la humanidad/La vida es oscura, esa es la verdad" (Death and flavour for humanity/ Life is dark, that's the truth). The follow-up track "Another Night" follows the same goth rock/synth pop format, but this time in the form of a ballad about a love that is lost forever. "El Palenque De Nuncajamais", the third track on the record, is MiniTK's foray into experimental electronic music with a touch of trance.
Now, it may seem like Muerte y Sabrosura is a downer, but far from it. The band's triumphant moment on this record is "El Vacilón de Ultratumba", which sets the tone for the last half of the album. It's the "Monster Mash" of nü cumbia: one of the most dance-party worthy tracks without turning down the album's eerie aura. An aggressive rap intervention gives the song an urgent, end-of-the-world party feel: "Listen to me; the world is falling down with this vacilón from the grave."
Part of MiniTK's charm is that they take cumbia out of its happy-go-lucky territory and explore its gloomier side. Many cumbieros have gone there (Mexico's legendary La Tropa Vallenata come to mind), but few in the nü cumbia/tropical bass scene have trodden the path that MiniTK take us down, proving that there is potential in going to the dark side and that, ultimately, it can be a vacilón if you want it to be. Like they say on "El Vacilón De Ultratumba": "Mientras el mundo se derrumba, aquí se toma ron" (While the world crumbles down, here we drink rum).
[soundcloud url="http://api.soundcloud.com/tracks/76089934″ params="" width=" 100%" height="166″ iframe="true" /]
More: soundcloud.com/laminitkdelmiedo | facebook.com/LaMinitkDelMiedo

Follow Sounds and Colours: Facebook / Twitter / Instagram / Mixcloud / Soundcloud / Bandcamp

Subscribe to the Sounds and Colours Newsletter for regular updates, news and competitions bringing the best of Latin American culture direct to your Inbox.
Share: