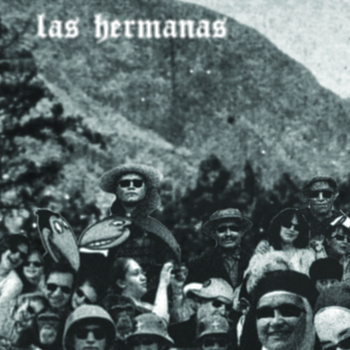 I was intrigued by Las Hermanas at first. Who were they? The name sounds like they'd be some sort of kitsch cumbia outfit, or perhaps the matriarchal rulers of a mist-enshrouded moorland wilderness in Game of Thrones. As it turns out, Las Hermanas is actually the moniker of Colombian visual artist and producer Diego Cuellar, who has released one of the most surprising records I've heard recently. Anyone expecting the verdant rhymes and fusing of styles that adorn much regional hip hop will probably find the same thing. This is an intriguing experimental record, interwoven in an ethereal web of loops and samples that drinks from the same creative trough as US producers like J Dilla and RZA.
And what a little plunderphonic gem it is. Like DJ Shadow's Endtroducing or The Avalanches' Since I Left You, it is almost entirely pieced together from pre-existing sounds, tweaked here and stretched there, with Cuellar adding a few extra flourishes along the way. Its lowkey, ruminative nature is underlined by the minimal trimmings. The title is simply EP, while each track is entitled with its corresponding roman numeral (I, II, III etc, up to XII). As you listen this seems to make sense, as rather than a series of isolated compositions, the record seems to be an ongoing instrumental process in which melodies and loops melt into one another.
Cuellar cites the Stones Throw label as a major influence, and it doesn't take long to discern the link. He is an artist who gives the impression of composition as a game, a giant set of building blocks to be taken apart and re-pieced together in any manner of combination. 'II' is built over rising string and vocal hooks that wouldn't seem out of place on the aforementioned Dilla's masterly Donuts LP. There is a lazy haziness (or is that a hazy laziness? I'm not quite sure) to 'III', while 'V' thrives on an exquisite synth inflection.
From here on, the content of EP more closely resembles a series of enzymatic tests, conducted with the staunch resolution of a 17th century alchemist. Each track hovers around the two-minute mark and offers growing assurance of Las Hermanas' devotion to instrumental infusion. The album's abundance of sounds means each repeated listen heralds something new.
Would it benefit from a vocal presence? Personally, I've always been more drawn to hip hop's melodic structures and beat patterns than its rhyming prowess (although I have friends who would scoff at my naivety for such a stance), and the brevity of what's going on ensures things never get too repetitive. Having said that, it would be interesting to hear some of these tunes given the MC treatment as live extended versions, perhaps as a future album of remix collaborations. It is certainly well within the record's scope to re-formulate itself and try different approaches.
As Las Hermanas, Cuellar has crafted a thoroughly-assured album which bathes in the introspective teachings of alternative trip and hip hop's sensei masters. The tone might be marginal, more comfortable lurking in the shadows than grabbing the spotlight, but EP merits attention. Unexpected and all the better for it.
You can buy EP by Las Hermanas (priced $7) from Bandcamp.

Follow Sounds and Colours: Facebook / Twitter / Instagram / Mixcloud / Soundcloud / Bandcamp

Subscribe to the Sounds and Colours Newsletter for regular updates, news and competitions bringing the best of Latin American culture direct to your Inbox.
Share: