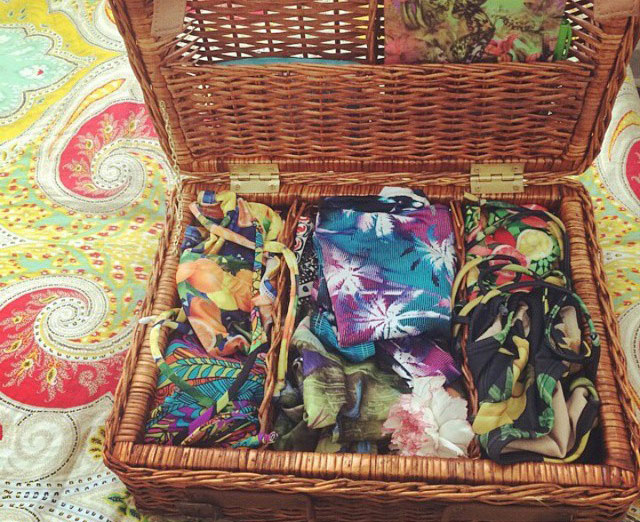 Li Saumet's 'Soy Banana Girl' Bikini Brand Is More Than Fashion, It's A Lifestyle
01 May, 2015
Earlier this week I was able to connect with Bomba Estéreo's Li Saumet about her new swimsuit line called Soy Banana Girl, a fashion line that is far more than a brand but a lifestyle for women. Other than being a badass mujer and lead singer in Colombia's internationally-renowned Bomba Estéreo, she is a creative genius in fashion as well. She started selling bikinis to cover her costs during her college years and when she returned to her home of Santa Marta she realized the beauty in these garments. Noticing that there was a lack of brands focusing on women embracing all aspects of their natural bodies, Soy Banana Girl was created for women to identify and find pride in every part of their beautiful bodies. Based in Santa Marta, Colombia and relying on social media platforms such as Instagram, Li Samuet talks to Sounds and Colours about her brands' message, expansion and future.
Thank you so much for speaking with us Li! So, Soy Banana Girl represents more than just a swimsuit line, but a lifestyle. Can you explain that kind of lifestyle you want to represent with this brand?
Banana Girl's lifestyle is to be natural, accepting of your body and understanding the responsibility it comes with. Practices such as yoga, meditation and good diet [are a part of this responsibility]. I try to relate this whole concept while also generating an idea of ​​conscious consumption. For example when you buy a bikini, the packaging is reusable and we also send a recipe for a homemade natural exfoliate that you can prepare and then store in the packaging [usually a glass jar]. Soy Banana Girl promotes natural practices and good nutrition, a healthy and natural life, beyond just having a bikini.
It's great that Soy Banana Girl is so body positive with women's bodies. Why is it important to have a brand like this based on Colombia's Caribbean coast spreading this kind of message?
Banana Girl has a very vintage feel and is influenced by the bathing suits of the 1950s and 1960s when women wore their natural curves charmingly. They didn't impede their bodies with surgery and entertain the idea of this standard of the perfect girl. It was different from today where they appreciated their own voluptuousness. Therefore, these types of designs are served as an invitation to enjoy the qualities of our Caribbean curves.

Image from Instagram
The brand has a very tropical feel regarding the design. How is this lifestyle influenced by the Caribbean, and Santa Marta specifically?
The name Banana Girl is a tribute to Santa Marta and to the fact that this fruit has accompanied me since my childhood. Tropical nature and fruits influence the textures and fabric designs.
I saw that the brand is sold in Santa Marta's Surf-Bar and Tattoo Shop (known as Bonanza Smart), and Ecolodge (known as Costeño Beach). Will you continue to sell the brand in these stores, or do you want to have your own shop?
There are so many interesting things that are coming with Banana Girl and little by little we will develop them. But for now, we are selling the products at different stores and are distributing nationally by coordinating within our networks.
What is the use of social media, such as Instagram, for your brand?
Right now social media is a huge impact at the communications level. The Banana Girl campaign started through Instagram and there was an overwhelming success. I would like to continue to use this type of media to convey my ideas because my concept and lifestyle can reach a large audience, a huge part of the population I want to extend to.
What is Soy Banana Girl's future… and how can we buy bikinis on an international level?!
Right now we have the wonderful advantage where we can draw out any and every thing wonderful that comes our way. Thanks to the reception via social media, which has been incredible, soon all girls can be a Banana Girl in any part of the world!
Whether it's embracing your "Caribbean curves" or accepting and beatifying your cellulite, Saumet has convinced us on being a future Banana Girl! When buying this swimsuit, you are purchasing way more than a bikini, you are buying an ideology of natural beauty and self-love. Looking forward to more, but for now, follow @soybananagirl on Instagram!
[Original interview in Spanish, translated by author]

Follow Sounds and Colours: Facebook / Twitter / Instagram / Mixcloud / Soundcloud / Bandcamp

Subscribe to the Sounds and Colours Newsletter for regular updates, news and competitions bringing the best of Latin American culture direct to your Inbox.
Share: