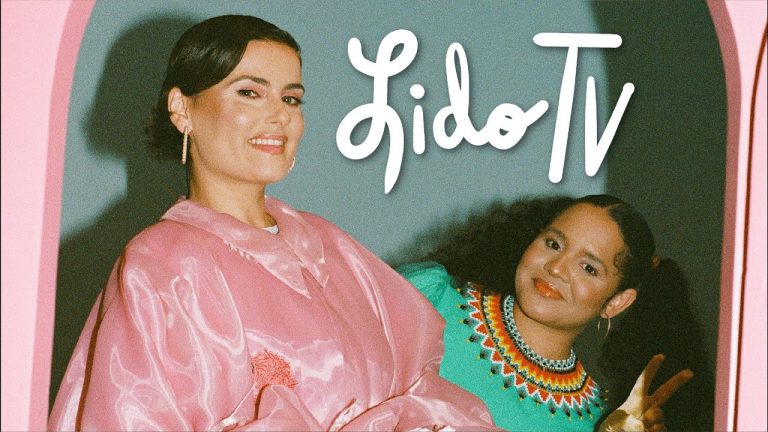 Lido Pimienta Shares Trailer for 'Colonialism, Beauty and Feminism'-Themed TV Show, LIDO TV
18 August, 2022
When we spoke to Lido Pimienta earlier this year, she told us of an exciting television project, that began as a result of COVID-19 and having her tour stopped, which is now set to see the light of day. The first taste of LIDO TV is a trailer featuring Nelly Furtado, in which Furtado and Pimienta start singing the ABC but with a slight twist: "A is for apple / B is for baby / C is for colonialism", cue looks of astonishment on that final word. The trailer description describes the show as "a fantastically funny and insightful variety show that dexterously explores themes of colonialism, beauty, and feminism." It will get its world premiere at the Toronto International Film Festival this September, before later streaming on CBC Gem – we're unsure yet of plans for streaming elsewhere in the world.
And, we have a full lowdown on how the show actually came together, from Lido herself, which is from a chat we had with her in February this year:
"Okay, so I'll tell you the whole story, because it's actually really funny. So, Miss Colombia, was out, and we were getting ready to go on tour, and right when I'm packing my bags, to go to the first venue, which was this place in the US, they were like, "We recommend you don't come, we'll get back to you in a week, because there's this new thing called COVID-19," and I'm like, "Oh, okay." So, I'm thinking great, I'm going to have a couple of weeks [off] or whatever."
That's not obviously what happened and when it became real that we are not going to be getting out of this situation in a long time, I was like, 'Well, I should still do something. I mean, my label is probably going to give me some tour support money, they should give me that anyway, and I will activate my YouTube channel, and maybe the gag is that I can't be a touring musician, so I'm going to become an influencer.' So, I started writing little skits and comedy bits, and I convinced my label to do it, and I got a camera and everything, and then with my friend, and collaborator, Gustavo Cerquera, in my art studio, we were like making cute little videos and stuff, and I was just like, 'Oh, I should do like an apology video.'
I should do an apology video, like all the influencers, they all have an apology video, and it should be like me apologizing to all the white people that I've offended all throughout the years. And then I should do a second one, and the second one is an apology to the apology video, and then on the third video, I should do a YouTube tutorial, but it's so bad that then I will do a fourth video, which will be an apology video for offending all the real makeup artists out there. So, it was just like that. And then this producer from Canada was like, 'hey, I'm starting this new production company, and I know you have tonnes of ideas, why don't we get together?'
And then I told them about this variety show called LIDO TV, and then YouTube got hold of me, and they wanted me to do a short too. So, I did like the first LIDO TV thing, and I made these infomercials where I was desperately selling my products, and telling people: 'Please buy my record, my vinyl, it's in a warehouse somewhere in the United States. And even if you don't have a record player, you can use it as artwork, and you can like dab it to hang it on your walls,' just like stuff like that. And then we actually, with the production company, we got it together, and now it's a real thing, with all the skits that I wrote with many different scenes that interests me.
I went to Colombia, I did a bunch of documentaries, and then I created these characters that are like my sidekicks, inspired by children that are puppets, and yeah, it's a huge production. It's a small production, but to me it's huge, because you have to deal with a big crew and all that stuff. So yeah, I just came back from that, and I feel like I'm coming down from a crazy rollercoaster ride. But it's good. I mean, music is one of the things that I do, right? So, it's this opportunity that I had to create this with all of my talents, like my visual stuff and my many things that I do, they were all merging really well in the TV show."

Follow Sounds and Colours: Facebook / Twitter / Instagram / Mixcloud / Soundcloud / Bandcamp

Subscribe to the Sounds and Colours Newsletter for regular updates, news and competitions bringing the best of Latin American culture direct to your Inbox.
Share: