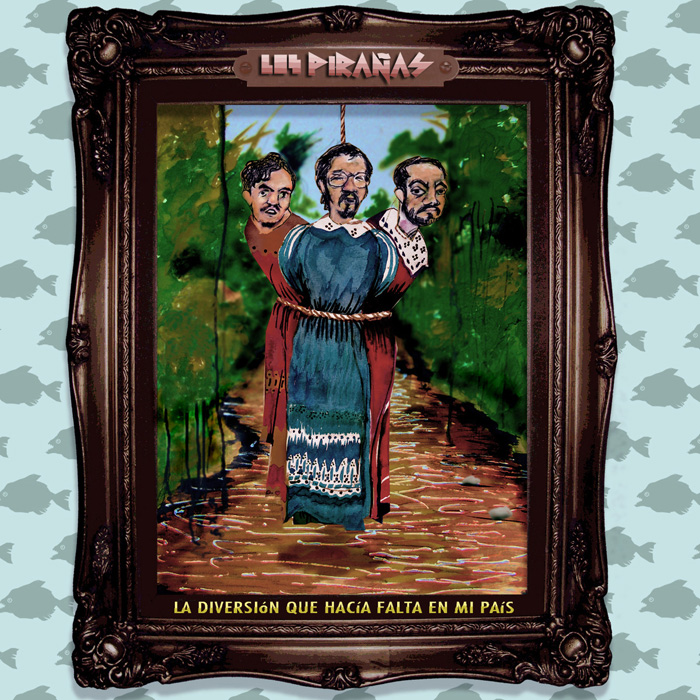 Review
Los Pirañas – La Diversión Que Hacía Falta Mi País
If Quentin Tarantino were able to make a kids movie with Salvador Dali, then they'd want Los Pirañas to write the soundtrack. Playful yet psychedelic melodies curve around this surreal album, played on frantic, bending, twanging guitars that have been spun around a thousand plug-ins, but are held together by rock-steady bass and percussion. Inspired by traditional Colombian influences, La Diversión Que Hacía Falta Mi País is at once old, new and futuristic; at once confused, coherent, rambling and lyrical.
This is the second album from Los Pirañas whose unique 'tropical noise' sound is, somewhat reassuringly, the combined work of members of Frente Cumbiero and Meridian Brothers. The first, Toma Tu Jabón Kapax, was released in 2012 by the trio made up of Eblis Álvarez on guitar, Mario Galeano on bass and Pedro Ojeda on drums.
An erratic but rhythmic guitar lick on "Delincuencia Precoz" opens the album, before settling on a more grounded two-chord riff, followed by bass and percussion. This sets the tone for much of the album – a sort of chaos followed by some sense of order, followed by more chaos and then maybe a bit of order. The order usually comes from Galeano's bass and the craziness is courtesy of Alvarez's guitar, as in "Las Olfateadoras" which starts with a steady rotating bass line followed by spaghetti guitar melodies.
"Del Sol, A 18 Minutos" is the second track and was originally written by influential Argentinian singer/songwriter and rock musician, Luis Alberto "El Flaco" Spinetta. It's the most symbolic nod to the past and experiment with the future.
The tempo remains high throughout the album, reaching it's most frenetic in "Mis Animalitos: Homenaje a los Mayas", which starts quickly, and then get's quicker, double speed in fact. This is where you realise that for all Alvarez's charmingly bizarre sounds, it's the drummer Pedro Ojeda who is the star of this show. He's in control, dictating when to go faster, slower and always keeping things steady with his combination of simple kit and cow bells.
On "El Colibri Bajo Perfil" we've landed in some sort of subverted fairground, beginning with a dark, slightly twisted guitar phrase before the bass comes in to give, as per usual, a sense of meaning. Even the rather repetitive "Sir De Gusano" oozes playfulness and irony, whilst the title track "La Diversión Que Hacía Falta Mi País" is the most accessible and melodic track on the album. The penultimate track "Dragones Chinos" throws any order to the wind, totally lacking control in a sort of lucid statement before the final track "Como Me Calmo Yo" (As I Calm Down), as it's translation suggests, offering some sort of respite to what is otherwise an intense listening experience.
But for all the chaos and freneticism, there's an uplifting playfulness that runs through the music and just says, yes, things can be a little weird and crazy but I'm gonna roll with that the best way I know, and have some fun with this music.
La Diversión Que Hacía Falta Mi País is available from Bandcamp

Follow Sounds and Colours: Facebook / Twitter / Instagram / Mixcloud / Soundcloud / Bandcamp

Subscribe to the Sounds and Colours Newsletter for regular updates, news and competitions bringing the best of Latin American culture direct to your Inbox.
Share: