Review
Los Pirañas – Toma Tu Jabón Kapax
Los Pirañas is a side project of members of Frente Cumbiero and Meridian Brothers, two of Colombia's most interesting bands. From the first beat of the opening track it's quite clear that Los Pirañas is a vehicle for them to try out some of their most far-out ideas. There's thumping drums, a bassline that's quite simply a relentless New York No Wave onslaught and guitars that sound alternately like elastic and metal, together making a sound that you might want to call "tropical noise".
Things do get more recognisable on the second track "Lambada de Oceanía, Africa y América", though thankfully no less conventional. A cowbell-punctuated Latin rhythm is established while the guitars, using bucketloads of echo, reach for the more psychedelic sounds of Peruvian bands like Manzanita y su Combo and Los Wembler's de Iquitos, while also showing a love for dub. Third track "Champeta de la Corrupción y la Desgana" is back to mayhem with drums splaying all over the track, a guitar that really doesn't want to resemble guitar as we know it and one of the funkiest bass lines on the album.
Since Meridian Brother's latest album (entitled Meridian Brothers VII) I have become convinced that they are one of the most forward-thinking Colombian acts out there, one able to show their Colombian roots while also taking it in new directions. Frente Cumbiero – in their small discography of one 7" and a collaborative album with Mad Professor – have also shown they're a band willing to push Colombian music forward while acknowledging the past. Toma Tu Jabón Kapax continues this aesthetic.
All songs are instrumental, giving the musicians free rein to take the sounds wherever they want. Which they most definitely do. At the centre is Eblis Álvarez who distorts his guitar in some of the most ridiculous ways I've ever heard, sometimes sounding like a tortured goose, at other times like a computer program that's out of control or even simply like machine gun fire. Amazingly it works and gives these songs a real sense of urgency, as well as making it impossible to ever guess what's coming next. The other musicians, Mario Galeano on bass and Pedro Ojeda on drums, take things steady in comparison, yet they play a crucial role. Galeano's basslines are simple yet forceful, while Ojeda sounds like a ball of energy crashing into everything around him.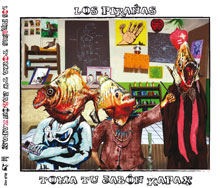 I'm writing this review as I listen to the album on repeat, and I can't help but become more and more visceral in my descriptions. Toma Tu Jabón Kapax is not an album that you can put on, sit in your favourite easy chair and enjoy. It feels like an incitement at times, willing the body and mind to let go. It's punk, it's rock 'n' roll, and somehow it's Colombian. It's almost too much to put into words, the sounds are so far out that it may even be years before I really understand what I am listening to. My mind has well and truly been blown!
Toma Tu Jabón Kapax has been released by Festina Lente Discos and is available for free download/streaming here

Follow Sounds and Colours: Facebook / Twitter / Instagram / Mixcloud / Soundcloud / Bandcamp

Subscribe to the Sounds and Colours Newsletter for regular updates, news and competitions bringing the best of Latin American culture direct to your Inbox.
Share: