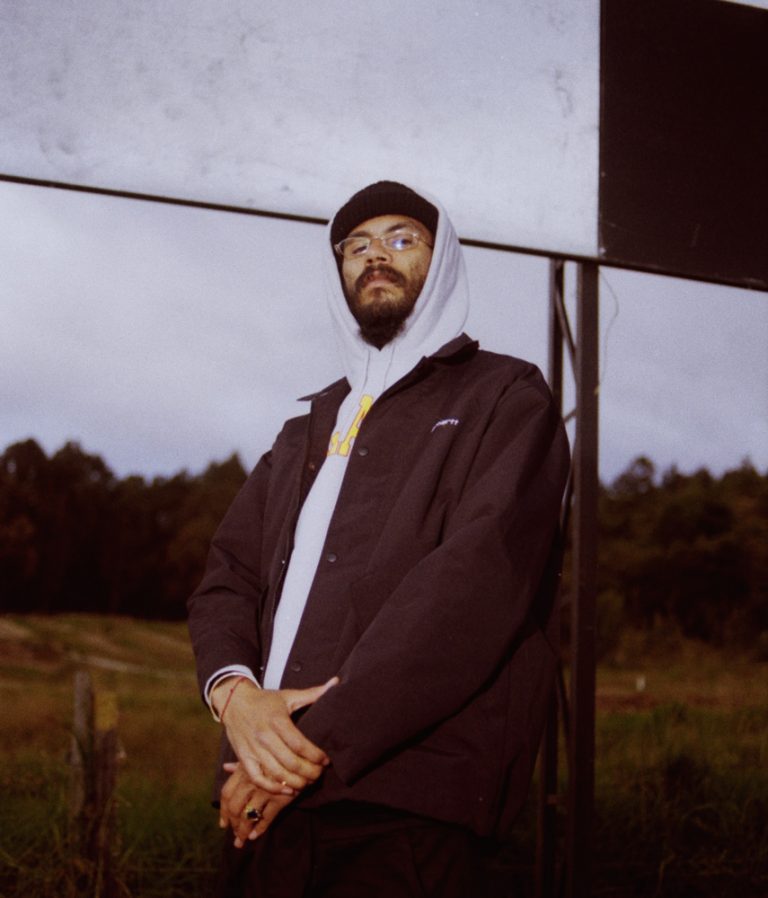 Juan José Ortiz Arenas
Making Bogotá Rap: An Interview with N. Hardem
05 March, 2021
It's hard to believe that Nelson Martinez, better known by his artistic moniker N. Hardem, has been on the Bogotá underground scene for almost 10 years now.

The Bogotá MC, beat maker and producer has five EPs under the belt, dating back as far as 2014, each release seemingly perpetual in its freshness. From debut Cine Negro (2014) through Tambor (2015), Lo Que Me Eleva (2017), Tambor II and Rhodesia (both 2019) there are no questions regarding his prolificacy. Yet despite such abundance and a host of other collaborations throughout his career, it isn't until today that he is releasing his first full length LP, Verdor.

We catch up with one of Colombia's finest modern day wordsmiths in the Colombian capital's Mambo Negro studio, a hub for emergent and established talent alike, and where N. Hardem has been making himself at home of late. Taking a break from tireless creativity, we talk music, inspiration, latest album Verdor and life in the context of pandemic. A cigarette poking out from the black beanie perched upon his head, N. Hardem cuts a laid-back figure, speaking with clear vision and a striking groundedness throughout.
Who and what is N Hardem?
My name is Nelson, but in this project as N. Hardem I am MC, beat-maker, producer, and so I try more and more to give a voice to rap and music through the project that I want to do, from Bogotá. I want to make Bogotá rap.
And what about your influences, where have these come from?
The aesthetic influences that feed into much of the music that I have listened to in recent years surround jazz and also rap, especially from the '90s and early 2000s. I think that at one point I had it more clear although now I feel that I cannot tell you specifically what my influences are due to, or where they come from. It is a very big thing because there is also the voice from the street, the things that are there all the time surrounding you.
You use a lot of samples in your music; spoken word and film-like scripts, to a lot of jazz. Do you have any process for deciding on those?
I don't know how much jazz I have listened to, but I have related by listening to it and also interacting with musicians from here and from other places. Although, I think that I have listened to more jazz and more world music through rap and beats than anything else. [I'm] looking to make rap with the sound that at one point a younger version of myself wanted to: asking the question 'why does this sound like this to these people? Ah! Because they sample jazz, they take such things from here and then it's more on that side.'
How does that selection process take place, is it something driven by influence, theme or just based on gut-feeling?
It's an affinity with something to do with life. When I was younger it was the search to emulate the sounds or things that one felt were cool and that were cool to imitate. But right now, I feel like I'm finally getting closer to making the music I want, genuinely and sincerely. It is more when the spirit connects with sounds, with an idea, with a context or with a movie or a time in the world, a historical event, a character, whatever it may be.
Tell us a bit more about hip-hop in Colombia, where is that scene right now?
It's growing and it's solidifying; let's just say that at least within the indie scene which is what I know of there have been a few indications that a solid industry and scene is taking shape. Each artist is in the search for themselves, but also when we connect, we know that we can support each other and that we can reach something cool by working together. It's nice, a deeply-rooted collective conscience, because you know that hip-hop is very individual and original and stand-out.

Totally, and in addition to solo releases (Tambor and Tambor II) you've worked a lot in partnership in the past. On Rhodesia with Las Hermanas, Lo Que Me Eleva with Arkeólogo and even Black Cine with Soul AM. Tell us some more then about how Verdor has been pulled together given that it features a number of collaborations.
This album, in my discography, has as its main characteristic the fact that there is no longer a single producer making the music, nor myself, as was the case with Tambor, nor one as it had been with, Cine Negro, Lo Que Me Eleva or Rhodesia. Here there are already a lot of people featuring and collaborating but my fear, because the experience of only having been with one person up until then, produced fear. It was like 'how the hell is this going to happen without it becoming a compilation?'. I think that that was the longest job to do, giving it a consistency. Maybe it doesn't have it at first sight, but I do feel that although everything is quite different in some way, there is a film that narrates the whole thing. Well, for me it is a garden, a patch, where there are many crops or little things that are slightly different but all contribute to the space.
Where have you drawn your inspiration specifically for Verdor?
[With] this work there was no search for aesthetics or a struggle, as had happened on other occasions. Rather, this was an impulse towards my own voice to accept myself. A more mature moment of life and to do something with it. It came out of a free spirit and the desire to heal as well. I gave myself a lot of freedom on the album in the way of writing, recording, producing but I was also looking for that, to heal a little and grow positively and deliver that.
The artwork is clearly well thought out on this release, what kind of process went into this?
It is like the need to express thought in graphics because that is what I studied, from the beginning I have done the art direction and visuals for all my projects. In this one, it was something like my graduation work, because I have been doing this for about 10 years and it is my first full-length album. I wanted the visual work to be broader and perhaps a little less abstract, a little more ambitious and complex, although I don't know how complex and ambitious for me it was; it is more extensive. [It was made] with the help of Juan José (Órtiz Arenas), the photographer with whom I designed the booklet, and who has also accompanied me in the visual search.
Tell us a little more about where you are in the here and now. How has the pandemic affected your creative process?
Well at first I felt terror, like everyone. [It was] like a war, in the city no one went out on the street because it was like a bomb could explode, for me that was the first sensation. Then, I just started to adapt, but also fear and containment and loneliness were playing tricks on me. For me creating was positive, because I had time. There were many months without rushing, maybe with the need to look for things a little more immediately, even elementary things for survival, but there was never a lack of music, there was never a lack of inspiration, the album always accompanied me because we gave each other a lot of love in the most difficult moments. There were also other very beautiful moments and from that concentration for which there was space last year, two more songs came out, the space came out to be able to mix it, find the right person to do the art. I had time for everything and that was great. I didn't do it in a rush, there was no reason to run.
Just before everything kicked off with pandemic you had played a sold out show at the Teatro Colón with Las Hermanas. Now things look very different. How do you feel about digital spaces that are being set up in the meantime, the live streaming, in contrast to getting back to playing live for real. Are you anxious to perform, what do you see on the other side of this?
From this world that is presented to us, I have learned that what is smart to do is not to plan. Planning things that depend on you and those who are always there, fine. A few people, a few friends, but planning big things that depend on third parties, on a large team in an auditorium, on a large audience, why am I going to cause that harm? So, what I'm doing right now are low-key shows, like inhabiting small spaces and bringing the best quality possible in a small space. Sharing it with people, which is like the basis of hip hop too, like sound system and microphone and sometimes not even with the decks, although I am fond of the traditional format but let's go with a sample, a microphone and the idea is to do it and connect it with the people. Of course I would like to go back to a big theatre, to pay the flights of the guest musicians, to have my musicians, to play with a band, visuals. Let's say that we have already taken that step a bit, with Rhodesia and with the band, how to play on big stages but if the world is not lending itself to that, then I am not going to get anxious because that is not the case. Rather, I'd prefer to adapt and find ways to connect with people because also, well, I don't have a good relationship with virtuality, it seems to me that it kills the spirit of the things I do a lot.
Do you see this as the 'new normal' here, what do you make of this?
Well the outlook has refreshed a bit, looking at it positively. But let's say it is still ugly, they cut off many of our freedoms on the streets and things that had already been won, in a country where accessing culture is very difficult and a lot of ground had been gained in that sense; the scenes were more solid and such. Well, the spirit is to keep the desire to create and not complain. Eventually there will be more people who have time to make quality music. If they have the resources. Because, maybe I also speak from a rather privileged position, but in my case I feel that I have the time and the ability and the will to make more music and also not worry about paying; the tour, the theatre, the concert. I have my music and there are people who want to listen to it and there are people with whom I want to share with, so we'll find a way.
And so where does N. Hardem fit into that future?
Well, I want to dedicate at least a full year to the dissemination and movement of the album but I really want to produce for other people, to produce my own ideas too, because I have found myself making music like "hey, that's cool, it would be good to be able to put this to work, sharing it".
Beyond that, I wanna keep writing and keep rapping, keep getting better at those tasks, at least feel like I'm constantly studying and advancing and deepening them, it's what I'm passionate about as well.
Finally, just remind us how important artistic voices are in a country like Colombia at the present moment?
I think it is very important for people and projects that feel they can reach more than one person. How do we continue occupying that space for representation, and for the soul, because just as one needs music and madness and one makes it, there are people who do not make it and are capable of feeling that same thing. Music comes to them more and everything else it brings; like painting, it also cures them. It is important to keep ourselves healthy and active and alive and whole in a context as fucked up as this. It's resistance pure and simple. It is a beautiful way to resist and to give life to life when everything seems against it.
Verdor is available on all digital platforms from today. To support the artist directly, head to Bandcamp, where you can order Verdor on CD, or purchase the digital copy directly from the artist himself with 100% of proceeds going towards the artist today as part of the Bandcamp Friday initiative.

Follow Sounds and Colours: Facebook / Twitter / Instagram / Mixcloud / Soundcloud / Bandcamp

Subscribe to the Sounds and Colours Newsletter for regular updates, news and competitions bringing the best of Latin American culture direct to your Inbox.
Share: