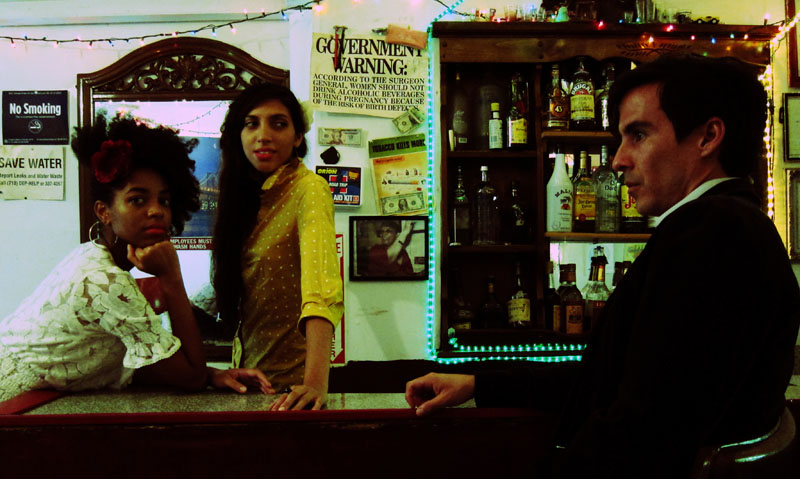 Mecánica Popular
Mecánica Popular: Salsa Dura With A Twist
24 March, 2013
I have an absolute love for salsa from the 70s because my dad constantly played it in the house as I was growing up. While the majority of the artists he played hailed from his beloved Colombia, he had a penchant for the greats from Cuba, Puerto Rico and New York City, too.
Imagine my delight when I was introduced to Mecánica Popular's self-titled album as it clearly touches on all the best of salsa dura.
While salsa from New York is a big part of the genre's history, salsa playing in New York is not as common as one may think. Or at least I don't often stumble upon it. Not only is the Brooklyn-based Mecánica Popular's self-titled debut album salsa dura, it is psychedelic, too. And the vocals? Delicious. I had to know more.
Mecánica Popular is comprised of Efraín Rozas (singer, songwriter, bongos, synths); Ismael Baiz-Timbales (backing vocals),  Joy Hanson (vocals); Ernesto Lucar (guitar, backing vocals); Oscar Rebolledos (congas), Victor Rendon (keyboards), Yvonne Ubillus (synths); and Hussein Velaides (bass).
The octet was formed when these musicians from Perú, Venezuela, Colombia, and the United States, met in New York City. They began jamming and put out a debut album steeped in the "salsa dura" of the 1970s, with a trippy vibe of heavy ambient and psychedelic touches. While the horn section has been replaced with experimental synths and processed Peruvian Chicha style guitars, the percussion ensemble keeps the classic bongo-conga-timbal format.
So what is the story behind this band? I chatted with lead vocalist Efraín Rozas to learn more.
The Perúvian native said the name of the band comes from — you guessed it — the magazine, which his father would collect back in Peru.
"When I was thinking of a name for the band, it came to my mind. In Spanish, the first meaning of 'popular' is belonging to the people, the streets,  so you have the old school salsa part of the project," he says. "The Mecánica part is because of all of the crazy things we are doing with the analog synths and effects. Also La Mecánica Popular can mean the way people take action, to be resourceful …  I like that, we are trying to do something new."
Rojas says the band has many influences. "As a composer, I think of musicians who have combined rhythms with trippy abstract sounds, such as the most psychedelic stuff of Ray Barreto and Eddie Palmieri in salsa, the electric Miles Davis in the jazz world, and David Tudor in the classic avant-garde. Also the early Mars Volta and Rita Indiana. But the list is endless," he says.
Next up for Mecánica Popular is something that can be heard on your record player. 
"We are releasing a vinyl edition with the Brooklyn-based label, Names You Can Trust. They're also editing a live video for us, directed by Matthias Röckl. We also have an animation video coming up, which was directed by Peruvian artists Muriel Holguin and Circe Lora."
Listen to Mecánica Popular's eponymous debut album below. And for those of you in the New York City area, catch them at Drom on March 28.
[soundcloud url="http://api.soundcloud.com/tracks/64712188″ params="" width=" 100%" height="166″ iframe="true" /]

Follow Sounds and Colours: Facebook / Twitter / Instagram / Mixcloud / Soundcloud / Bandcamp

Subscribe to the Sounds and Colours Newsletter for regular updates, news and competitions bringing the best of Latin American culture direct to your Inbox.
Share: