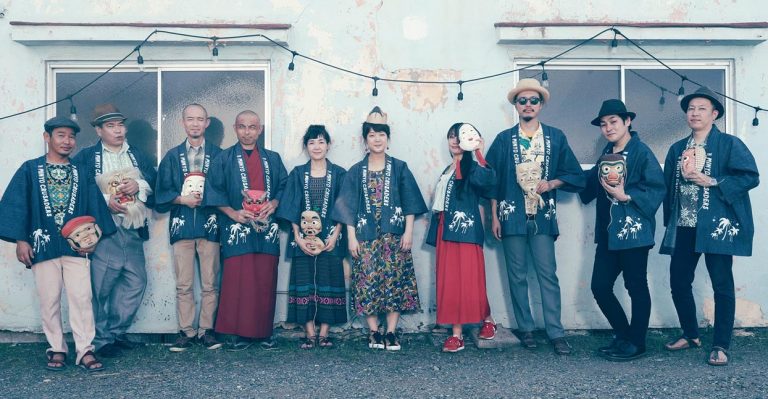 Meeting Minyo Crusaders: The 10-Piece Mixing Cumbia with Japanese Folklore
23 October, 2019
The sprawling Japanese metropolis of Tokyo with its bright lights and unfamiliar signage might seem an unlikely start-point for your regular fix of all things Latin American. On its far western outskirts though, the suburb of Fussa which plays host to a US airbase is also home to an unlikely rabble of 10 musicians playing out Japanese folk songs to Latin rhythms. Introducing, Minyo Crusaders.
From Japan to Colombia
The group have made a name for themselves lighting up stages with their truly stand-out proposition of Japanese folklore crossed-over with Latin American and Caribbean styles. Having recently released their Echoes of Japan album in Europe and North America, the group has become one of the most exciting revelations of 2019 and are set to bring their otherworldly sounds to European stages this autumn. Yet it was fitting that their first adventure out of Japan (earlier this year) was to Colombia, owing to their love of Colombian cumbia.
"We met Frente Cumbiero last year at Fuji Rock Festival in Japan, and made friends", explains guitarist and curator Katsumi Tanaka. "Mario introduced us to Chucky [Garcia – organizer of Colombia Al Parque festival] and we got invited to play at the festival."
"We were so happy with the invitation because this was our first gig overseas, and more than anything, we love cumbia and it was the best. We got welcomed to Colombia, the motherland of cumbia. So we were like 'Yeah, of course, let's go!'"
Following show-stopping performances at Colombia Al Parque and Los Andes University we caught up with Tanaka at the Mambo Negro studio where the band had just finished a session with Frente Cumbiero.
"We were getting in touch, and talking about this idea (recording with Frente Cumbiero) because it's a big reunion. We want to have a session bringing Japanese minyo and cumbia songs together; to do recordings and see how it takes shape".
The crusaders unique brand of Japanese folklore fusion doesn't stop at cumbia. From bolero through reggae to boogaloo and African beguine, the Crusaders draw on a vast array of sounds to accompany their Japanese songs. It shouldn't be surprising then that they've won plaudits far and wide. Among them, Ry Cooder recently stated Minyo Crusaders were the best band he has heard in years.
The Minyo
The Japanese minyos from which the band derives their name are folkloric stories, passed through generations, each one with region-specific themes.
"Minyo is a popular form of music. Just like in other countries too, we sing about normal life, something about work or love for the local scenery and community. Minyo was originally something everybody could sing while they were walking," explains Tanaka.
Echoes of Japan reflects this through a number of its tracks, featuring those originally sung by fishermen, coal miners and sumo wrestlers in themes that include ancestral spirits from beyond the grave, Japanese wildlife and 'a bride's undying love for her husbands pockmarked face'.
The Birth of the Crusaders
While the link between Japanese minyo and Colombian cumbia can certainly be counted as one of the less obvious musical links, Tanaka insists that the Crusaders' concept is nothing new.
"We're not the first ones, it has a history. It's kind of a long time ago when Japanese musicians started to figure out how to put Japanese traditional music and other countries' music together. I listened to some vinyl of Japanese bands mixing with various music from around the world. It was already made before the World Wars. Mixing western instruments and Japanese instruments together."
It was this love for the sounds from other countries that really piqued Tanaka's interest more than anything at first, "I love Latin and Caribbean music. Most of the band, including myself, started from the Latin music community so we didn't have that much knowledge of the minyo. I searched a lot of roots music from other countries and I love it."
"But then I realized that I hadn't been paying attention to Japanese traditional music. I thought, why not? Because that's our roots. Since then I became interested in Japanese minyo music."
With a group of musicians well-versed in Latin music but lacking in foundations of the genre they intended to play, the obvious need was someone with a knowledge of minyo in order to complete the lineup, "we started to play minyo when we met Freddy. Freddy ―the vocalist― is a professional minyo singer. He knows the concept and philosophy of each song."
Fusing Minyo with Cumbia
"Minyo is not one single genre", points out Tanaka. "It has a lot of moods, from pop ones to freaky ones, so it can be developed to any kind of music. We find the cool stuff that we wanna develop in our project and work on it." He sets out the approach to identifying each new track's foundation layer.
With the concept in place, the band draws on the diversity of minyo songs and the wide pool of options it provides them in matching it to other sounds and styles: "It is so varied. Sometimes it has melody and is catchy, it can match with cumbia. There's a lot of moments when we have discovered that minyo and cumbia can be mixed together", Tanaka points out.
From a personal perspective, he details the more curious facets of the music which connect cumbia with Japanese sounds, "I'm a guitarist and grew up listening to western music, so when I listen to minyo I first focus on melody. Minyo has a small Japanese guitar shamisen. I sometimes copy the melody of shamisen with my guitar, it gets catchy and that can often match with cumbia somehow."
Preserving Minyo
Despite the group's magnetism both on stage and on record, the minyo itself is, unfortunately, not enjoying the same fortunes. While many of the older generation are familiar with them, it's an element of Japanese culture on the verge of dying out. "Minyo is not listened to by younger people now. There's not so many chances to listen to them; it is in danger of extinction."
"Minyo has a lot of different aspects. It started as a popular form of music, for the local people, but the professional minyo player community now has its own hierarchy, like academia."
In spite of the challenges to minyo, Tanaka appears confident, rather than focusing on the threats he opts to use such elements as the impetus for Minyo Crusaders to kick on. "I think if we show them how cool it is, then there are so many possibilities of getting more fans of minyo music. Because the age doesn't matter."
Recognizing the opportunity that the current global music landscape offers in this quest, Tanaka continues: "Now in Japan, like anywhere, the genres of music are subdivided and that also spreads the communication between other communities. Minyo has the potential to get appreciated by lot of different kind of people. At the same time there's a new movement and approach towards it, like us, trying to reevaluate minyo music in the independent music scenes."
"Minyo has been abandoned for a long time and I think people are soon going to know it's cool. I want it to be casually appreciated in young people's daily lives. I hope, In Japan too, it naturally gets back [to] something spiritual which [can] be inherited for a long time, like cumbia, or Jamaican reggae, that we love."
Minyo Crusaders will be playing at London's Jazz Cafe on Monday 11th November, as part of a European tour beginning 29th October.
Their debut album Echoes of Japan is available through Mais Um Discos

Follow Sounds and Colours: Facebook / Twitter / Instagram / Mixcloud / Soundcloud / Bandcamp

Subscribe to the Sounds and Colours Newsletter for regular updates, news and competitions bringing the best of Latin American culture direct to your Inbox.
Share: