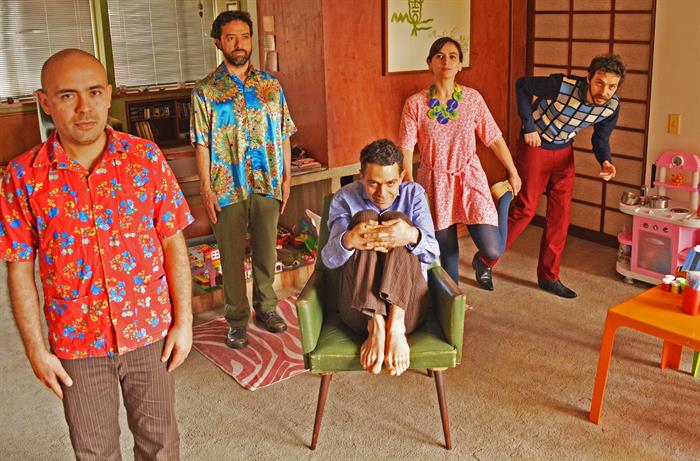 Meridian Brothers' 11 Brazilian Revelations
18 September, 2017
Tropicália is a label that has often been applied to Meridian Brothers' music over the years, alluding to the fact that just like that forward-thinking Brazilian generation of the late 60s, the Colombian group are just as capable of uniting the pop with the avant-garde, the sacred with the profane, the traditional with the modern, creating music that can be both witty and exploratory at the same time.
Yet, until recently, the influence of Brazilian music was negligible, as Meridian Brothers' main man Eblis Álvarez told me an interview. It has only been in the past few years, following a number of trips to Brazil with one of his other bands, Los Pirañas, that the sounds of Brazil, and especially of tropicália, 70s MPB and early Brazilian funk, have begun to have an effect on Álvarez and hence the work of Meridian Brothers, with these influences being heard on their most recent album, ¿Dónde Estás María?. For instance, just take a listen to the title track to hear how the cello has been brought into the group's sound, imitating the string sections that were so often a feature of 60s and 70s Brazilian pop.
With Meridian Brothers just beginning a 3-week tour of Europe in support of ¿Dónde Estás María? we asked Álvarez to pick out some of the Brazilian tunes that he's been loving recently and that have had an impact on the sound of the new record. Below, you will find 11 such revelatory tracks, each with a short phrase by Álvarez explaining succinctly why he loves the track.
Before you listen to the tracks though, check out the group's upcoming live dates:
17.09.17 AB/Global Street Sounds, Brussels
18.09.17 Boiler Room, London
19.09.17 Rich Mix, London
20.09.17 The Attic Bar, Bristol
22.09.17 Moods, Zurich
23.09.17 Grounds, Rotterdam
24.09.17 Quai Branly, Paris
28.09.17 Münchner Kammerspiele, Munich
29.09.17 Festival Cross Culture, Warsaw
30.09.17 Salle Le Bournot, Aubenas
01.10.17 Cave 12, Geneva
03.10.17 Merleyn, Nijmegen
04.10.17 Paradiso, Amsterdam
05.10.17 Ekko, Utrecht
07.10.17 N9, Eeklo
¿Dónde Estás María? is released by Soundway Records.
Tom Zé – A Noite do Meu Bem
"Meditative intro"
Persona – Fogo
"Percussion interlude"
JB de Carvalho – Fui Na Umbanda
"Responsive funk"
Gilberto Gil – Expresso 2222
"Incredible guitar comp"
Gal Costa – Sebastiana
"Jackson do Pandeiro's funky version"
Nana Caymmi – Cala A Boca Menino
"Just funky!"
Tim Maia – Bom Senso
"Keeping the funky"
Alceu Valença & Geraldo Azevedo – Seis Horas
"Psychedelia and renaissance music"
Secos e Molhados – Sangue Latino
"One of the most beautiful male voices around"
Soledad – Portentosa
"New music, so beautiful"
Novos Baianos – Linguagem du Alunte
"Progressive rock in Novos Baianos mood"

Follow Sounds and Colours: Facebook / Twitter / Instagram / Mixcloud / Soundcloud / Bandcamp

Subscribe to the Sounds and Colours Newsletter for regular updates, news and competitions bringing the best of Latin American culture direct to your Inbox.
Share: