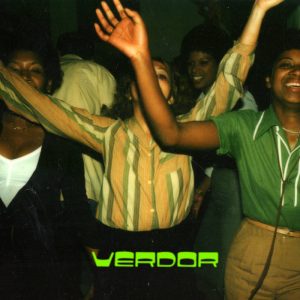 Review
N. Hardem – Verdor
In an age where the LP has oft-times been reduced to 12 or so disparate tracks, slung together despite a relative incompatibility, seeking to cater for a market hell-bent on fast-food-like music consumption, and defined by increasingly goldfish-like concentrations that herald skip/click-frenzies to the tune of digital platforms and their algorithms; a true album, that is to say, a complete work from start to finish, and backed up with accompanying artwork to boot, has become something of a precious novelty.
With his sixth studio release and debut full-length album, Verdor, N. Hardem has delivered us exactly that.
Rapping over sample-led "Primera Fila" to a boom-bap beat, on the album's opener, through to the album's third track "Free Play aka Orbe", featuring heavy scratching and chants of "breakbeats for breakfast", the listener is left in no doubt that this is hip-hop they're listening to.
To get there though, one has to traverse through the heavily-textured "Apolo", an early and timely heads-up in the album's some 50-minute long lifespan that there is a lot to be found on offer throughout Verdor.
Set against an off-kilter, percussive clink-a-clunk to arching bass and fleetingly accented by the subtle-parping of a background trumpet, "Apolo" spotlights N. Hardem's sorcery with words. Potent and pertinent, an alliterative twist on antimetabole paints a picture of modern Colombia's paradox between political class and protest movement. He harks, "de calles feas, a casas grandes, de casas feas a plazas grandes" ("from ugly streets to big houses, from ugly houses to big plazas").
And alas, we are but three tracks in. Suffice to say, it's an album that fittingly flows through it's mid-sections, hooked together by an excellent selection of samples that let the unconscious fleetingly drift in and out, losing themselves amidst the album's cracks and crevices. Momentarily, the consciousness is re-engaged thanks to excellently-placed samples.
The filling in the metaphorical sandwich, the mid-tracks, come in the form of collaborations with an array of prominent Colombian artists. The emergent Briela Ojeda; Pablo Watusi, who has spent many years with Bogotá salseros La-33; Colombian neo-soul and r&b star Lianna; and long-term N. Hardem collaborator El Arkeólogo joins both as producer and under his MC alias Gambeta on "Virgo".
As Verdor ushers through its soulful closing exchanges, "Azúcar"'s waltzing bass line eases effortlessly into "Quest"'s guitar melody, samples and scratches punctuating between. Over the top, N. Hardem's by now apparently-effortless flow weaves the album together. Edson Velandia's powerful spoken word on soulful, penultimate number "Immune", offers a nod that proceedings are reluctantly coming to an end.
If N. Hardem's biggest fear in making Verdor, as he told Sounds and Colours in our interview, was that this album may have come out sounding like a compilation, he ought to be a man with little to be afraid of in that sense.
At face value, it's a great hip-hop album, but layered below that is a richly textured work that deserves no less than to be listened to in its entirety and – being spared from the shuffle button – in the order in which it has been carefully organised into. What's more, beneath it all, this is a hip-hop album with a distinctly Colombian identity, from it's composition to its collaborations. A soundtrack to the capital's idiosyncratic streets and beyond. In an era of soundbites and quick-hit intros, Verdor, serves as a testament to hard-graft and the long game for the artist, while the listener reaps the rewards.
Verdor is out now on Bandcamp and other digital platforms

Follow Sounds and Colours: Facebook / Twitter / Instagram / Mixcloud / Soundcloud / Bandcamp

Subscribe to the Sounds and Colours Newsletter for regular updates, news and competitions bringing the best of Latin American culture direct to your Inbox.
Share: