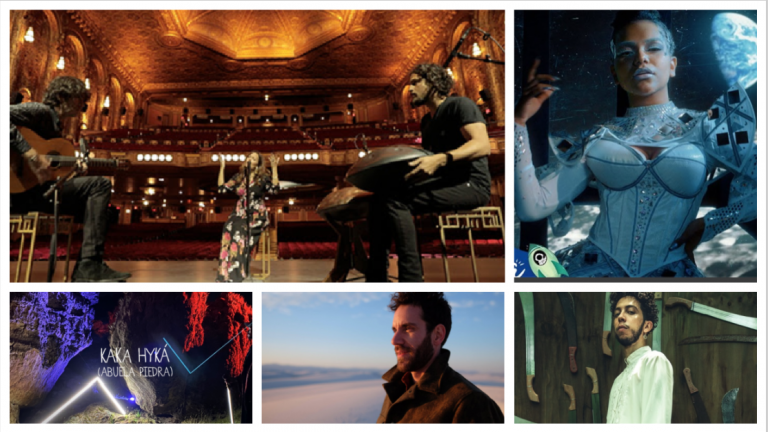 New music by Farah Siraj, Andreas Arnold & Adam Malouf, Simon Mejía's Monte, Susan Díaz, Thornato & Sotomayor, & Sebastián .Otero
17 November, 2020
As much of the world braces for more shutdowns due to COVID-19, concerts remain on hold. Thankfully, artists continue to make new music. Here are five tunes you need to hear.
Farah Siraj, Andreas Arnold and Adam Maalouf: 'Calma'
What better way to kick this off than by recommending a song that was released to celebrate the United Nations' International Day of Peace?
"Calma", a song that highlights the need for inner peace in our hectic era of screens and information overload.
Written and performed in Spanish, "Calma" (Calmness) speaks about the quest for inner peace and calm, and emphasizes the importance of finding peace within ourselves as an integral part of realizing peace on a global scale. Jordanian vocalist Farah Siraj provides the vocals.
"The inspiration for the song came to me amidst the noisy craze of New York City and at a moment when I felt overwhelmed," said songwriter Andreas Arnold, who hails from Germany. "Not only personally, but also by a sort of global distress. Out of nowhere, the spontaneous visualization of being alone at the beach in El Palmar in Andalusia, Spain quenched my thirst for calm, which then became the central theme of the song."
MONTE: 'Kaka Hyká' (Abuela Piedra)
Bomba Estéreo band leader/founder Simón Mejía has released the new Monte music video "Kaka Hyká." The song and video features vocals by Candil Chauta from the Colombian indigenous group Mhuysqa.
"This video is a metaphorical vision of the significance of 'Kaka Hyká,' which translates to grandmother stone," Mejía said. "Stones are sacred for many indigenous communities around the planet as they've witnessed all of earth's history. The chants in the track, sung by the lead character in the video, Candil Chauta, are mantras to the stones."
"Kaka Hyká" is from Monte's debut album 'Mirla.' Monte is an ambient electronic project in which Mejía furthers his exploration of Colombian nature sounds.
Be on the lookout for Sonic Forest, a documentary film by Mejía, which is presented by Joaquin Phoenix and set for this week. The film follows Mejía's journey from the Pacific coast's Afro-Colombian communities to indigenous mountain towns as he learns about the groups who have united to protect the vast rainforest that connects them, while raising awareness for climate change and biodiversity. 
Susan Díaz: Luna
Santa Marta, Colombia, born vocalist Susan Díaz has a new futuristic track and we're loving the visuals in the new music video.
"Luna," the lead single from her forthcoming album Universo, fuses electronic rhythms with spatial sounds resulting in a fresh guaracha that promises to transport you on an intergalactic journey.
Thornato & Sotomayor: 'La Niña Grande'
"La Niña Grande" is the lead single from Thornato's forthcoming album Escape Plan. It features Mexican siblings Raúl y Paulina Sotomayor.
Thornato, whose real name is Thor Partridge, is a self-proclaimed 'sonic hoarder,' who is obsessed with recording sounds. The new album contains features with Zongo Abongo, Jahdan Blakkamoore, and more.
Sebastián .Otero – Juyendo (Video Oficial)
Puerto Rican artist Sebastián .Otero has released a single from the new project that he has been working on under the production of Eduardo Cabra of Calle 13 fame.
"Juiendo" carries a message of political protest, and although the lyrics were composed and directed to his native country, it makes all of Latin America feel identified. The singer-songwriter faces his representatives in a song where his frustration and desire for a change and to "Machete" the corrupt people who have stolen from the town is clearly seen.

Follow Sounds and Colours: Facebook / Twitter / Instagram / Mixcloud / Soundcloud / Bandcamp

Subscribe to the Sounds and Colours Newsletter for regular updates, news and competitions bringing the best of Latin American culture direct to your Inbox.
Share: